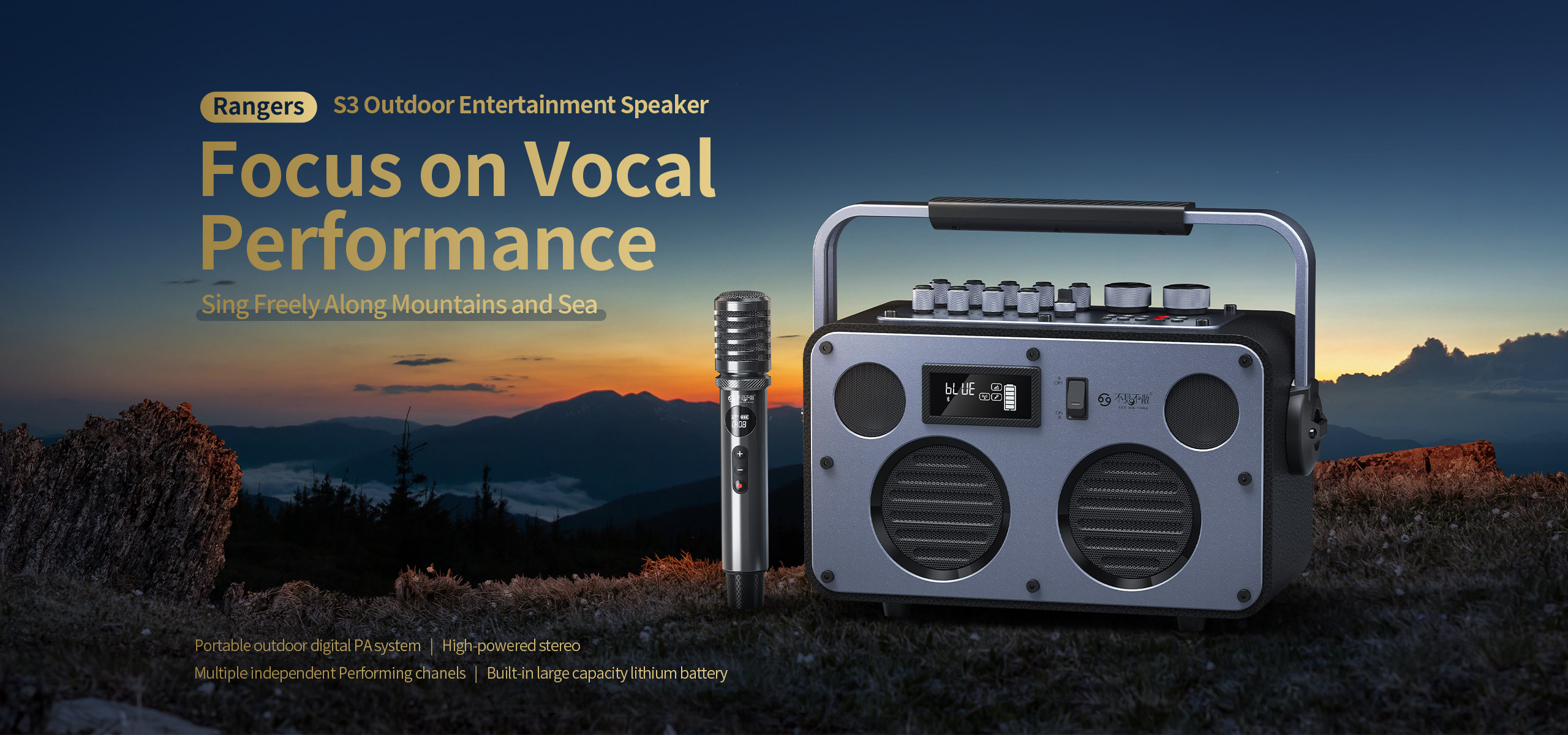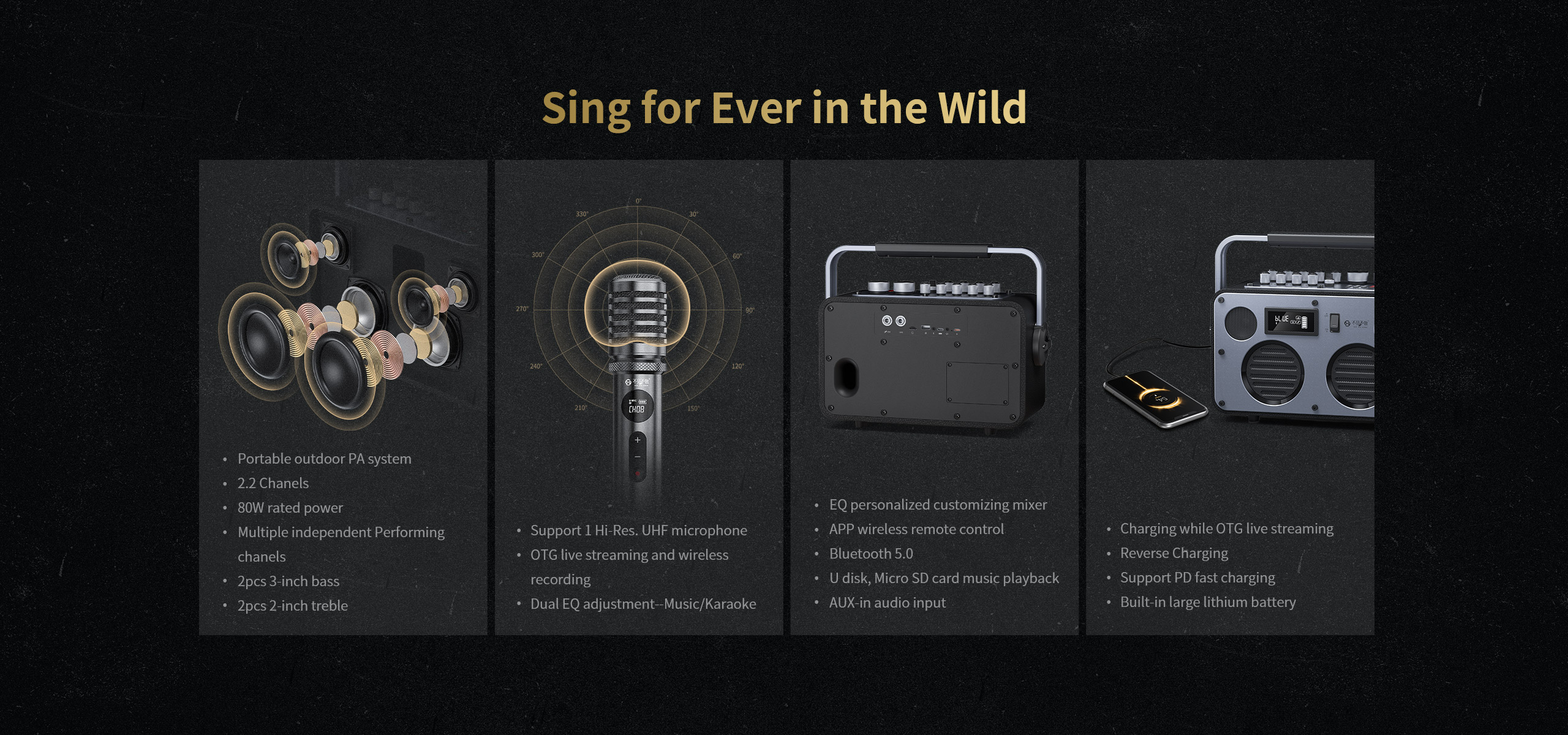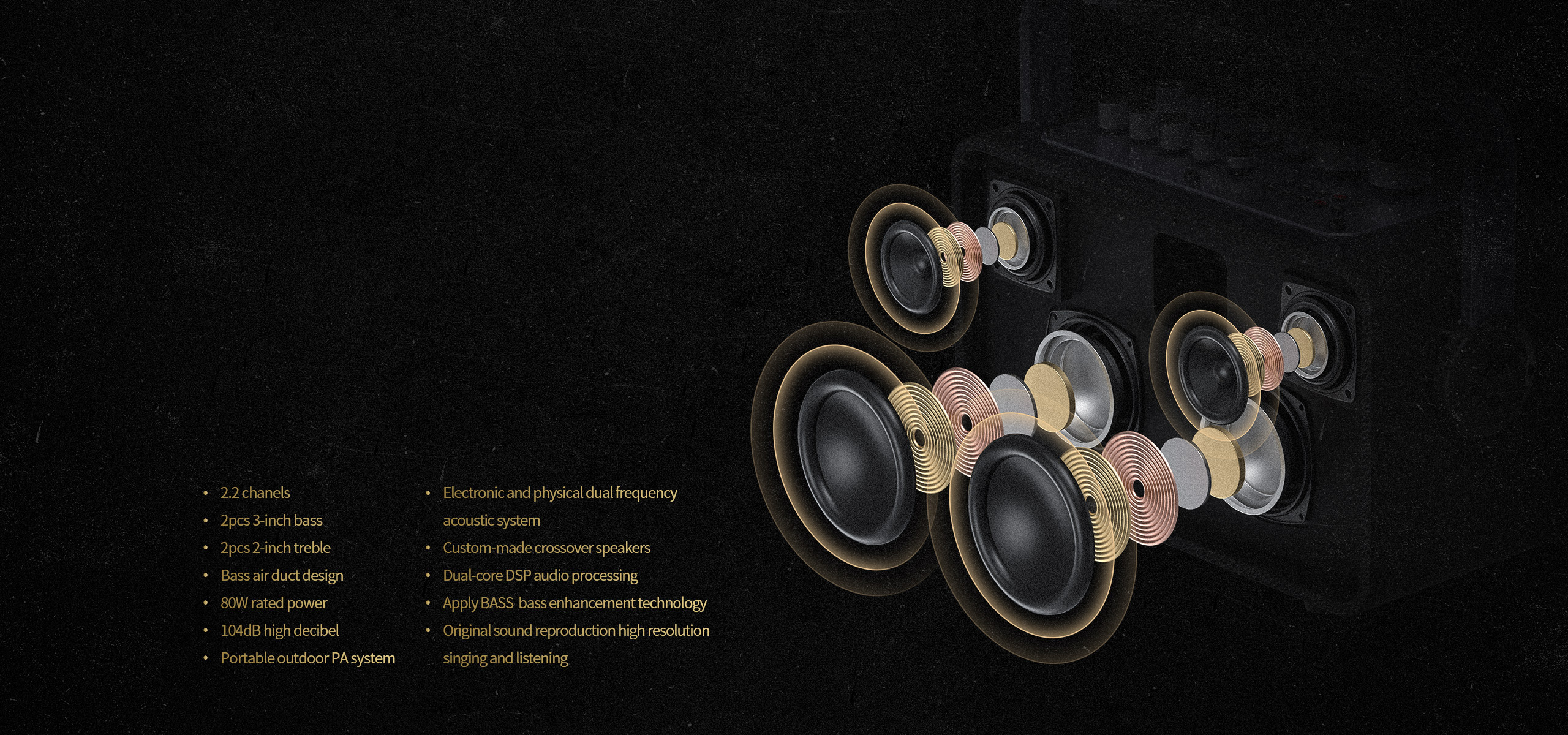 Professional All-scene performing Speaker
Powerful Heartshaking Sound
Catch Your Ear
Acoustical expert tuned DSP and tailor-made 4 advanced sound units,
strong 2.2 stereo channel design, high clear and bright, deep and powerful bass.
Whether it is playing, singing, listening to songs or performing arts host, you can
experience a clear, loud, shocking and pleasant sound.
Help the singer to develop their potential and continue to empower their love.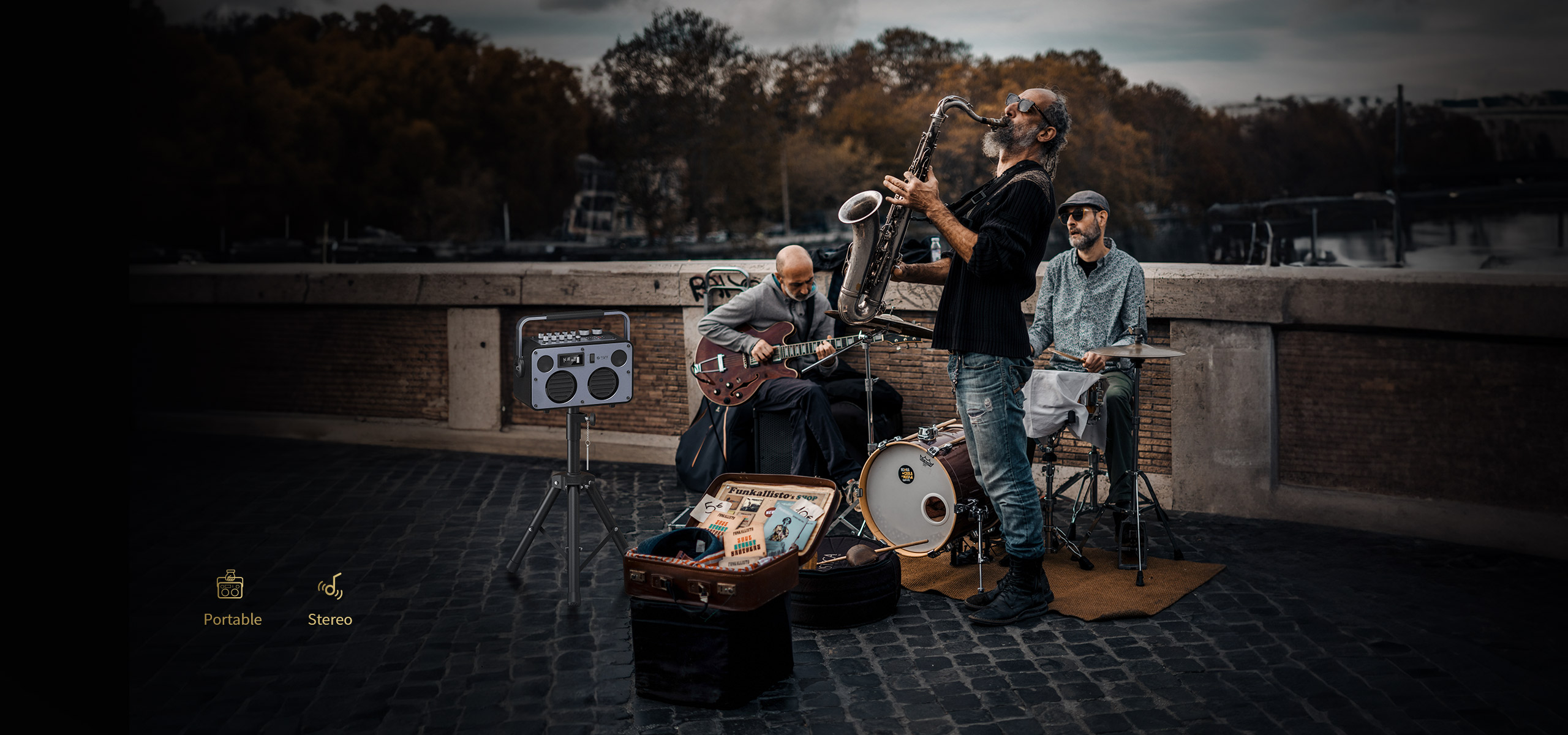 Sing Freely Among Mountains and Sea
All-scene Shock
Conquering power
Powerful portable outdoor digital PA system for performance
and lightness. Delivers rich, full, powerful sound in any
environment. Wild and loud field, bring overwhelming
all-scene adaptability, the strong fearless,
in the city, in the Mori wild, sing freely.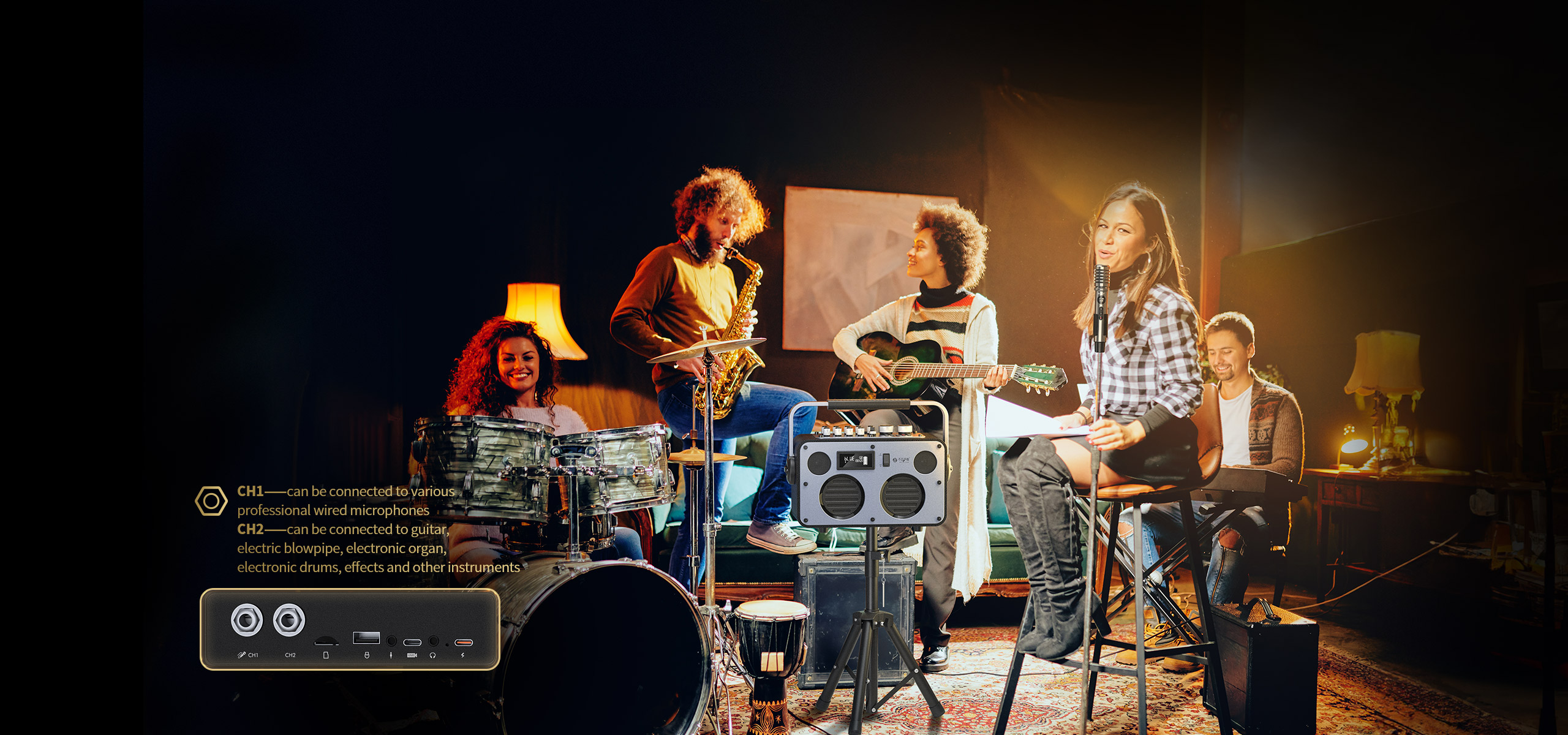 Compatible variety of Musical instruments
Takes singing performing
more possibilities
Compatible with a variety of Musical Instruments, microphones,
more diverse singing, chorus, ensemble selection, outdoor singing,
performing more possibilities. So you can do it anytime, anywhere.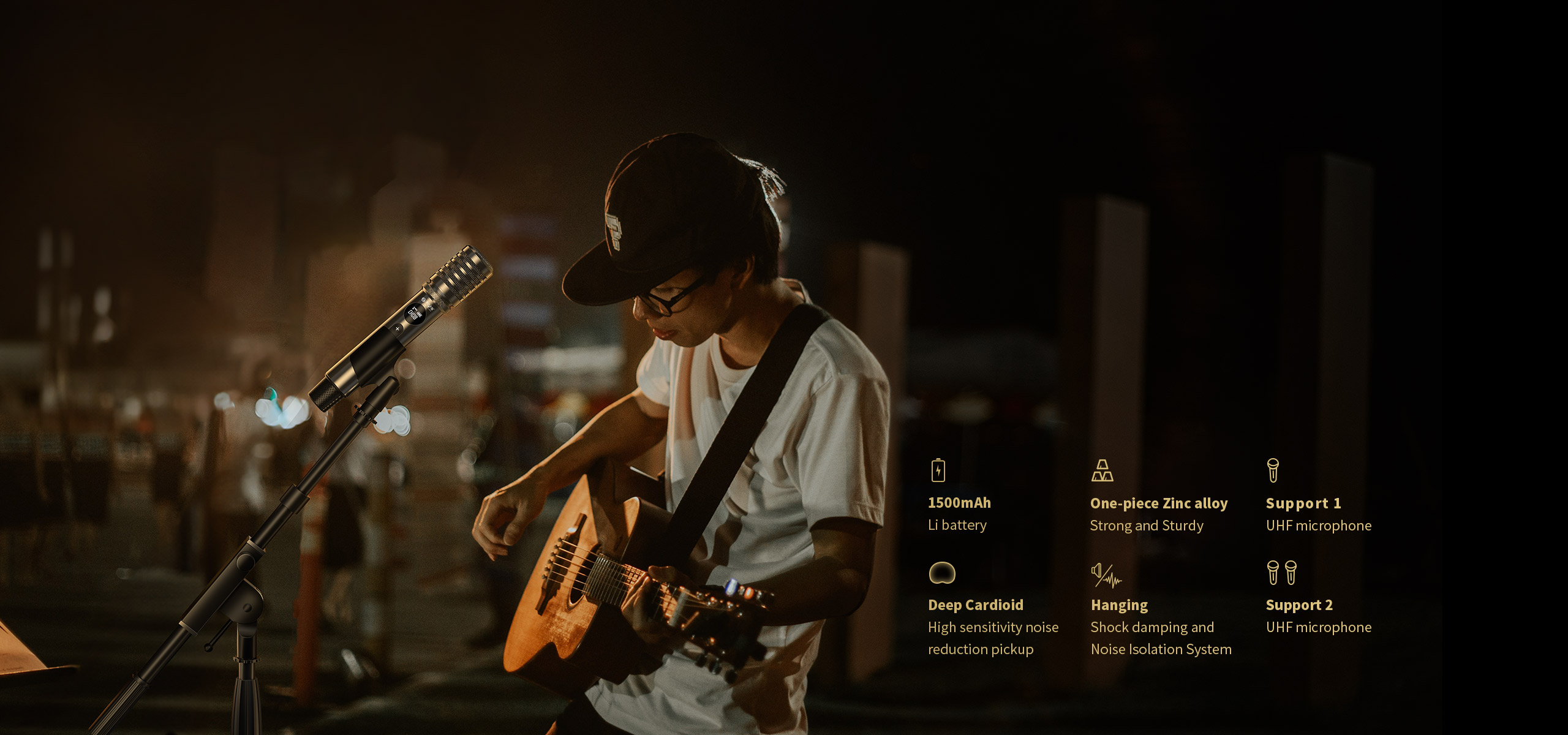 High-sensitivity stage dedicated microphone
Customized for singing
Highly sensitive moving coil wireless MIC, deep heart directional pickup
to isolate other noise,Outstanding and clear high voice restoration,
clear and transparent treble, deep and full bass, rich and soft midrange,
to achieve just the right balance, excellent vocal expression,
the microphone is turned on, enjoy singing.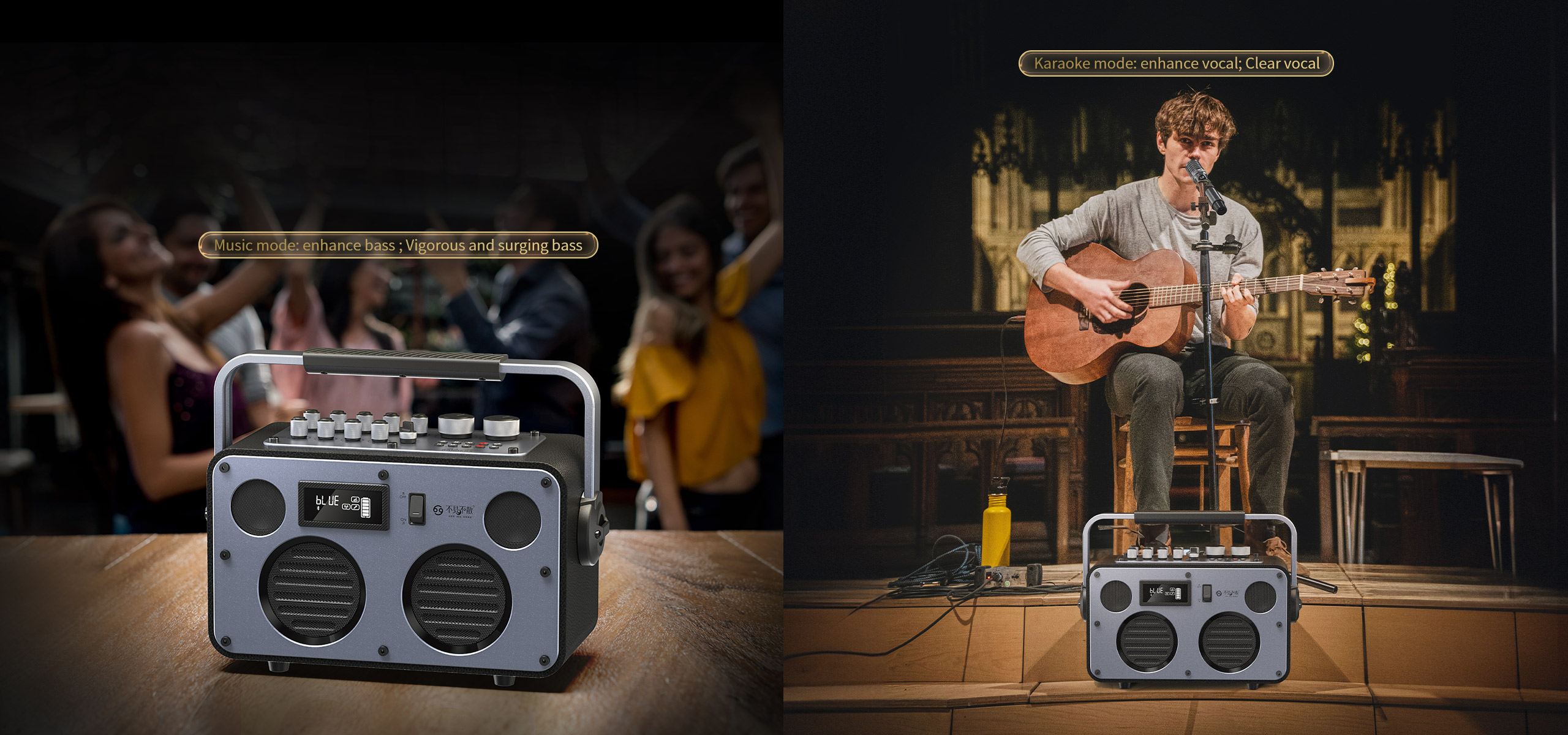 Dual EQ adjustment--Music/Karaoke
Professional Singing
and Listening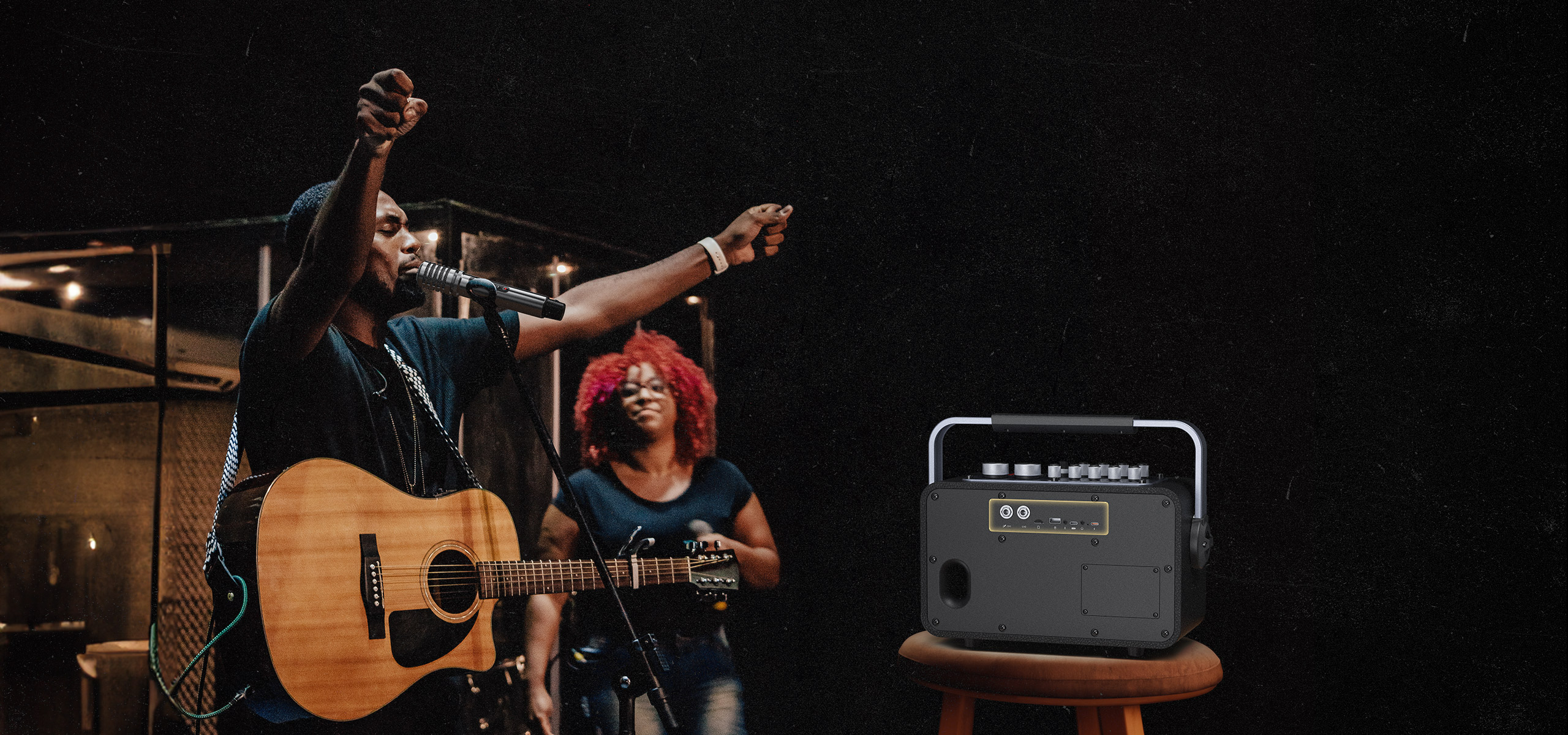 Multiple audio
playback Methods
Covers Bluetooth 5.0, USB flash drive, Micro SD card, AUX-in,
Wired OTG,5 audio connection playback methods.
For performing arts, everything is wonderful.Outstanding
connection performance, how to sing, listen to you.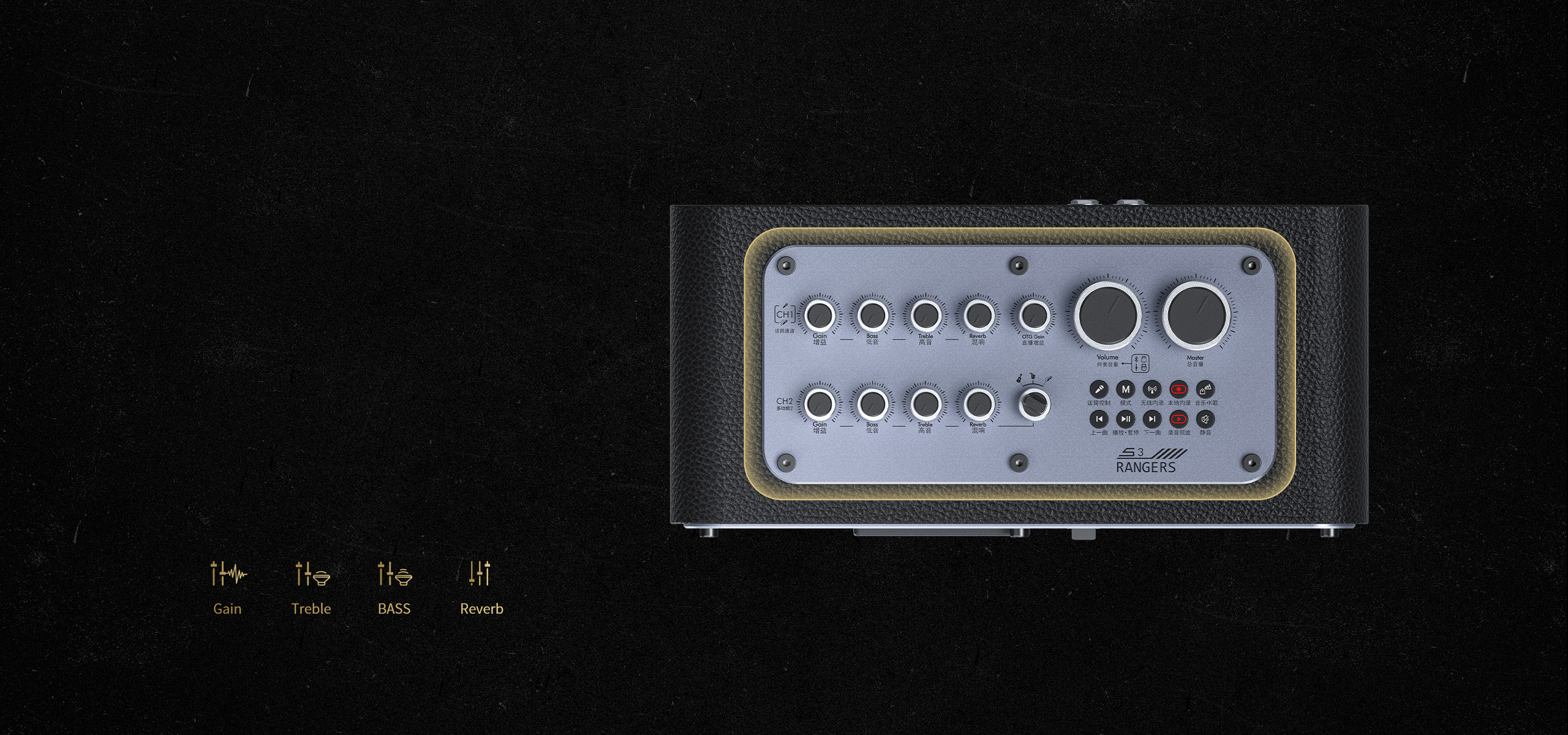 Multi-function Mixer
Tune the ideal
tone directly
Efficient and flexible multi-function mixer design, multiple
audio custom adjustment,Each performance can be freely
defined according to the environment and style.
Strong endurance
Sing it all the way
Built-in 9000mAh total capacity lithium battery,
powerful endurance power,Big and small outdoor
roadshows can be easily handled; With PD fast
charge,Experience the joy of singing.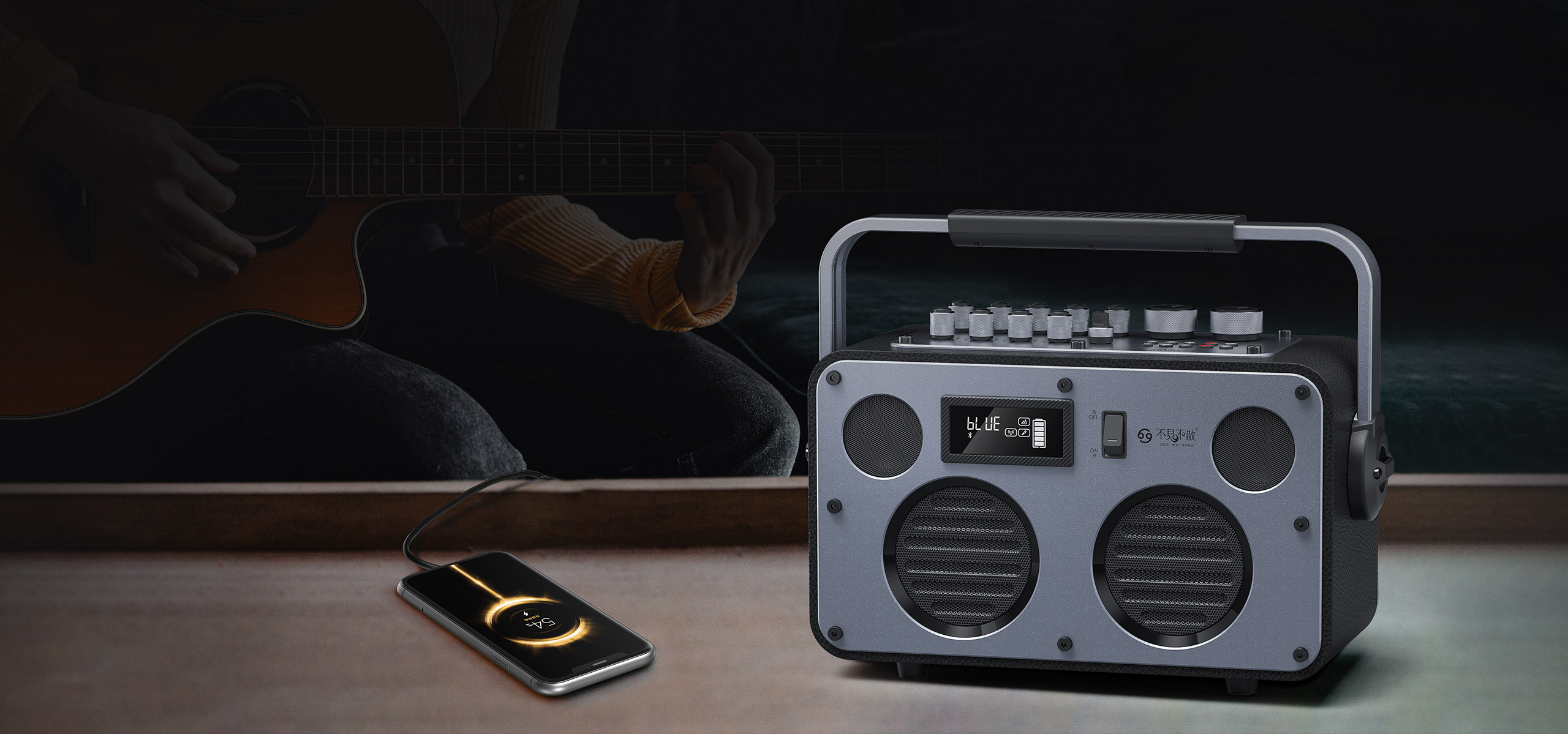 Power bank for Smart phone
Sing High
The powerful power of the sound not only provides
energy for the road show, but also can reverse charge
the mobile phone, support two Type-C charging, and
synchronously ensure the mobile phone online.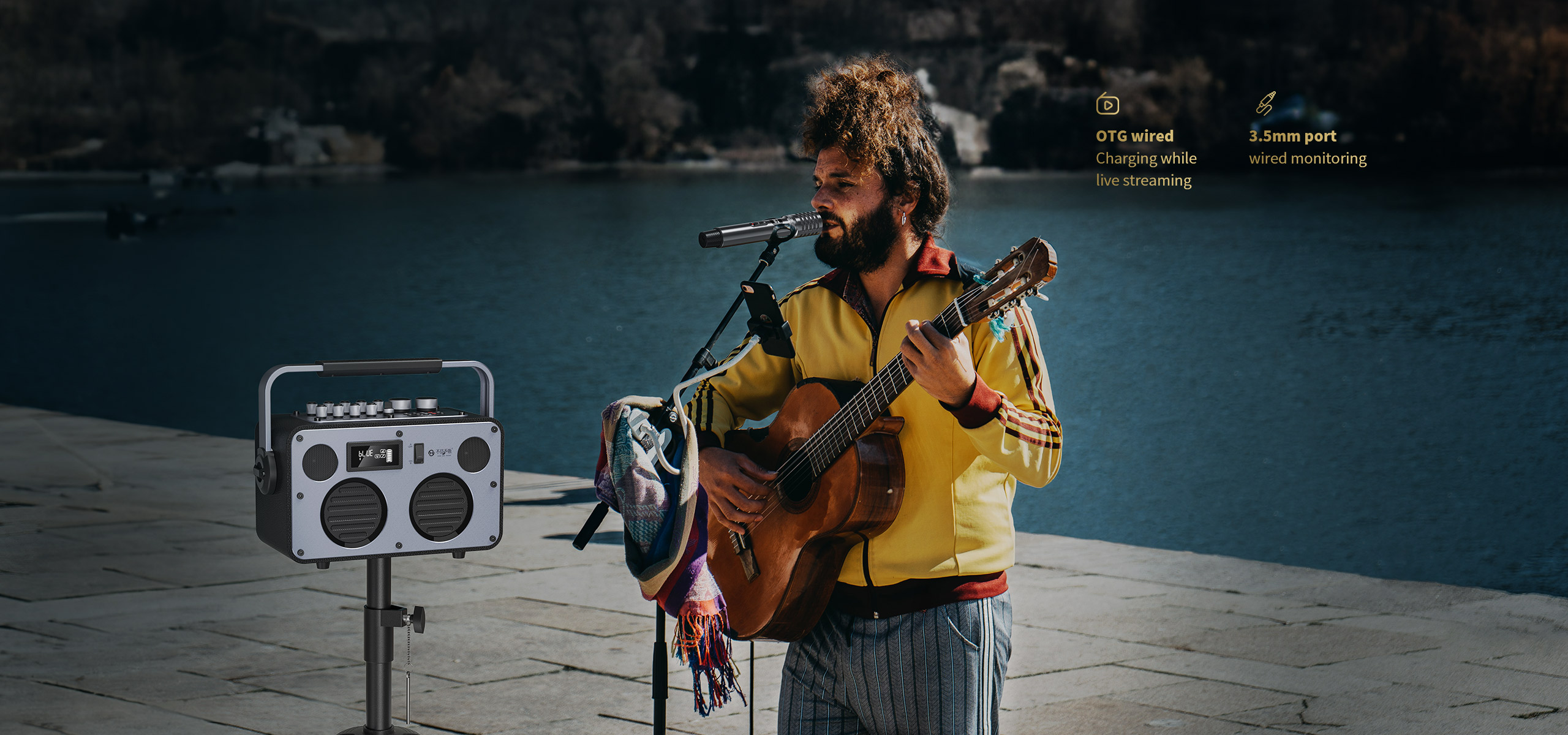 Record while play
Interactive sharing anytime
Wired and wireless: dual line live transmission and recording,
the original direct recording of high-definition pure singing
sound, no need for post-audio processing, immediate
online sharing. Cable OTG live also supports
charging mobile phones while broadcasting.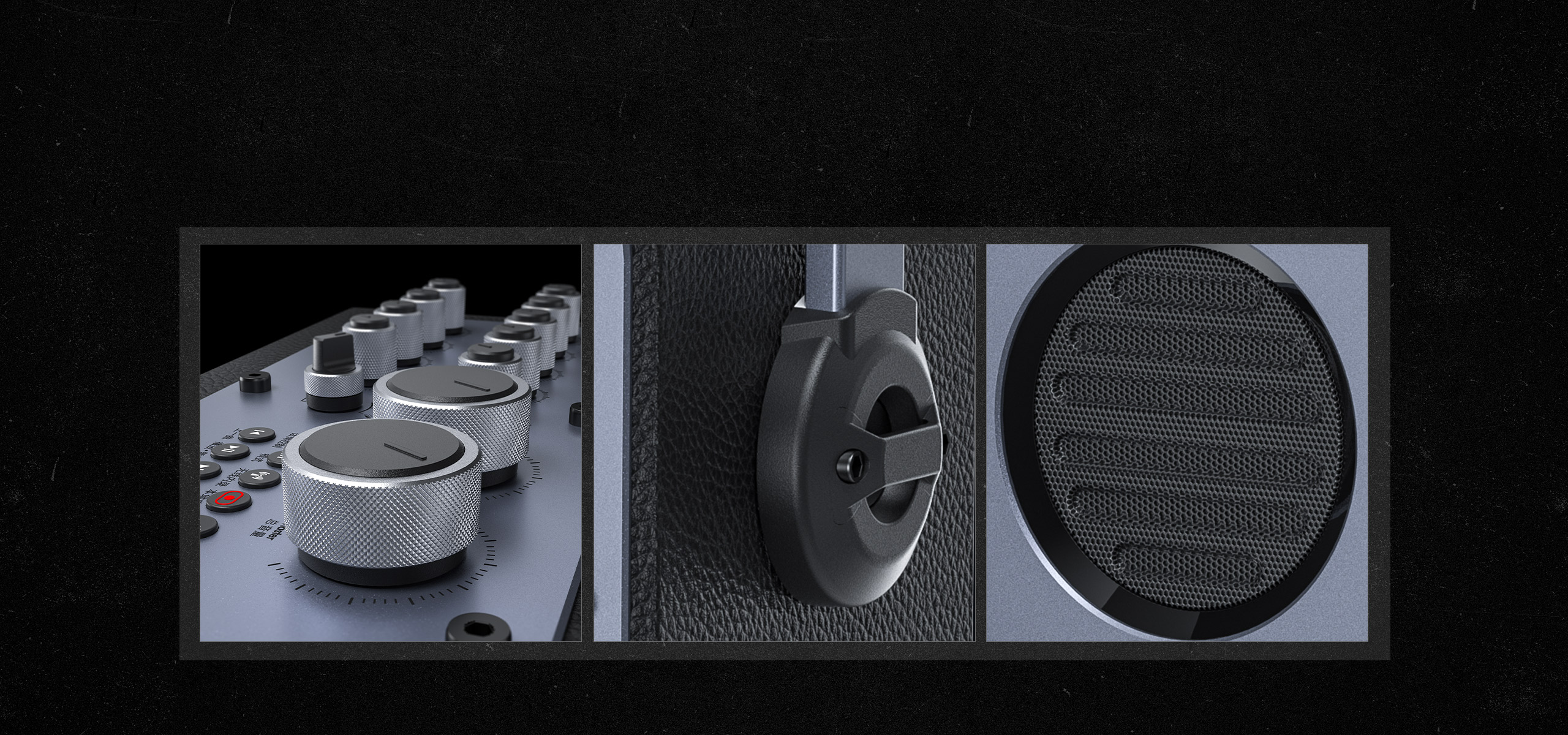 Lightweight and compact see the real trick in the details
It adopts a light and environmentally friendly all-solid wood structure cabinet to provide better playback effect and reduction. Litchi pattern leather texture of the same
factory of international famous brands, high-quality texture is more delicate. The metal is made of aviation-grade aluminum, and the decorative screws are all made
of custom-made stainless steel screws. The difficult double-layer chamfering process... These together constitute the cabinet, and the details are even more ingenious.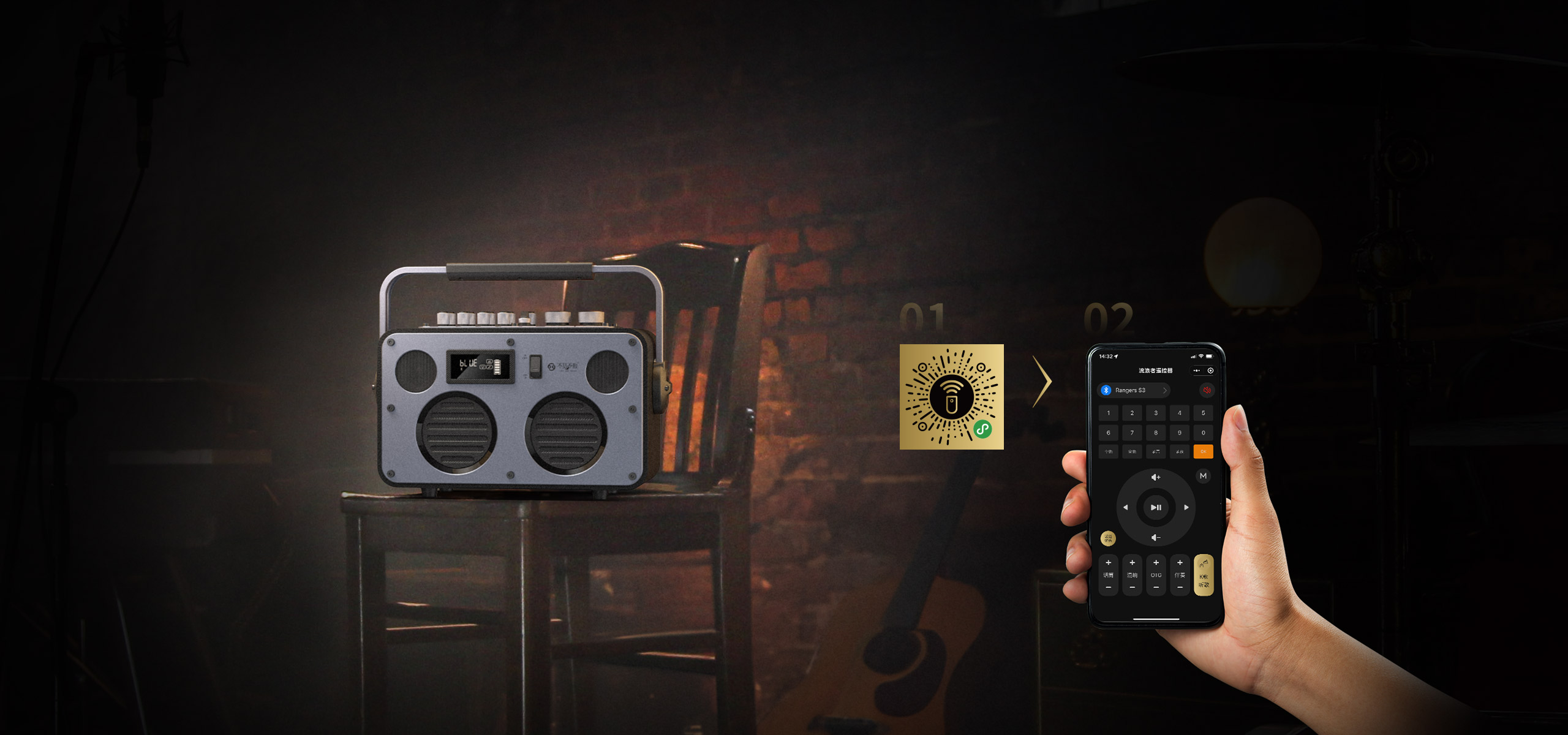 APP wireless remote control
Easy Control with Phone
No need to install software, wechat small program wireless remote
control, online far field control, more convenient and fast.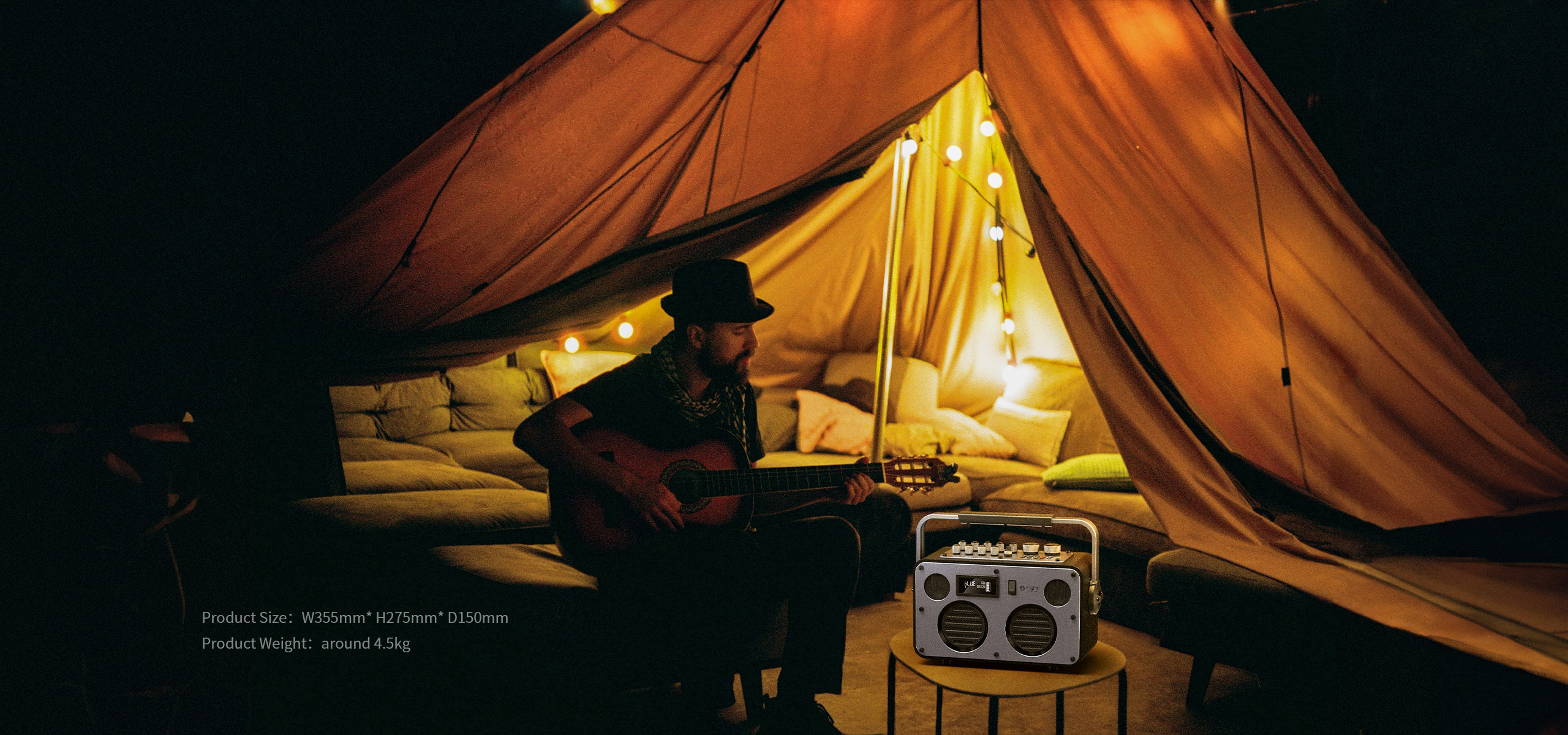 Multifunctional integration - compact box design,
With a lighter box, equipped with more
comprehensive functions. Small size,
big volume, singing freedom, just go.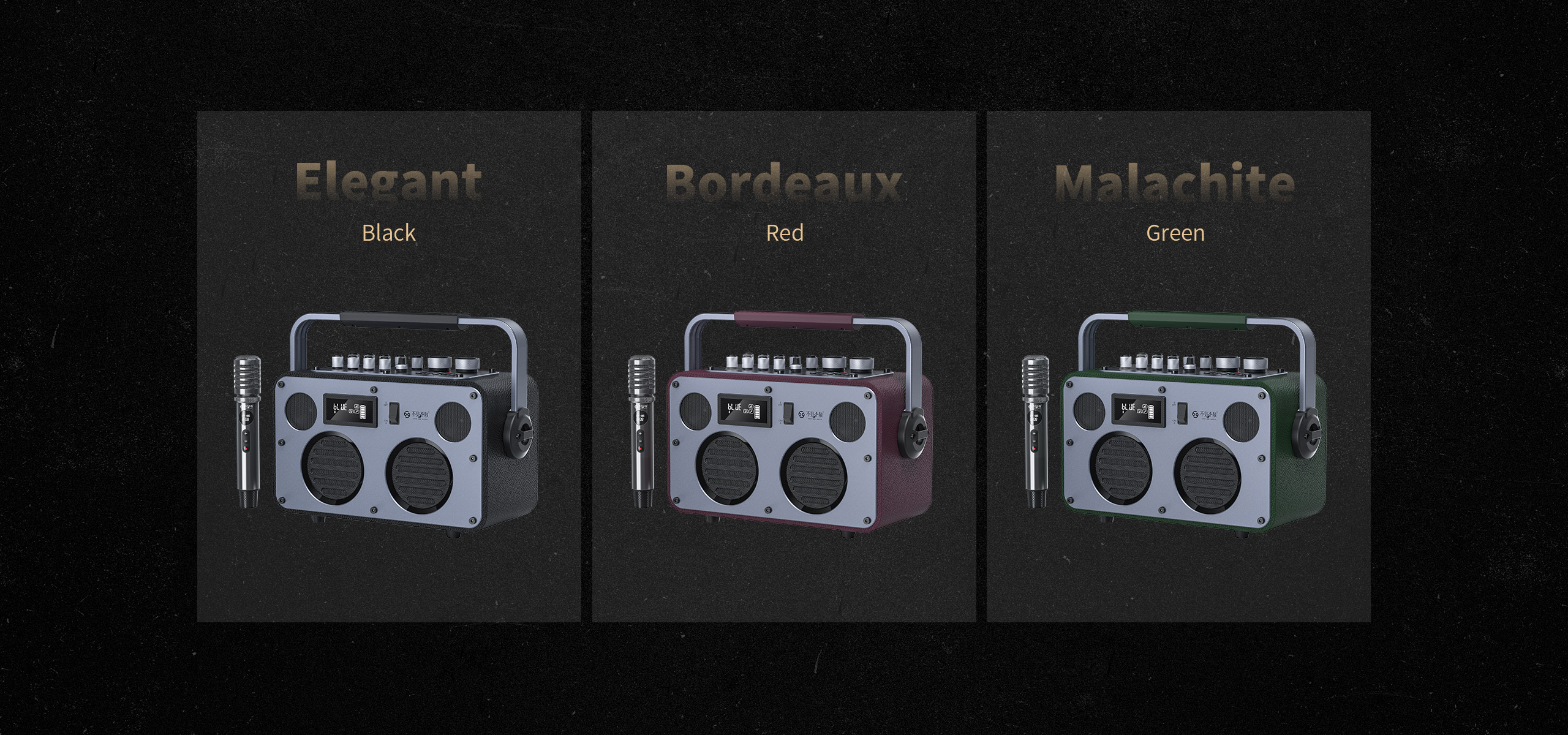 Technical
Parameter
Speaker system: 3 inch bass *2pc+2 inch treble *2pc
Bass enhance: Bass air duct
Frequency Response: 58Hz~20KHz
S/N: >85dB
Bluetooth Version: 5.0
Play
Function
Play function: Bluetooth/U disk/TF card playback, AUX-in input
Singing function: wireless\wire karaoke
Live streaming: OTG wired/wireless live streaming and recording
Input/Output: CH1 wired MIC input /CH2 multi-function
instrument input
Other
Function
Sound adjustment: support
EQ sound effect: support indoor/outdoor mode
Reverse charging: support
Bluetooth remote control: support
Battery
Life
Battery Type: Lithium battery 7.4V 33.3Wh
Charging time: around 2.5hrs, 30W or above PD charger
Charging interface: USB Type-C
Charging protocol: support PD2.0\3.0 fast
Playing time: Music mode around 11 hrs, karaoke mode
around 12 hrs (play at medium volume)
Product
Specifications
Product size: W355mm* H275mm* D150mm
Product weight: around 4.5kg

Packing
List
Type-C + USB2.0 transfer charging cable
x1