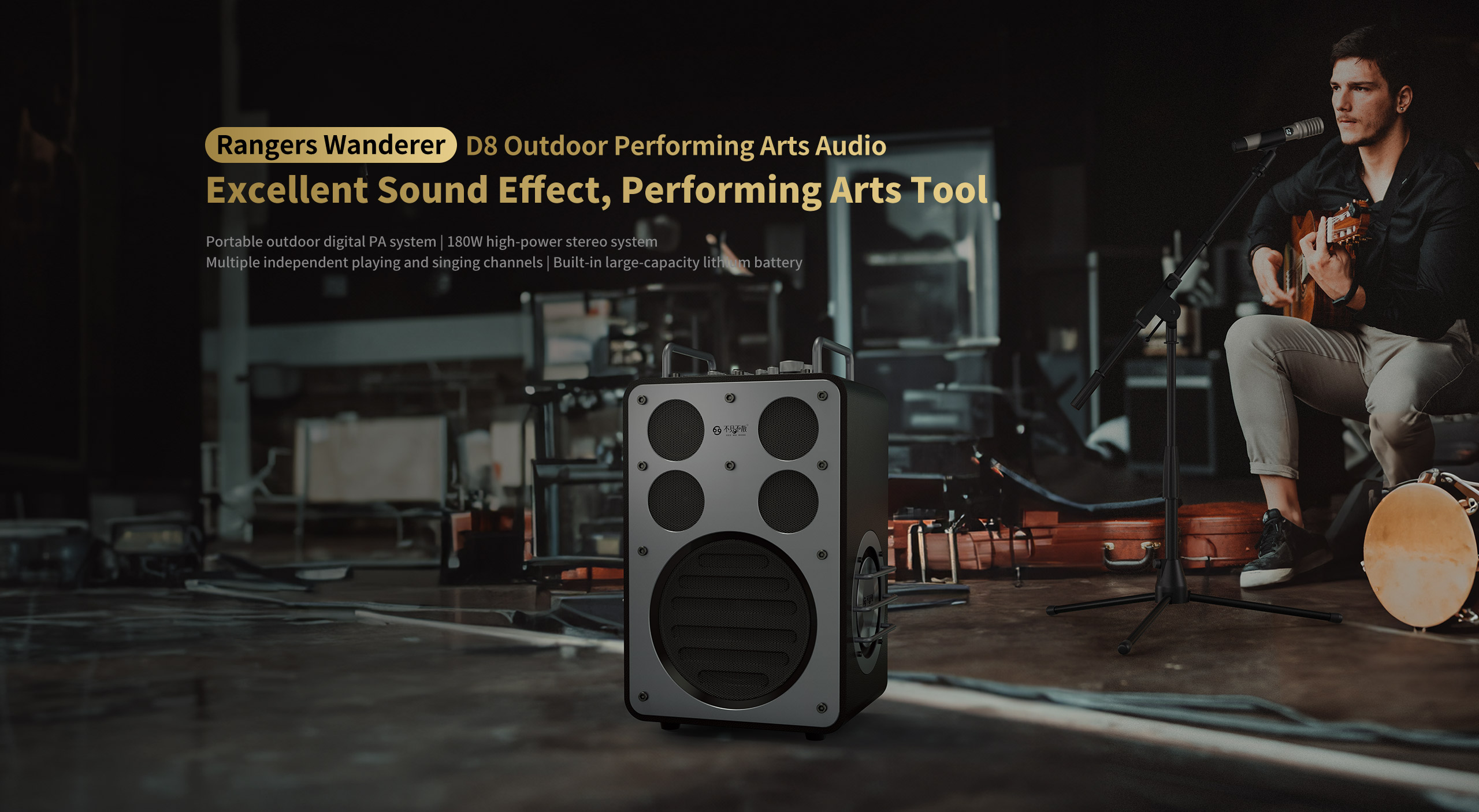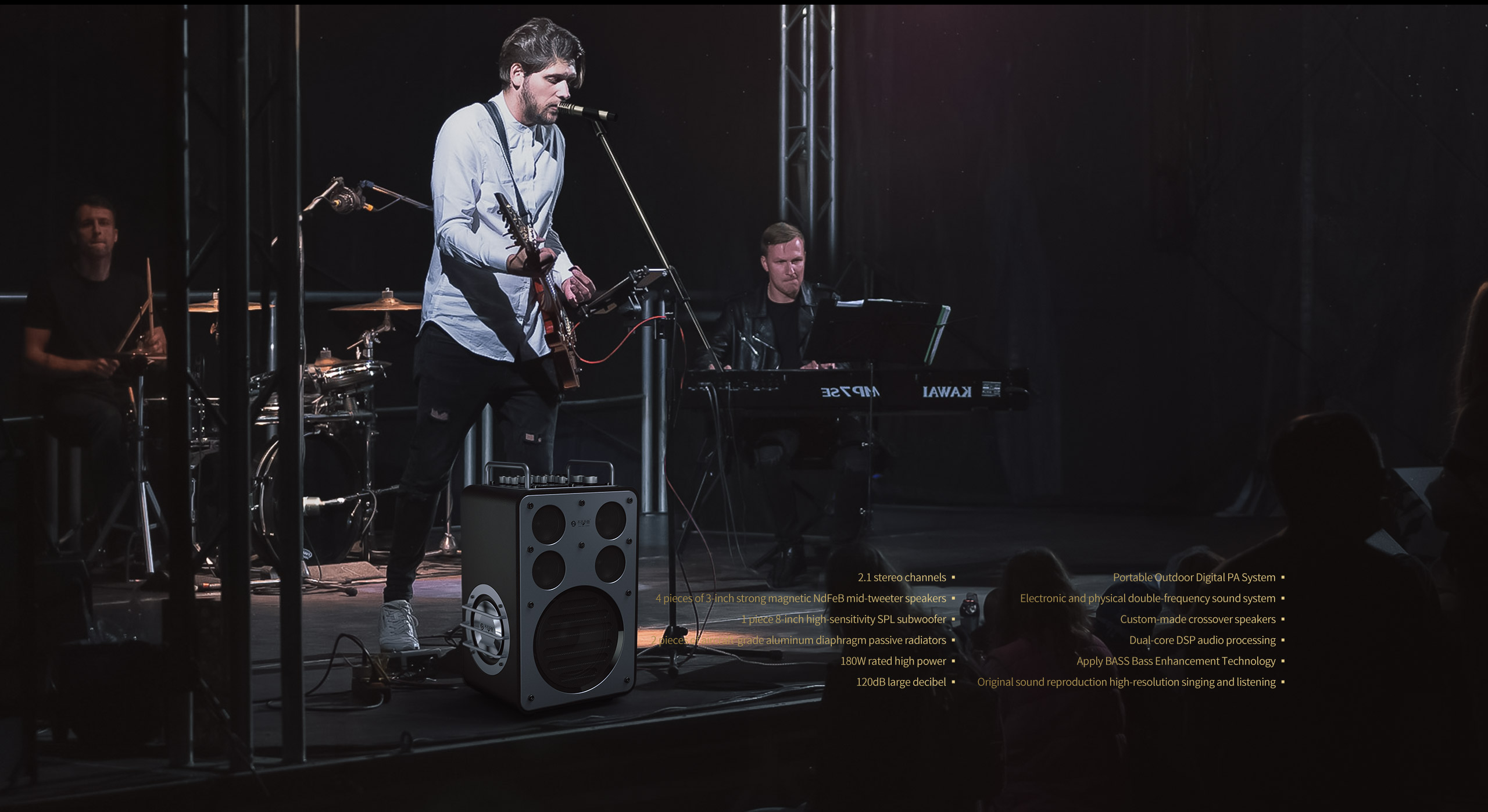 Burning sound strikes
Very awesome, Big power
A breakthrough portable outdoor digital PA system with
majestic performance and rich functions,
An outdoor performance tool that can be played with a small band.
Clear and transparent, with a clear sense of hierarchy,High-resolution sound,
far-field large-energy sound field, feel the real and shocking sound.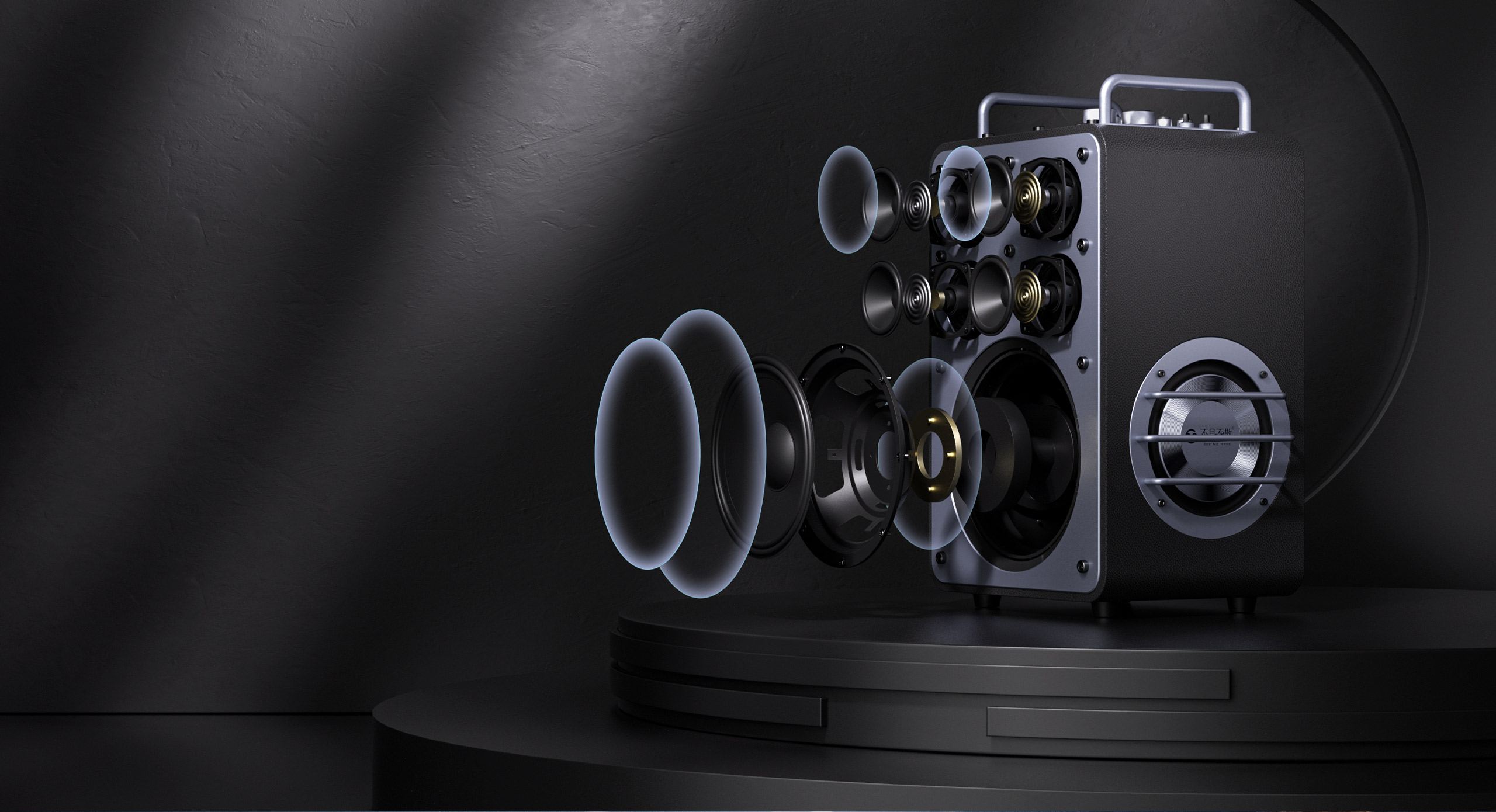 Real strength Presentation
of the original sound
Built-in 7 specially custom-designed sounding units, powerful stereo sound effect,
bringing a strong sound wave impact.Apply dual-core DSP sound processing,
plus BASS bass enhancement technology. Excellent high-frequency extension sense,And full bass
dive depth, bringing the sound experience of delicate original
sound presentation, and multi-dimensional shocking effect.
Roadshows and Stages
Perform anywhere
Designed for musicians performing outdoors, 3 microphone channels,
2 professional multi-function channels,Expand the possibilities of playing and
singing. Highly compatible with various musical instruments
and microphone equipment,It also supports access to 48V phantom power microphones.
More variety of playing and singing, chorus, and ensemble choices,
Can let you and the band show their talents to the fullest.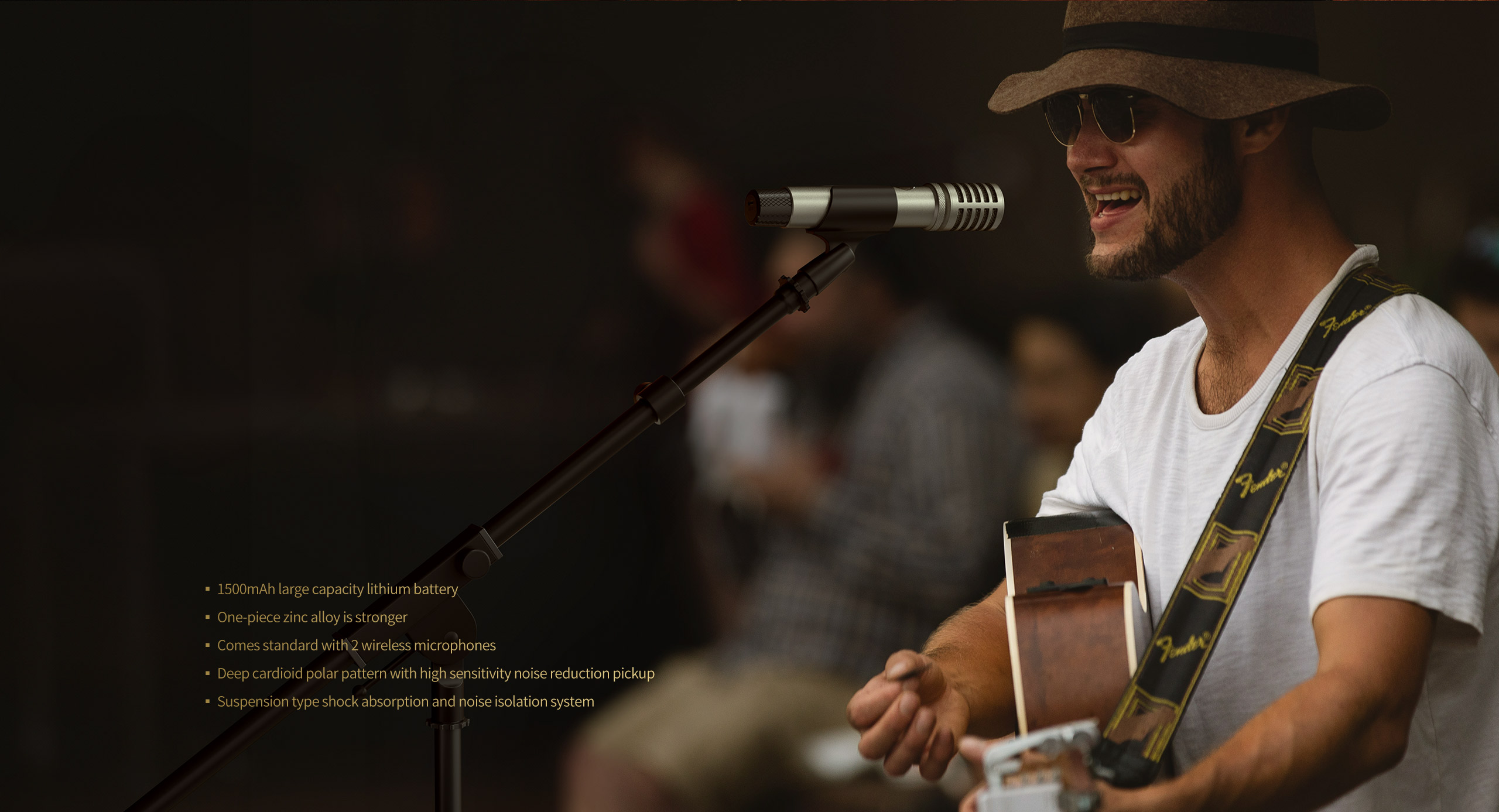 Excellent singing High-sensitivity
stage dedicated microphone
High-sensitivity dynamic wireless MIC, deep cardioid pickup to reduce background noise as
much as possible,Outstanding clarity and high vocal reproduction.
Cool and transparent treble,Full bass,
rich midrange, just right balance, excellent vocal expression.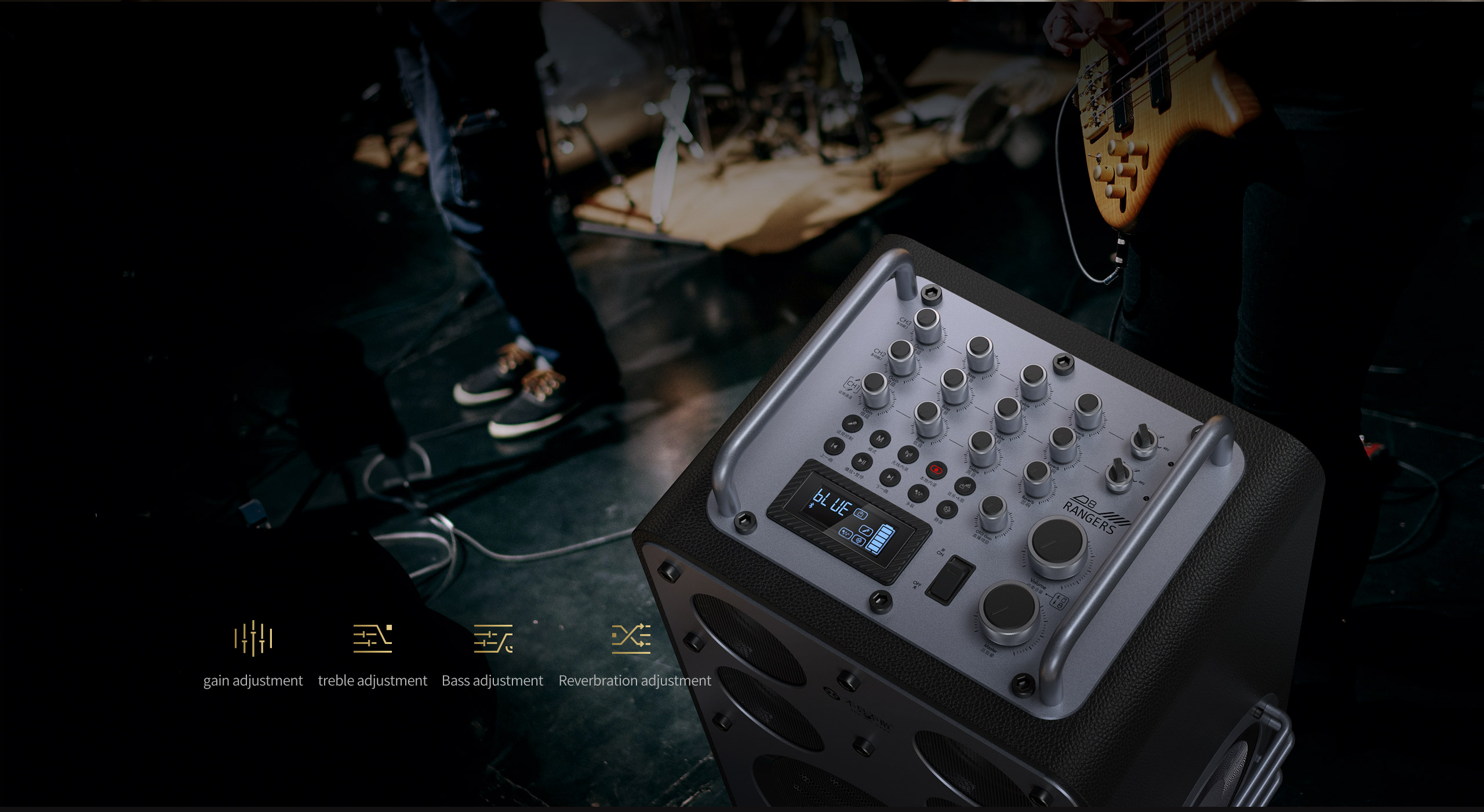 Sound Customization Personalized
sound effect is more attractive
Integrated multi-channel compact mixer, 1 channel wired microphone sound
adjustment + 2 multi-function channel sound adjustment,3 channels for multiple sound adjustments.
Additional accompaniment and live broadcast 2-channel volume independent
adjustment, personalized sound free definition.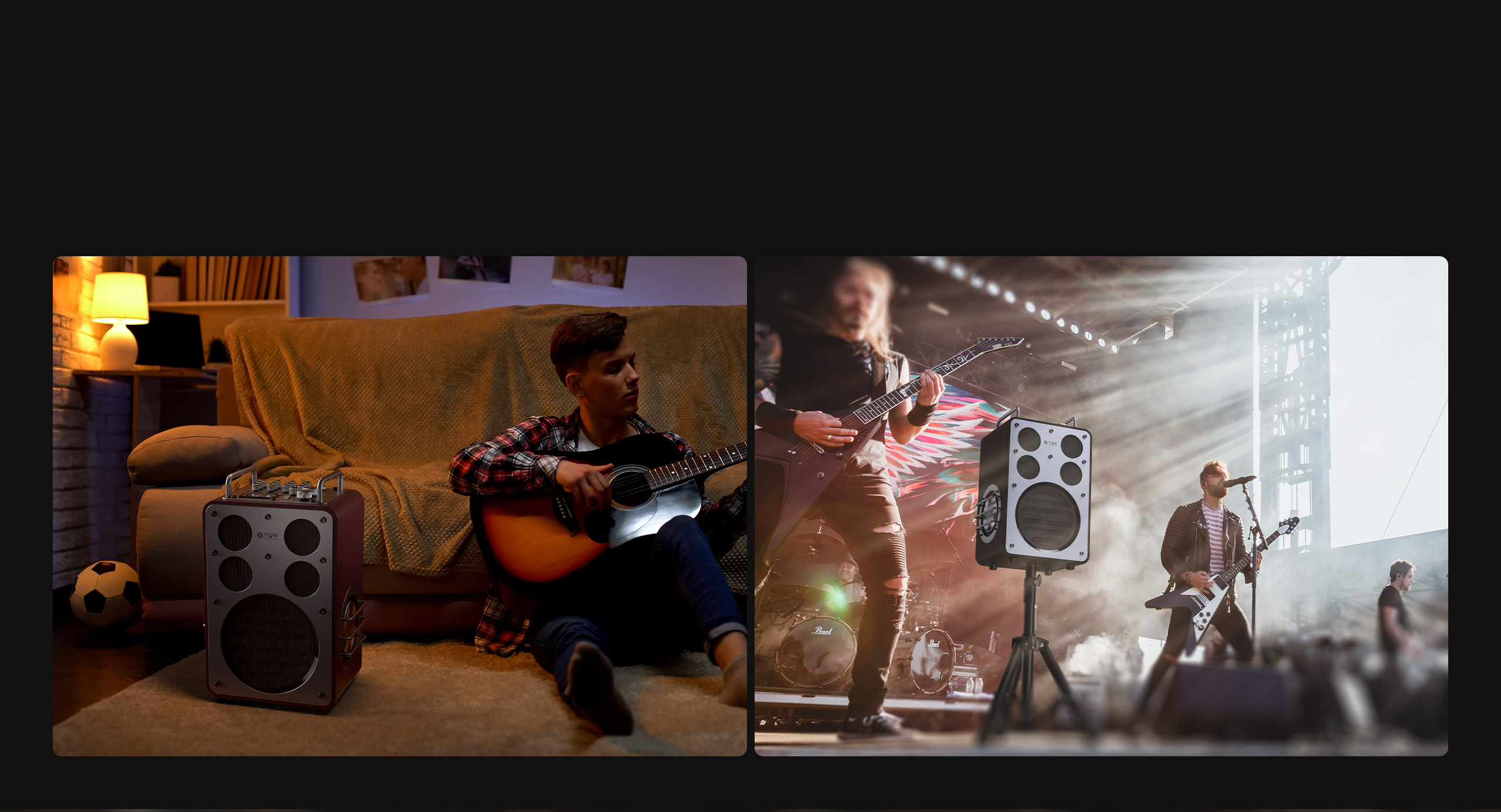 Music/Karaoke dual mode, adapt to various scenes freely
Two kinds of spatial sound effects are freely applicable to the needs of various performing arts scenes.
Music mode, the bass is more surging and full, and music listening is more immersive. In karaoke mode, the human voice is clearer,
and with the addition of 120dB loud pressure, the outdoor playing and singing performance is more shocking.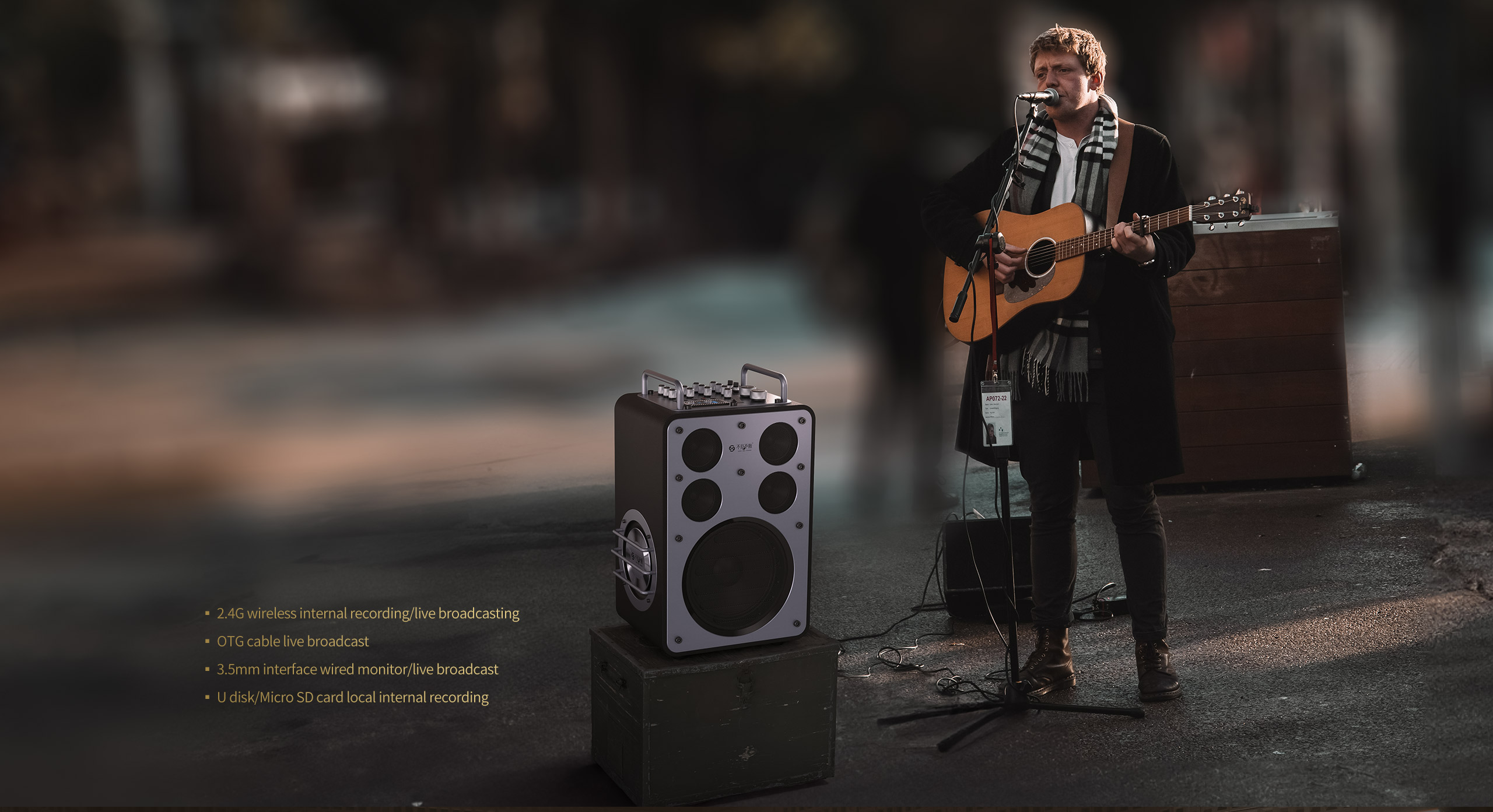 Fast broadcast and fast recording,
strong combination Playing and
singing performance is more satisfying
The combination of online + offline connection of the performance scene,Wired and wireless,
dual-line live transmission and internal recording. Convenient and quick, easy to record live performances,
The original sound is directly recorded in high-definition, pure and noise-free,
and there is no need for post-processing audio processing.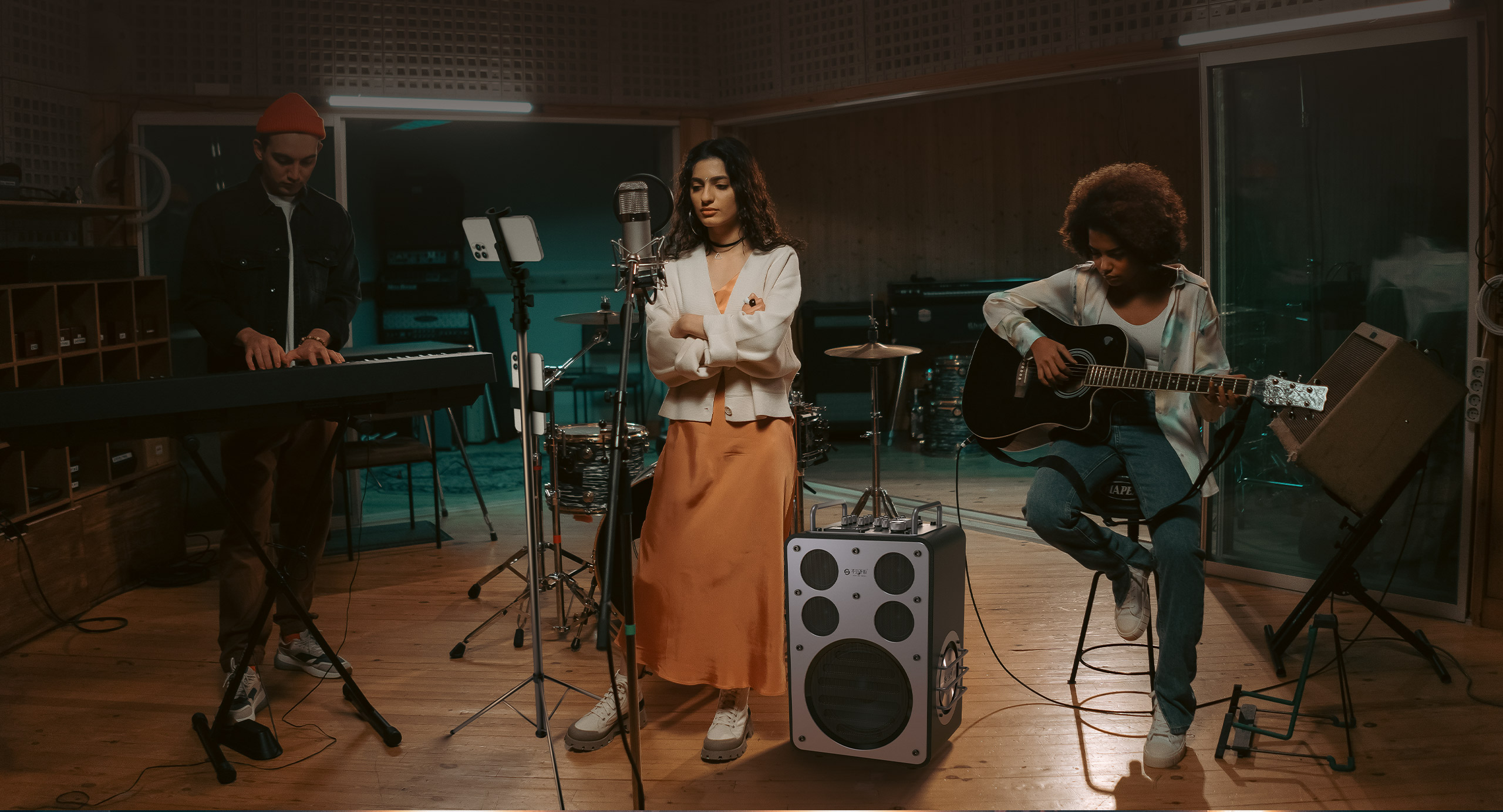 OTG wired live broadcast, charging while live broadcasting
Live charging is correct, and there is no need to worry about long-term live performances.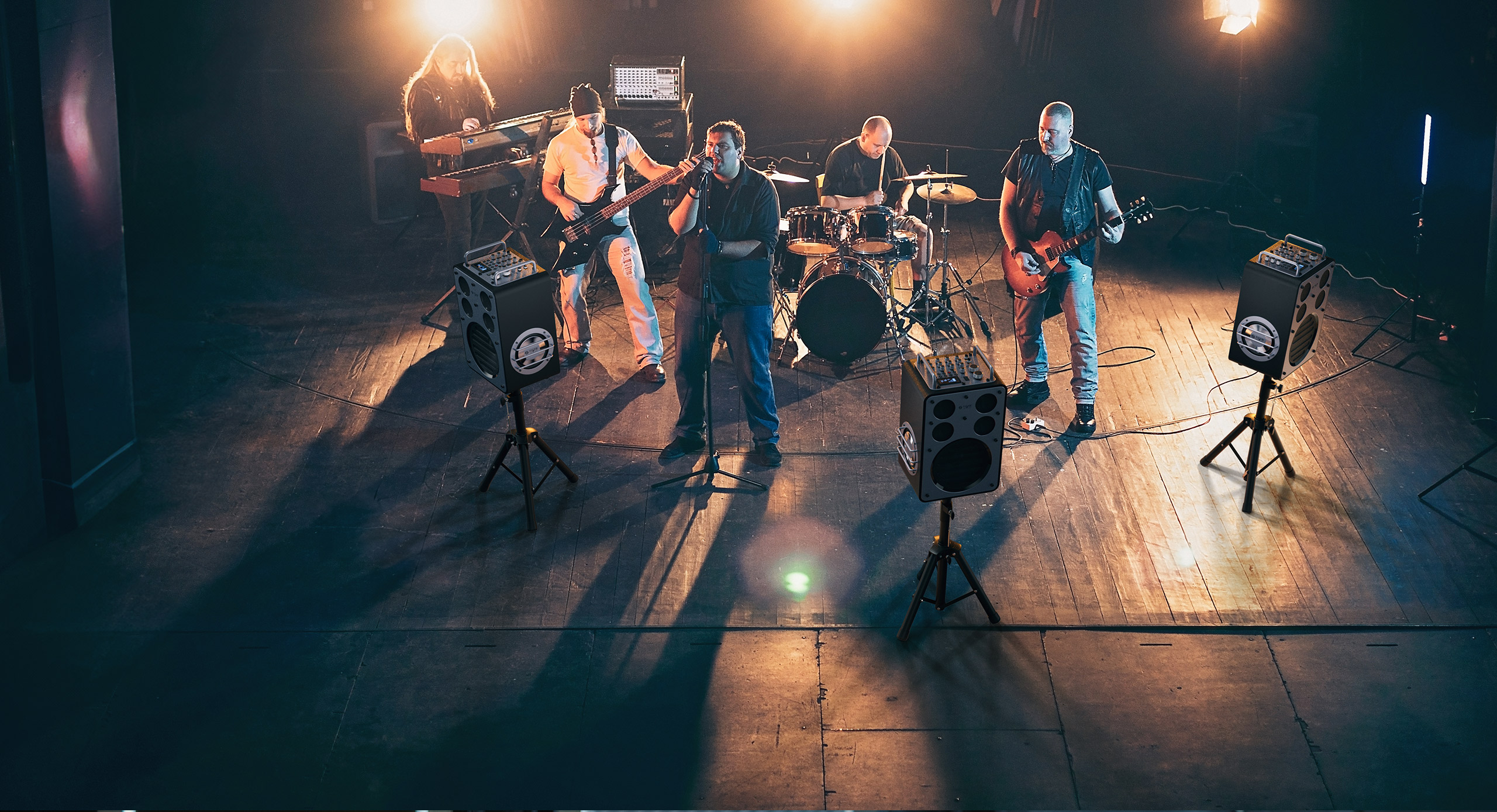 100+ stereo series connection
The large-scale road show is shocking enough
Support 100+ stereo series, synchronous use.Double the shocking energy to create a more incendiary stage effect.
Stereo wireless serial connection, free placement, singing as you like, shocking, high-energy and extraordinary.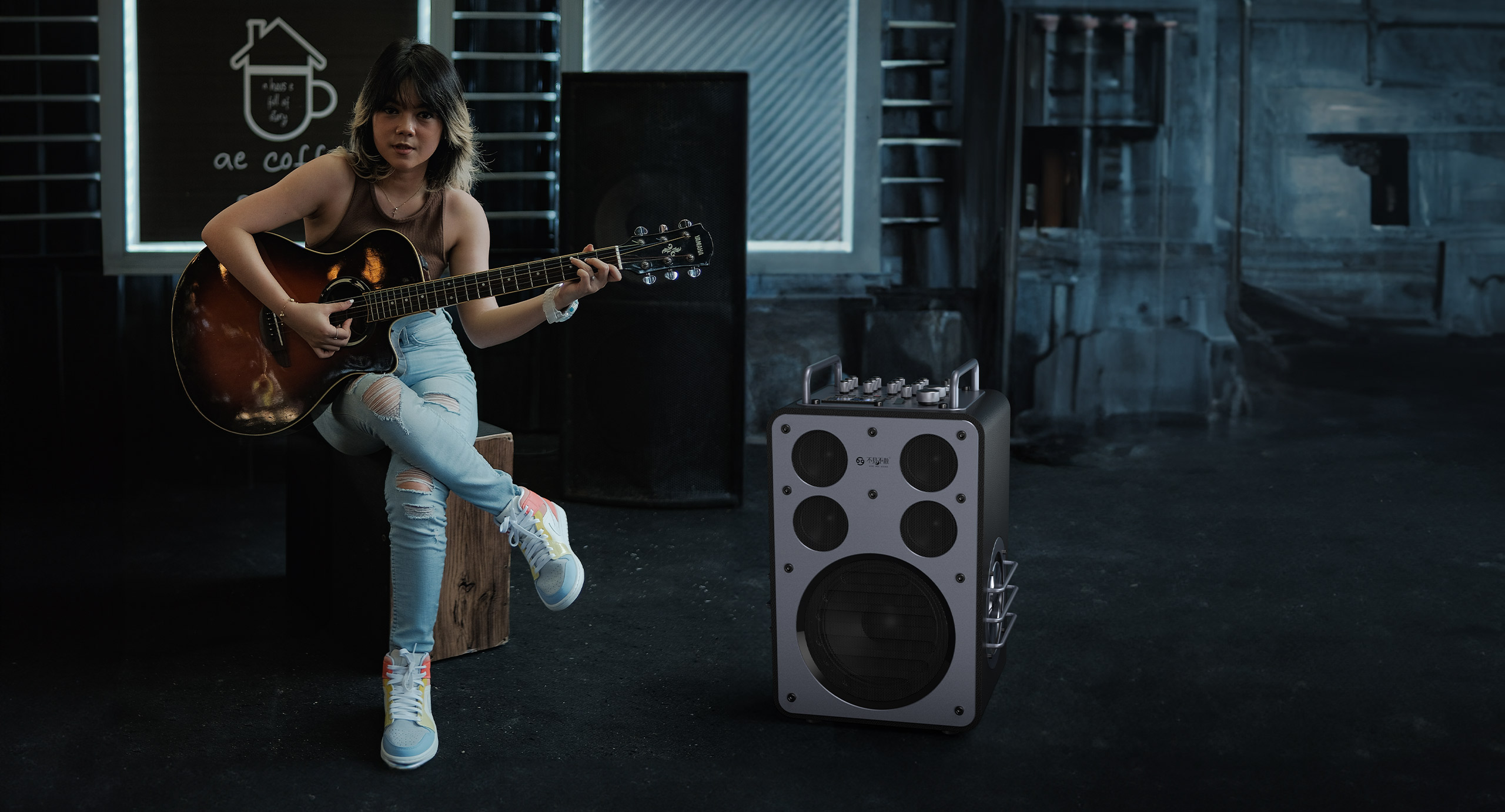 Majestic power
From reliable battery life
Built-in 45000mAh total capacity lithium battery, powerful battery life,
Large and small outdoor roadshows can be easily handled.
It also supports PD fast charging, so there is no need to worry about power supply.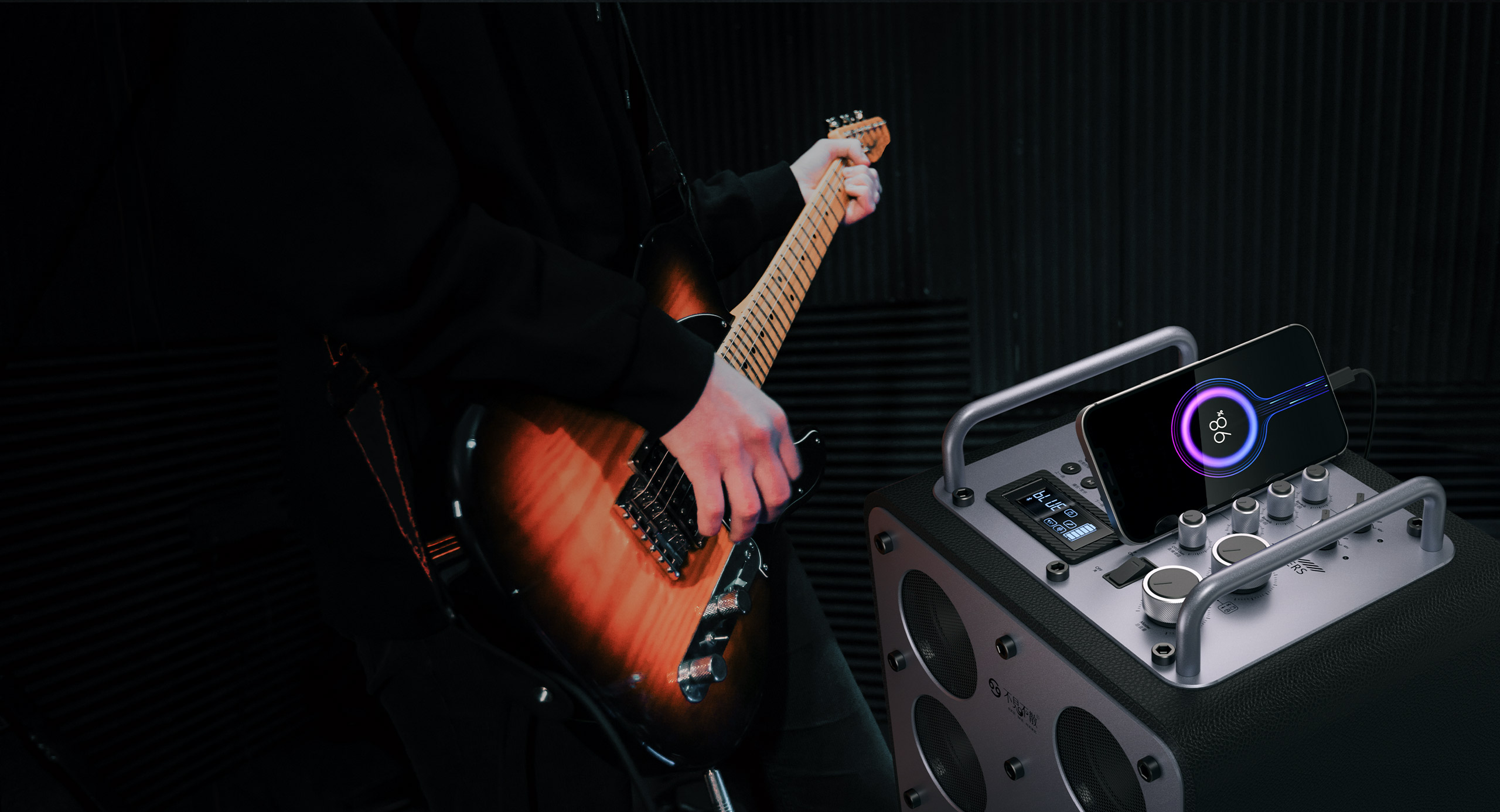 Mobile phone power
support let's sing together
The powerful power of the audio not only provides energy for playing and singing
on the road show, but also can reverse charge the mobile phone.
Support two-way type-C charging,
and simultaneously ensure the battery life of the mobile phone is online.
Multiple audio playback
methods everything is wonderful
Multiple audio playback methodseverything is wonderful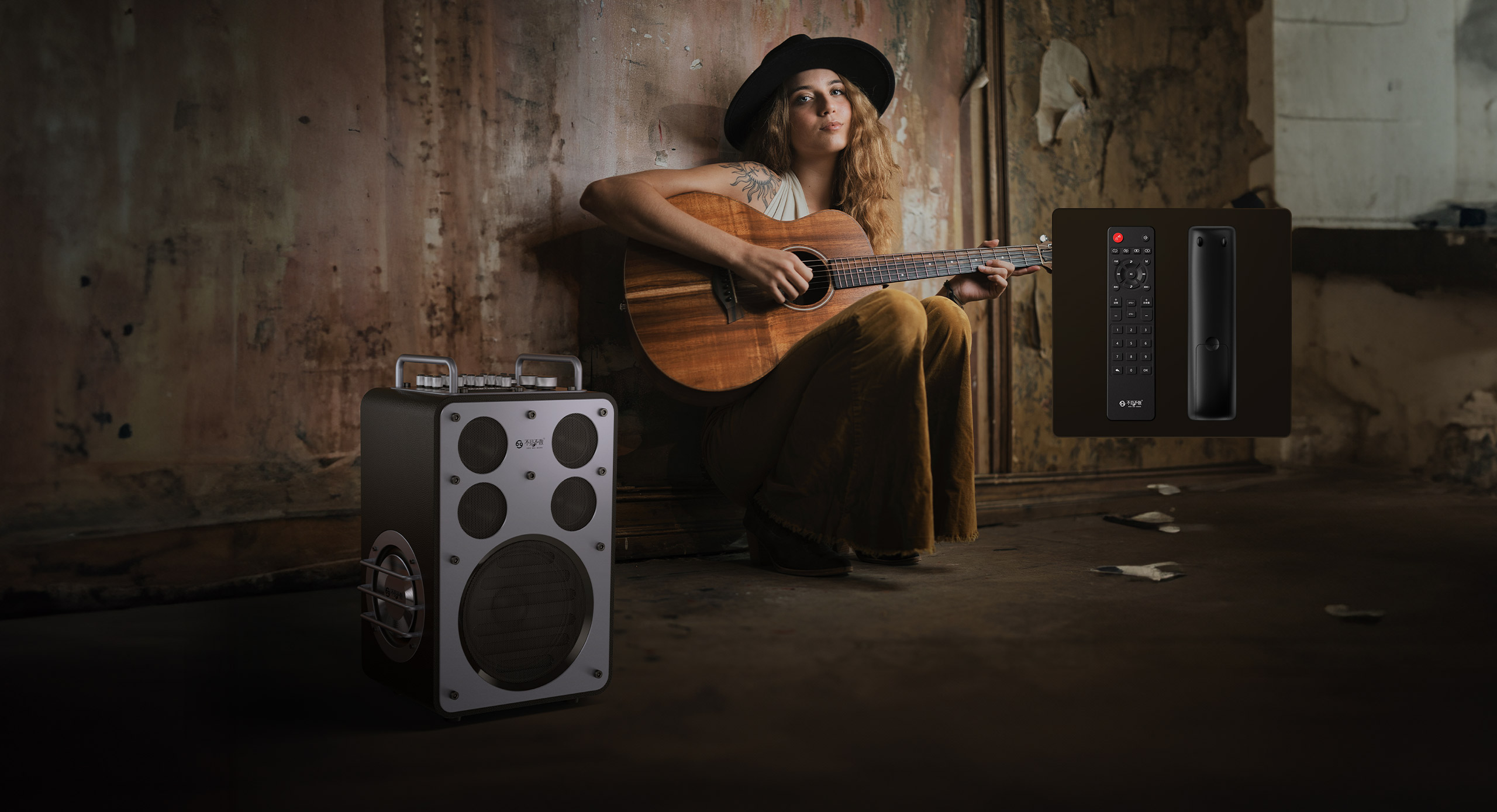 Bluetooth remote control
Far field directionless
remote control
BLE Bluetooth wireless remote control, non-directional far-field control, more convenient and faster.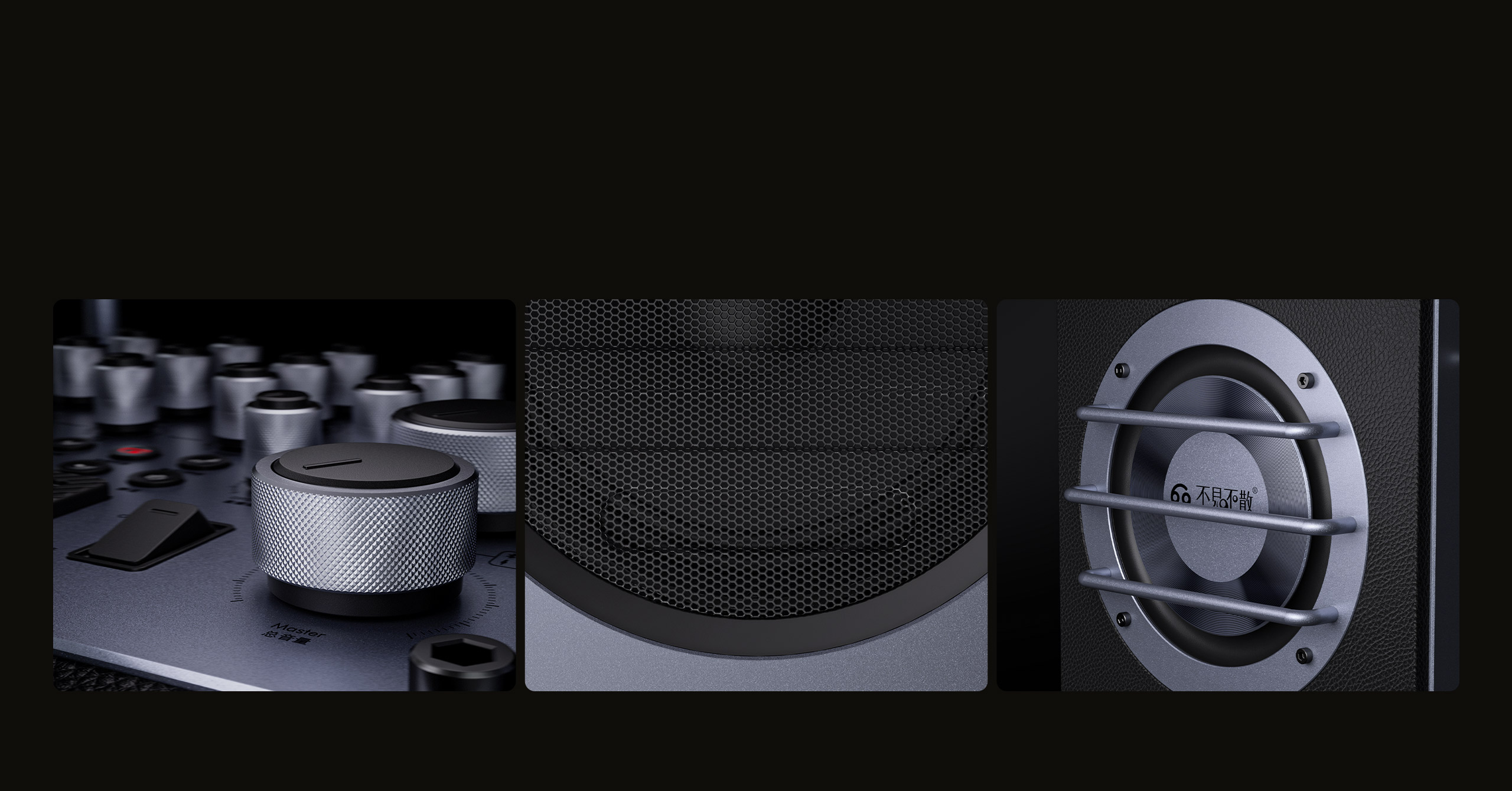 Lightweight and compact, see the real trick in the details
It adopts a light and environmentally friendly all-solid wood structure cabinet to provide better playback effect and reduction. Litchi pattern leather
texture of the same factory of international famous brands, high-quality texture is more delicate.The metal is made of aviation-grade aluminum, and the decorative screws are all made of
custom-made stainless steel screws. The difficult double-layer chamfering process... These together constitute the cabinet, and the details are even more ingenious.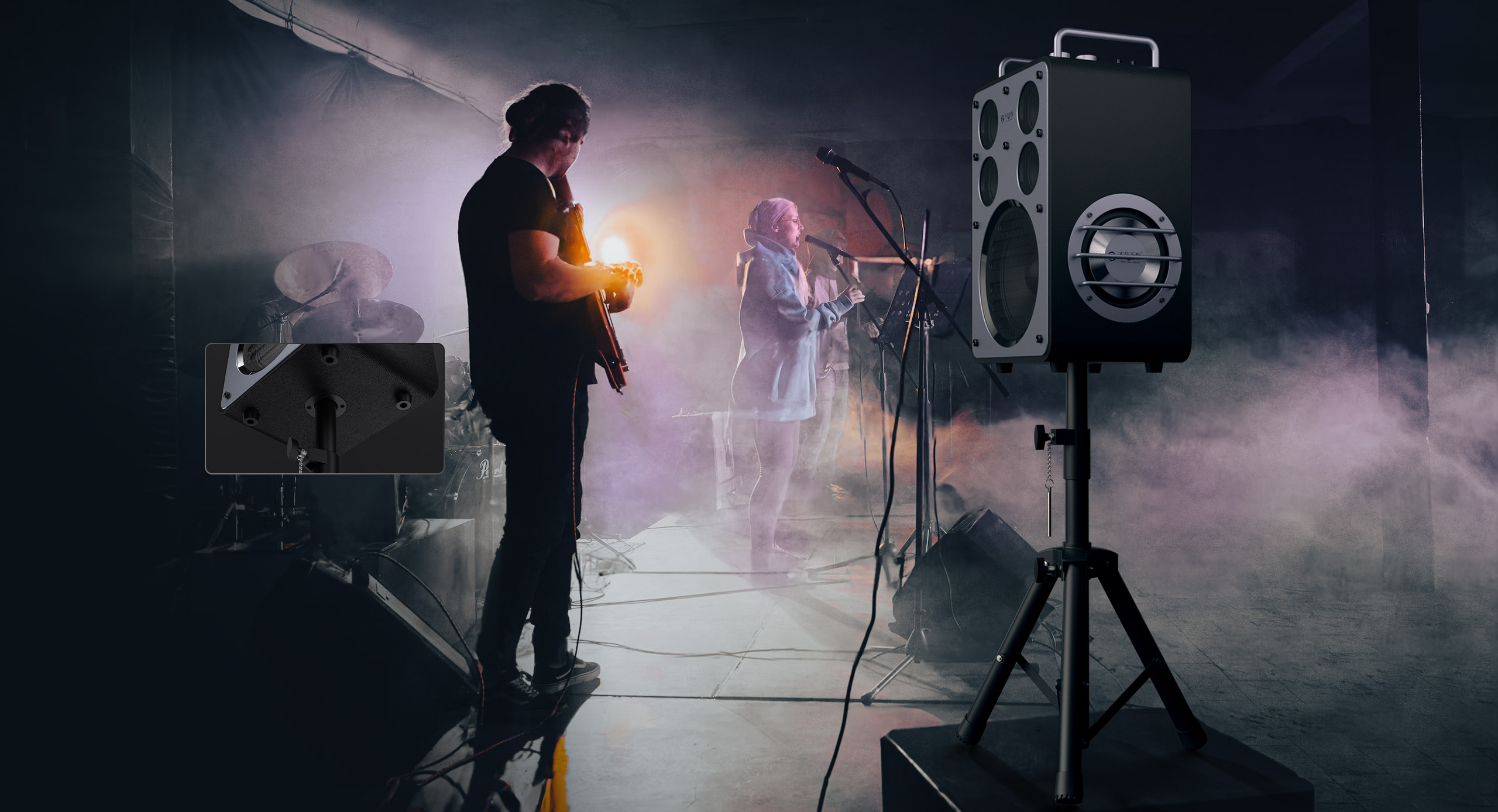 Strong and Durable Stand
Put your heart in your hands
There is a dedicated bracket jack at the bottom of the speaker.
No matter how you place it, you are comfortable with your
hands, and the stage is as free as you like.(Brackets are optional)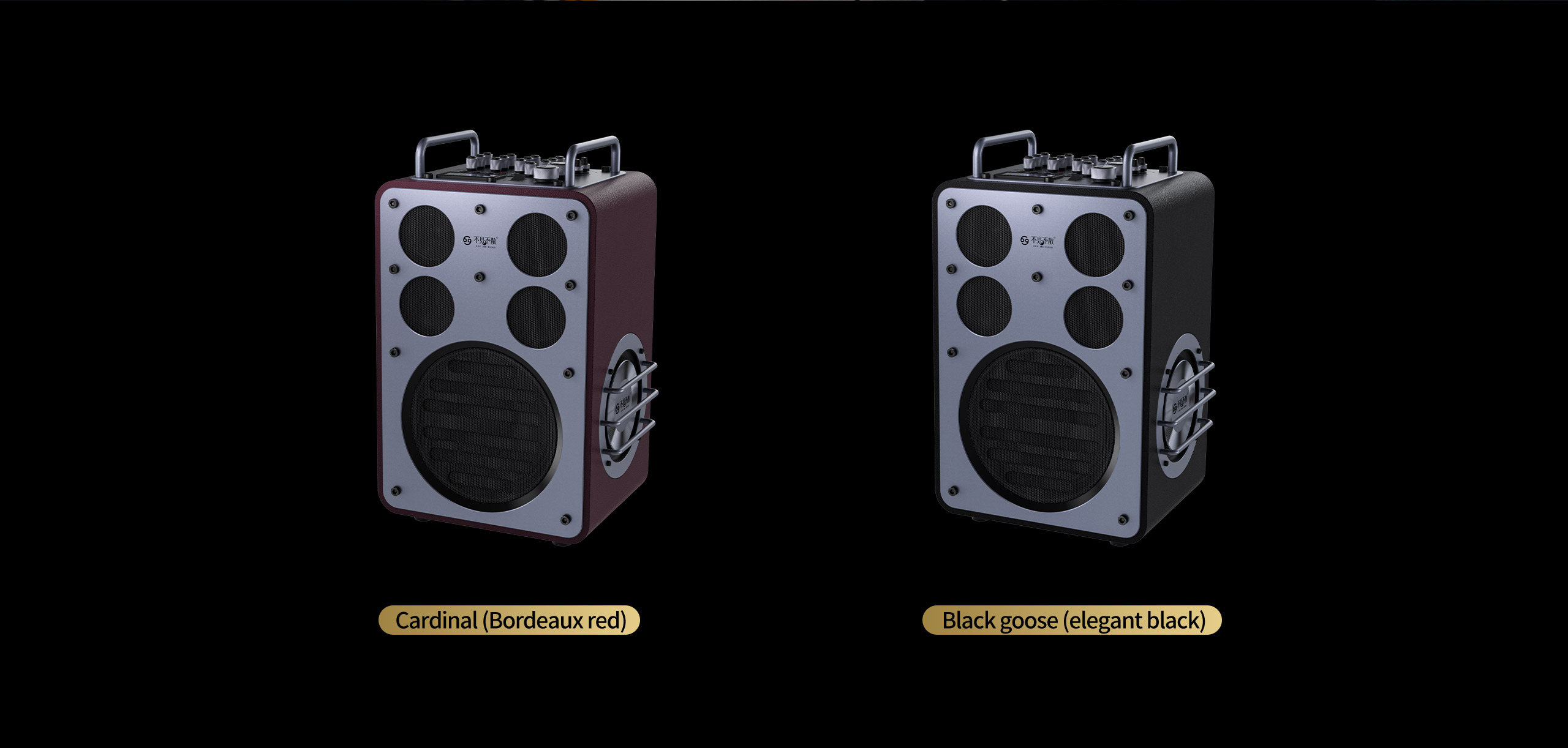 Speaker: 8-inch woofer + 3-inch tweeter
*4Bass Boost: 6.5-inch bass radiator
*2Frequency response: 45Hz~20kHz
Signal-to-noise ratio: >85dB
Bluetooth version: 5.0
Play function: Bluetooth playback, U disk playback,
TF card playback, AUX-in input
Singing function: wireless\wired karaoke
Live function: wired/wireless live broadcast and internal recording
Instrument playing and singing: 5-way instrument/microphone connection
Sound adjustment: support
EQ sound effect: support indoor/outdoor mode
Reverse charging: support
Bluetooth remote control: support
Battery type: lithium battery 18.5V
166.5Wh\Charging time: about 3.5 hours (60W or above PD charger)
Charging interface: USB Type-C
Charging protocol: support PD2.0\3.0 fast \
chargingUse time: about 22 hours in music mode,
about 19 hours in karaoke mode (play at medium volume)
Product specification: W343mm* H241.5mm*
D510.5mmProduct net weight: about 12kg
Speaker x1
Wireless microphone x2
user maunual x1 Remote control x1
Live broadcast\cloud recording receiver x1
Type-C + USB2.0 transfer charging cable x1
Type-C to Lightning x1