SEE ME HERE ·BV620
White Noise
Sound Machine
Built-in soft light music and the natural sound can
gradually calm down our emotions, relieve nerves and
assist sleep. Healthy sleep helps us recover our
physiological condition,and can keep us in the
best condition when we are awake.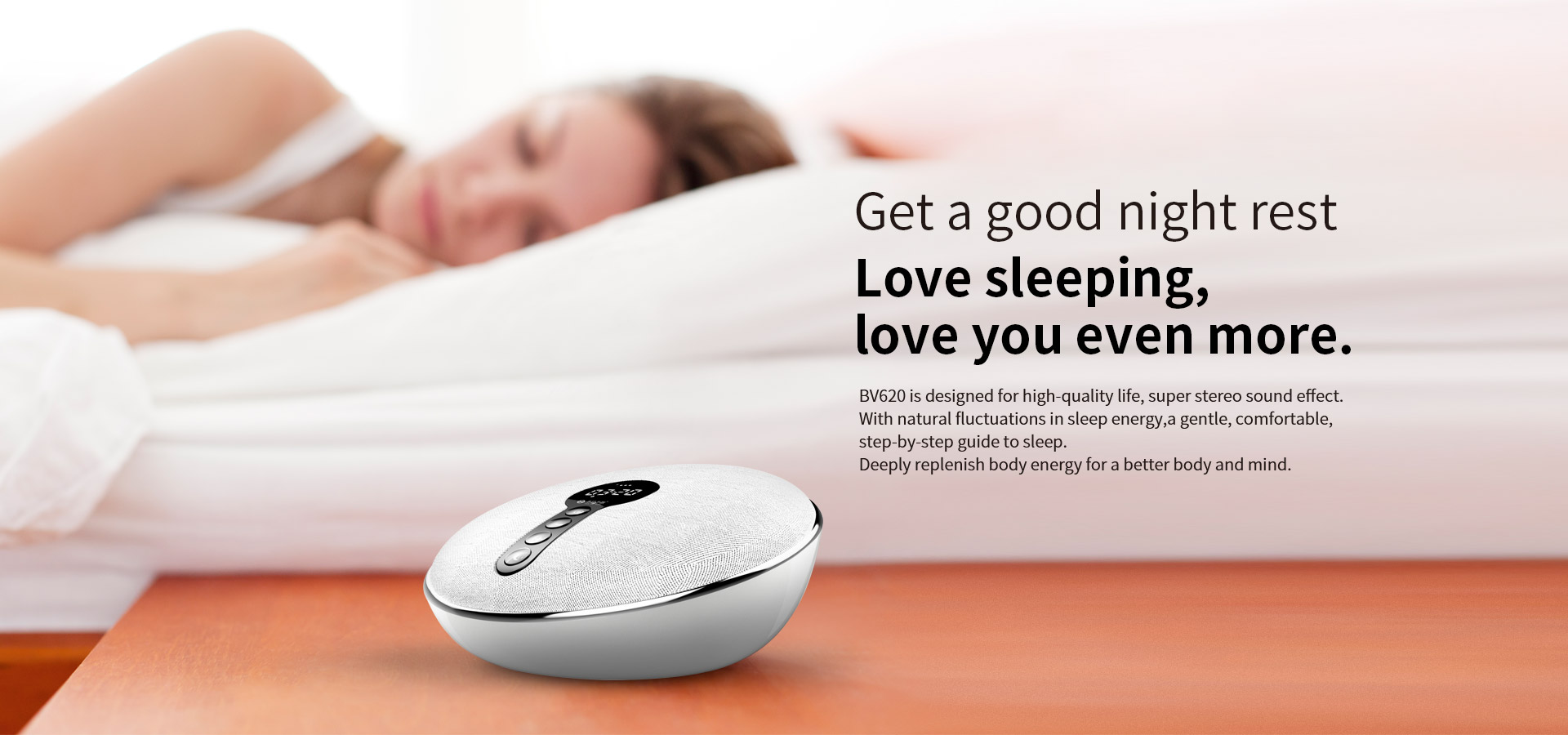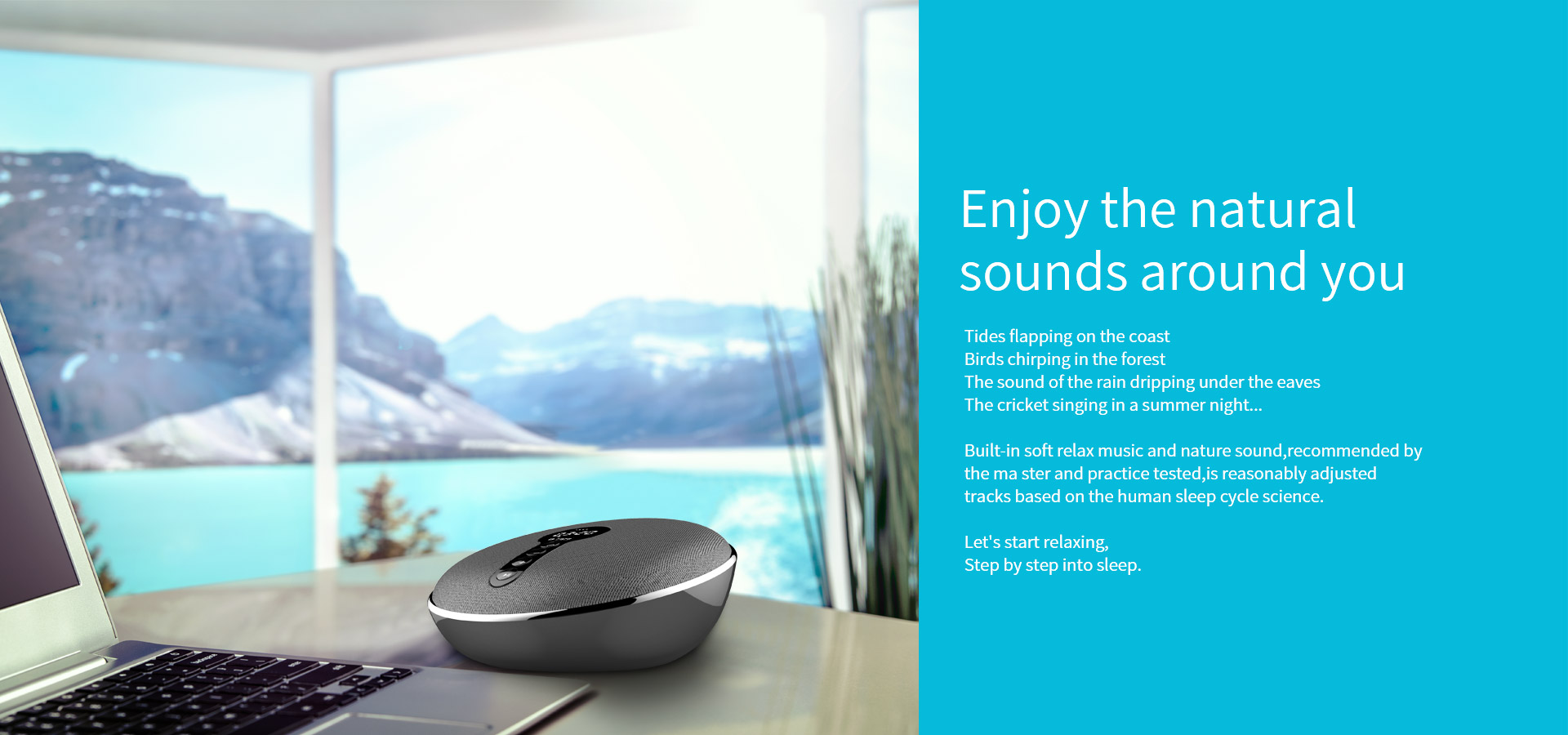 SEE ME HERE ·BV620
Enjoy sleep and replenish energy
3 stages to adjust sleep quality
The first stage
With the magical power
of healing music
Relax body and mind
Second stage
Energy fluctuations with the help
of nature sounds
Assisted sleep
The third stage
Automatic Volume Guide to
Golden Sleep
Supplementary energy
One click to sleep
Easy to operate,
easy to sleep
Sleep mode can be entered with one click,
and the built-in sleep aid music will be
automatically played.Enjoy the sleep mode
instantly.With a screen display, battery usage,
playback time, time, alarm clock,The operation and
display is clear at a glance.
Excellent sound quality
Spoil your ear,
the icing on the cake
of sleep energy.
Powerful 2.2 acoustic structure, 2pcs 45mm
20-core magnetic trumpets,Plus two 56mm
passive radiators with excellent low frequency
performance, up to 15W peak power.Create the ultimate
sleep enviroment anytime,anywhere.
Smart alarm clock
Set the alarm clock through the APP,
turn off the speaker, and set the alarm
Gently wake up to make getting up easier.
Concise design
just like an artwork at home
Irregular circular body design with smooth lines, like a round cobblestone.
Painted with pearlescent paint, 3D curved fabric mesh cover,
Approachable warm craft design,
Adding a beautiful landscape to your bedroom.
Strong technical support
Strength gives you more than you need
Embedded actuarial sound effect technology, through psychoacoustics technology and virtual bass, reproduces the
disappeared sound on ordinary loudspeakers and improves the sound quality.
BV620 has an independent CLASS D double charge pump power amplifier chip that increases the total boost conversion
rate by 15% and up to 95% compared to a synthetic power amplifier chip.
Integrated Automatic Gain Control (ALC),with excellent anti - distortion ability, fidelity sound quality.
Bluetooth 4.2, free your hands
Freedom to listen everyday
Up to 90% bluetooth device compatibility, 30m theoretical visual distance
Supporting two-way HD hands-free calls, listening to music,
chasing dramas, making phone calls etc.
Releasing hands and enjoying freedom.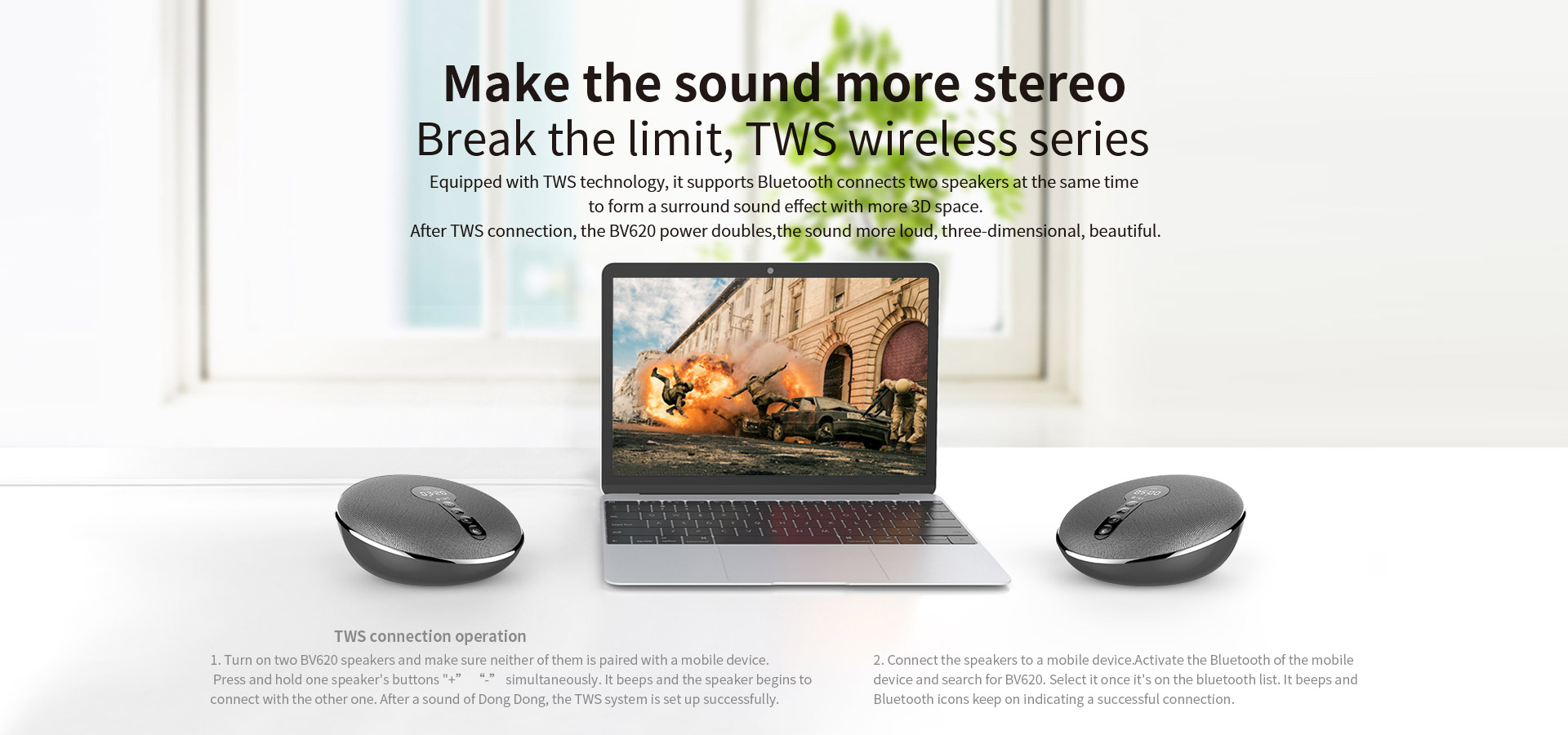 Theoretic playback lasts up to 10 hours
4000 mAh
high capacity battery.
Intelligent power management to eliminate waste of electricity.
Diversified usage scenarios
Multiple Connections
Support bluetooth +TF lossless audio format with
AUX audio cable playback.Multiple play modes and
diversified terminal connection modes.
Moderate size
Easy to move
Neutral, simple appearance, with a large suction silicone footpad at the bottom.
Weight 410g,can move it to any corner of your home, give you high quality life companionship.