Enjoy music time
BV650 SCREEN CLOCK SPEAKER
Meet music
In the long river of time
Talk to life and love
Nice time for better life
Demand and taste,
deduct your CHIC life
2-in-1
With 106 high-brightness LED mirror display,
184 × 72mm large size screen, adjustable 7
grades of brightness. Support calendar, time,
alarm clock, power, and function operation display.
Intimate time assistant
Large number time display, support the alarm clock setting and daily time view,
Highly sensitive touch operation
Simple and intuitive interface, high-sensitivity touch key, high-brightness LED backlights, shining and clear indicating.
Enjoy a smooth and efficient human-computer interaction experience in any environment.
Touch your fingers and make the operation accurate and enjoyable.
For ears, pursuit of
extraordinary sound
quality
2 excellent 55mm full range speaker units and 2 52*72mm
roundLow frequency booster, peak power up to 30W. From
hardware to software, comprehensive adjustment and
optimization, sound clarity, breadth and balance are better.
Superior quality, irresistible rhythm, and excellent sound
detailing, bring you the fantastic music world.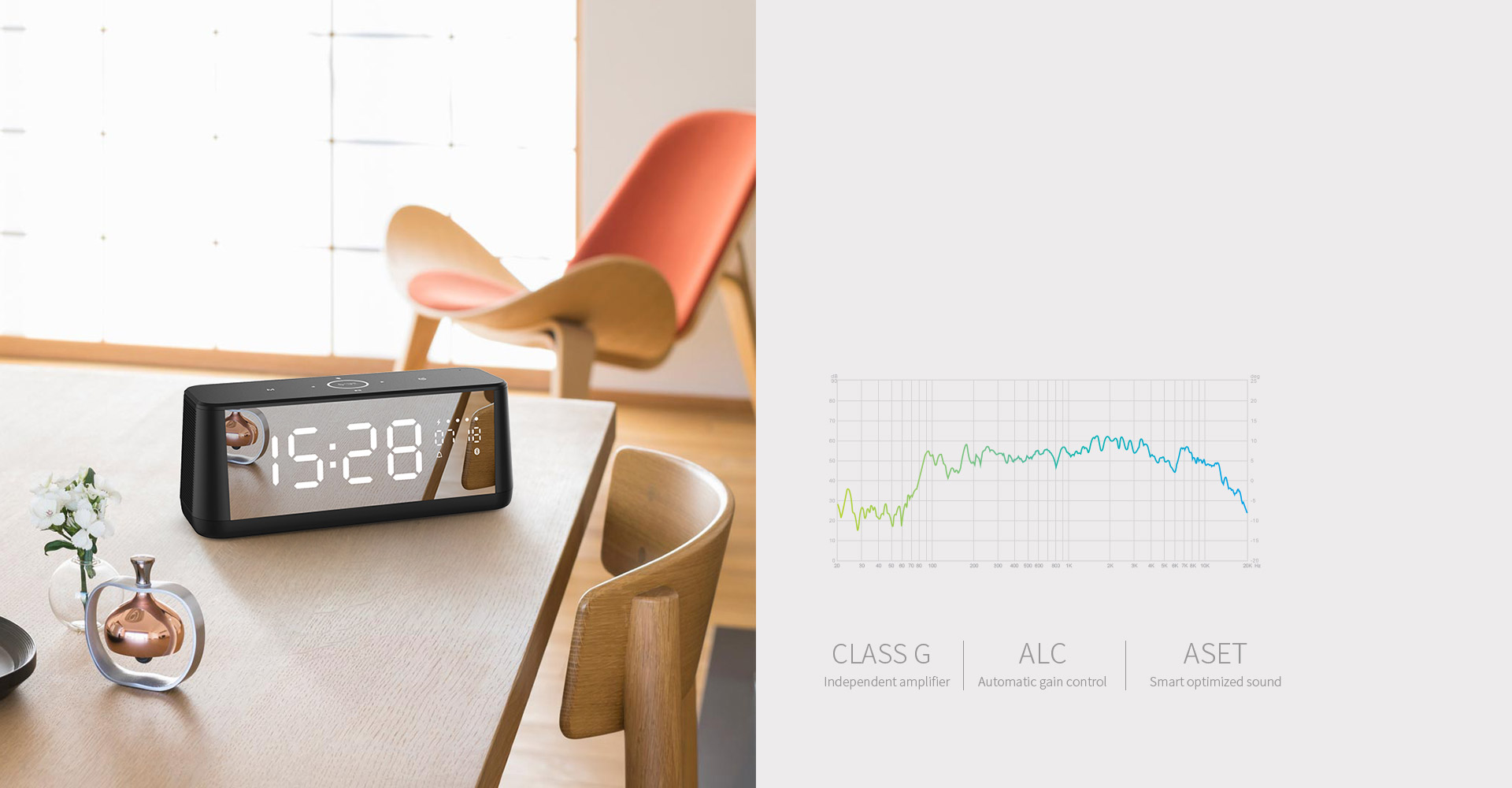 Beating hearts for
sonorous sound
Two independent class G power amplifier chips with ALC automatic gain control,
apply audio-optimized ASET sound effects, plus stereo active two-way system for
clear and transparent treble and strong bass performance,
Immersive enjoyment
of stereo sound
The stereo surround sound, with speaker units a left-right arrangement,
to effectively expands the stereo field and has a richer sound stage.
Play games, watch movies TV shows and chase variety shows, realistic three-dimensional sound effects let
you enjoy yourself as if you are immersed in leisure time.
TWS Wireless Connection
3D Surround Sound
Support Bluetooth TWS wireless connection, expand to a stunning 3D surround sound. And support TWS in series,
Use AUX to connect to other audio output devices. Open up a more beautiful world for you.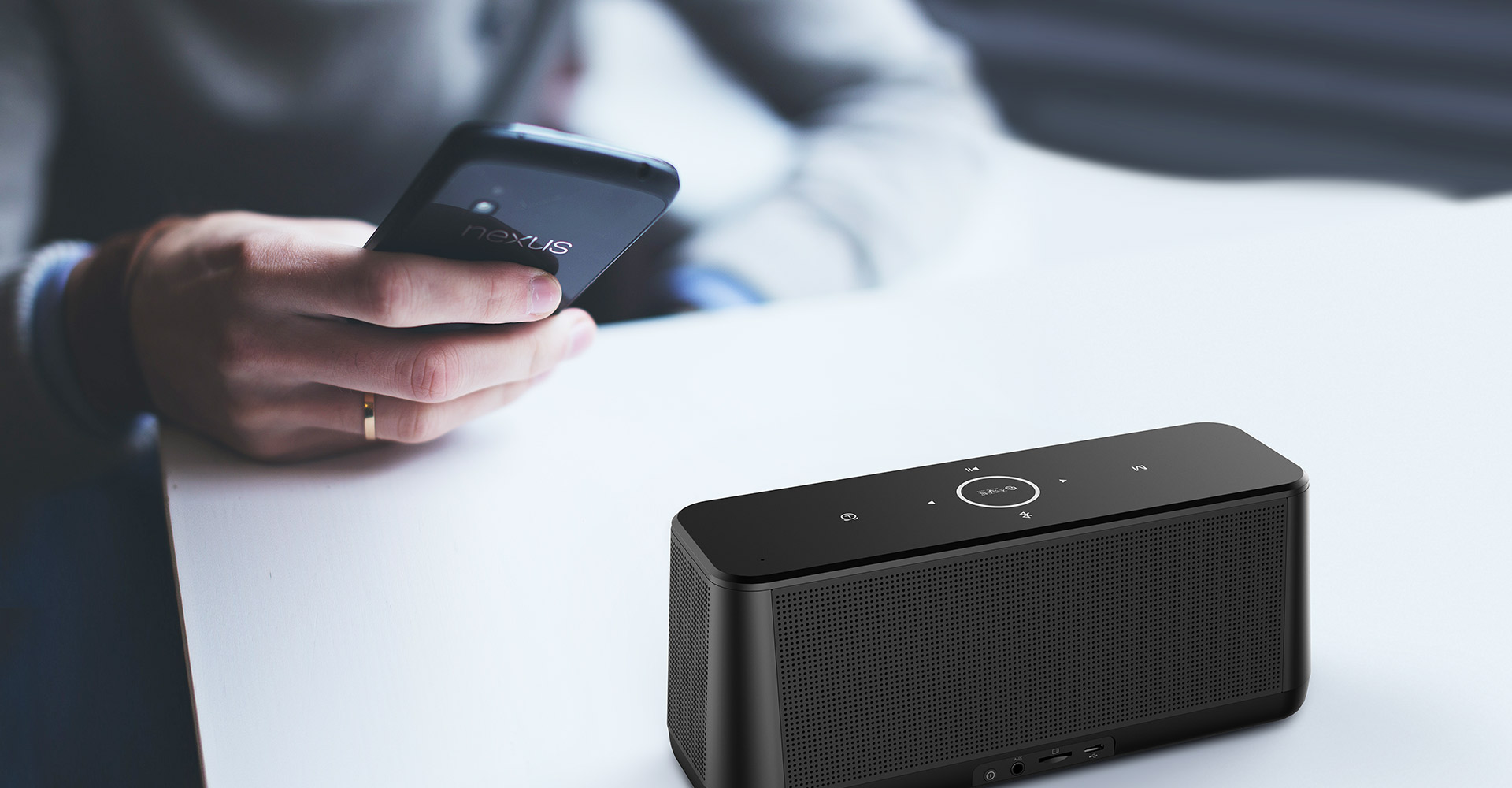 Bluetooth 4.2
With 4.2 Bluetooth solution, high-quality audio transmission, high compatibility,
allow to connect all kinds of Bluetooth devices. Support Bluetooth hands-free calling,
multi-directional pickup microphone,Intelligent noise reduction technology, to make
and receive calls more clearly.
TF card lossless play,
more free to enjoy your music
Supports TF card (Micro SD card), FLAC/APE 2 lossless audio formats, and MP3/WMA/WAV 3,
plug and play. And support TF card data copy, delete. Favorite good music, more free to enjoy
3.5mm AUX input
To expand more usage scenarios, use a 3.5mm audio
cable to connect to a variety of audio output devices.
3.5mm AUX input
Built-in 4000mAh large capacity lithium battery, 8-10 hours
playing time. Three power-saving modes: dark screen if no
operation within 30 seconds , screen turn off if no operation
for 5 minutes, speaker turn off if no connection and no
operation within 10 minutes,
Simple but
fantastic design
From the new era of simple aesthetic design,
with size of 226 * 80 * 92mm, and weight of 732g ,
exquisite and sturdy appearance. Smooth
skin-friendly feeling, or desktop speakers in the
office... superior quality, always add a CHIC
quality to your life at any time.
Touch key design
16mm high brightness adjusting ring,32 volume grades, favorite volume memory
Design details
High density anti-shock silicon pad,
abrasion proof, more durable and steady
Product Specs
Speaker Type :
Bluetooth
Storage format :
Micro SD card up to 32GB
Power :
Built-in 4000 mAh Lithium battery DC ~5V1A
Speaker unit :
2" loudspeaker*2+radiator*2
Output power :
10W THD=10%
Frequency response :
50Hz~19KHz
Wireless connection :
Bluetooth 4.2
USB type :
USB2.0 compatible with USB1.1
Audio :
APE、FLAC、WAV、WMA、MP3
Size :
226×80×92mm
Weight :
732g(battery included)