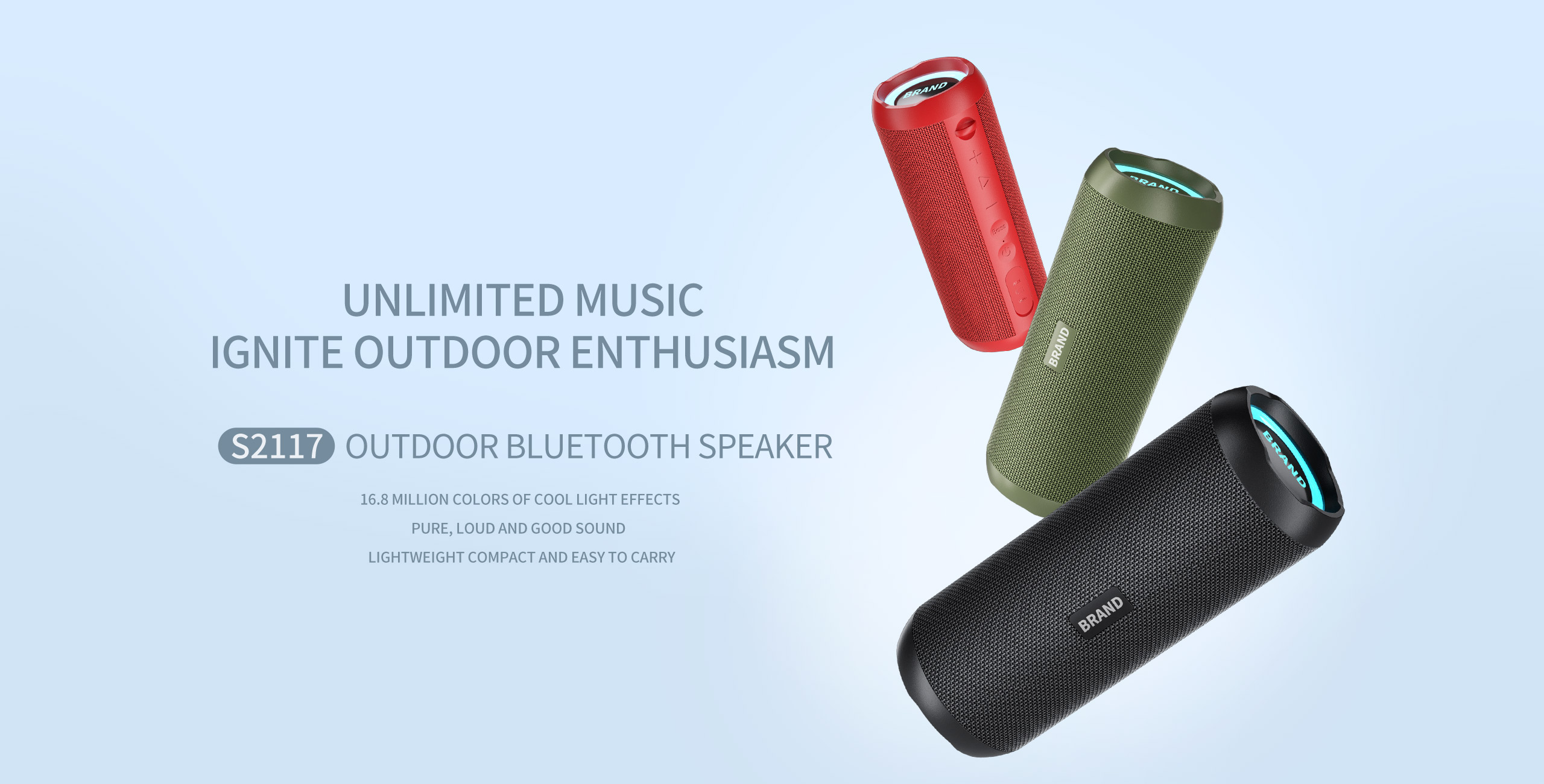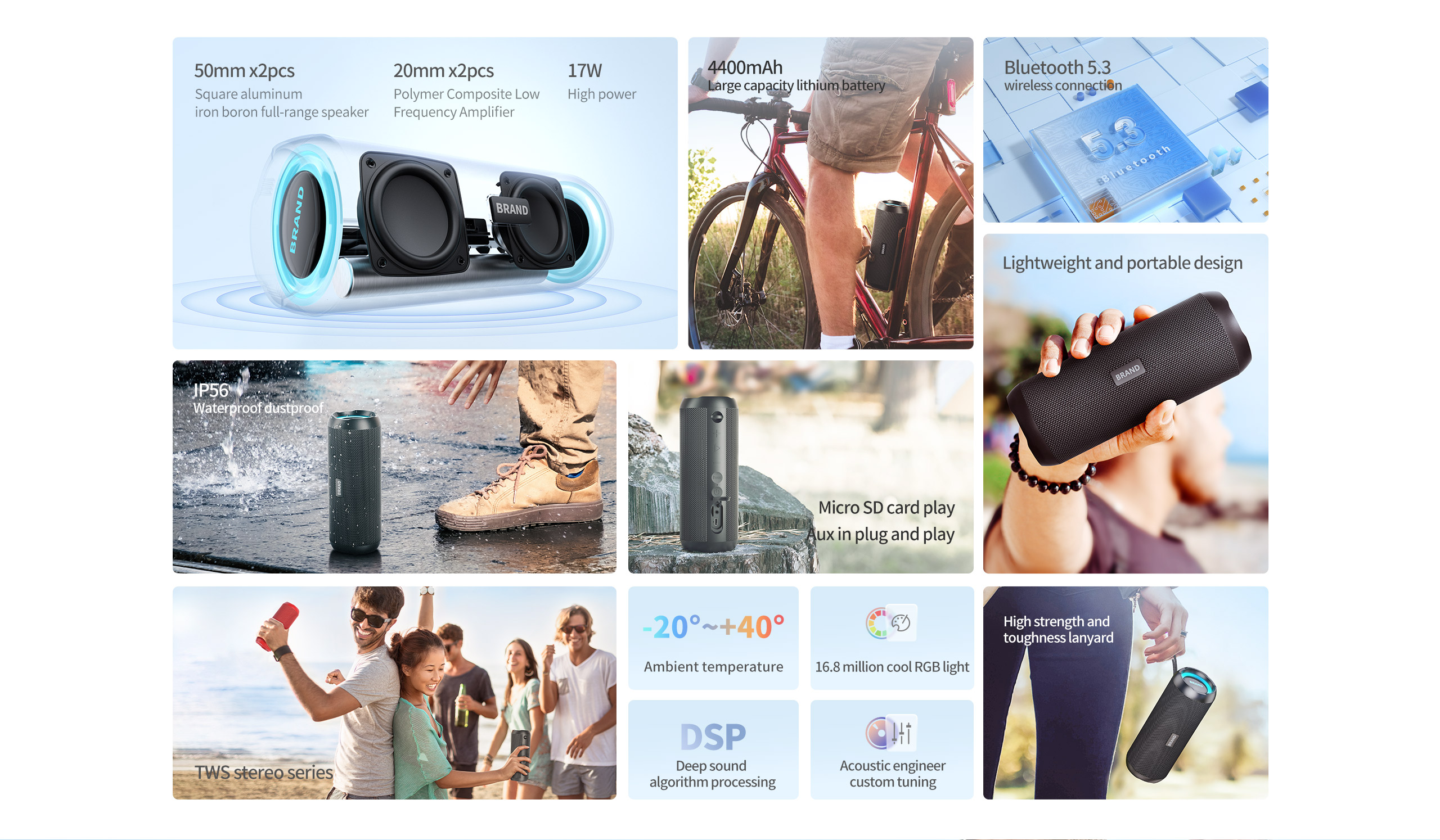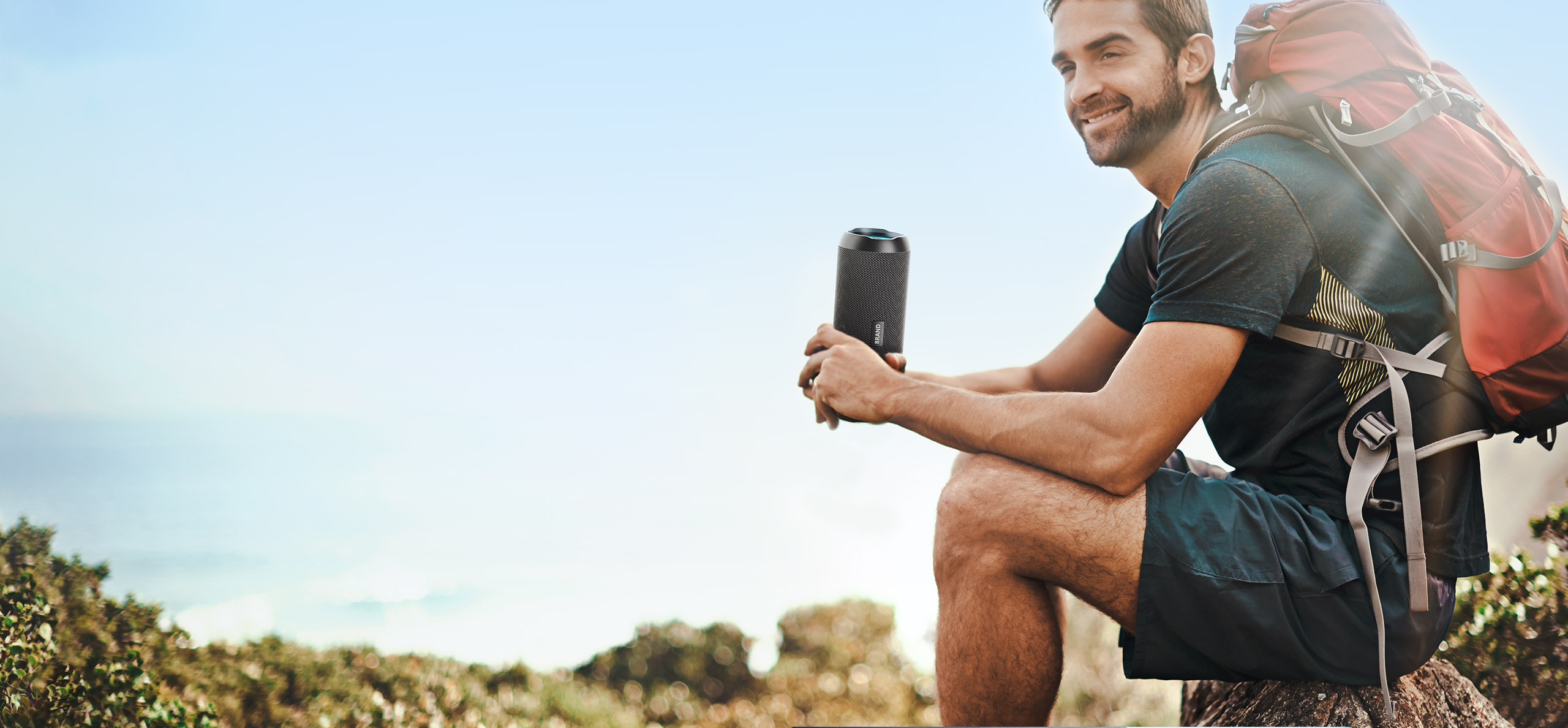 Pack music and fun
Bring vitality to the mountains
Cycling, rock climbing, mountaineering, camping, self-driving,
traveling, follow curiosity and ambition, and absorb the energy of nature.
In the mountains, there are always surprises to explore and not play;
the music recalls and responds to the call of the beautiful mountains.
Wild fun is boundless, bring love and joy, and explore the outdoors!

Lightweight design that
travels with you
193*75*75mm can be held
with one hand
Light weight of only 482g
High strength and
toughness braided rope
Can be carried and hung
More convenient to carry
and use outdoors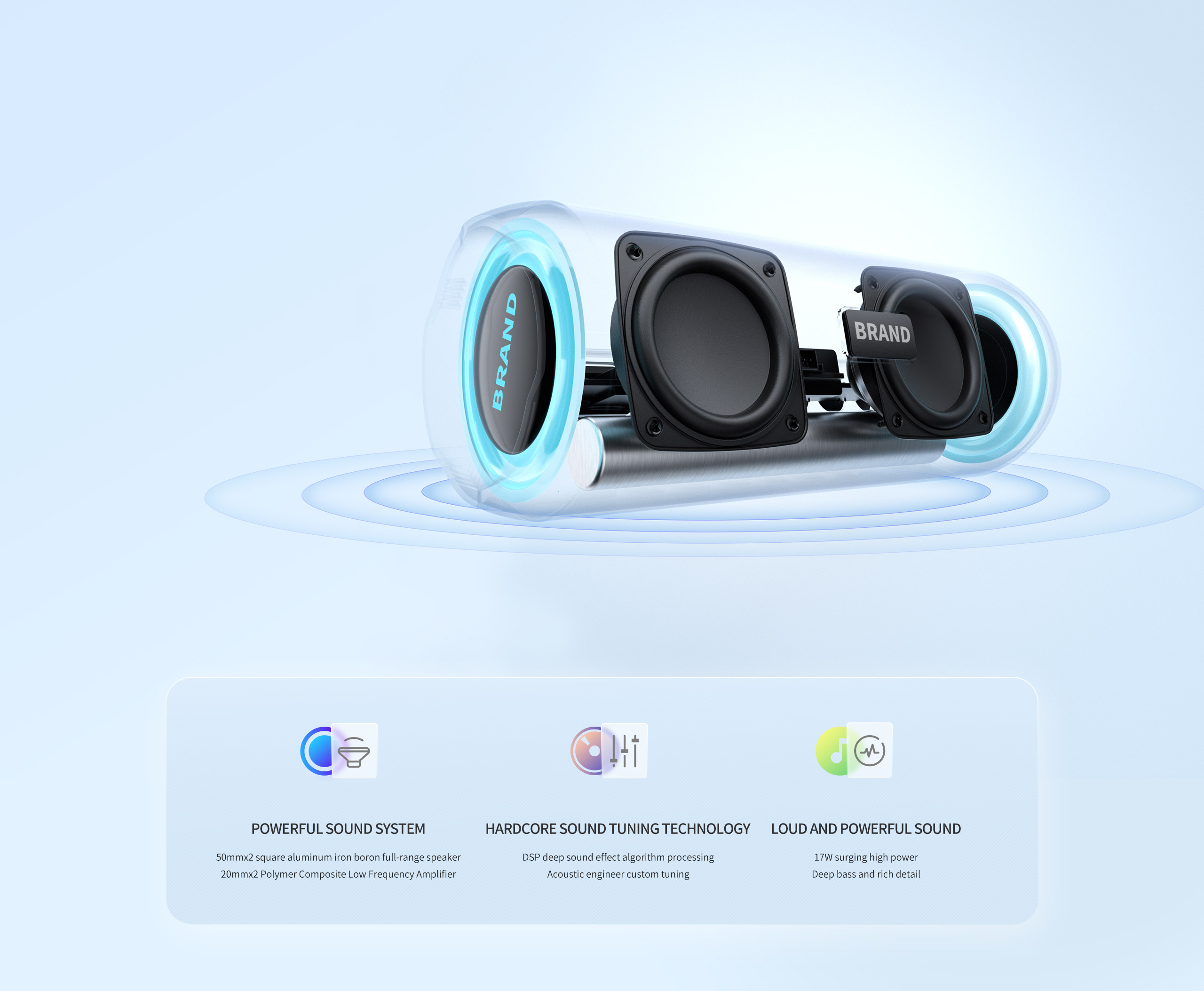 Powerful sound
made for outdoor adventures
Two-way speaker system with two visible passive radiators for loud,
clear and powerful sound.The highs are crisp and clear,
and the lows are punchy and deep for outdoor exploration and adventure.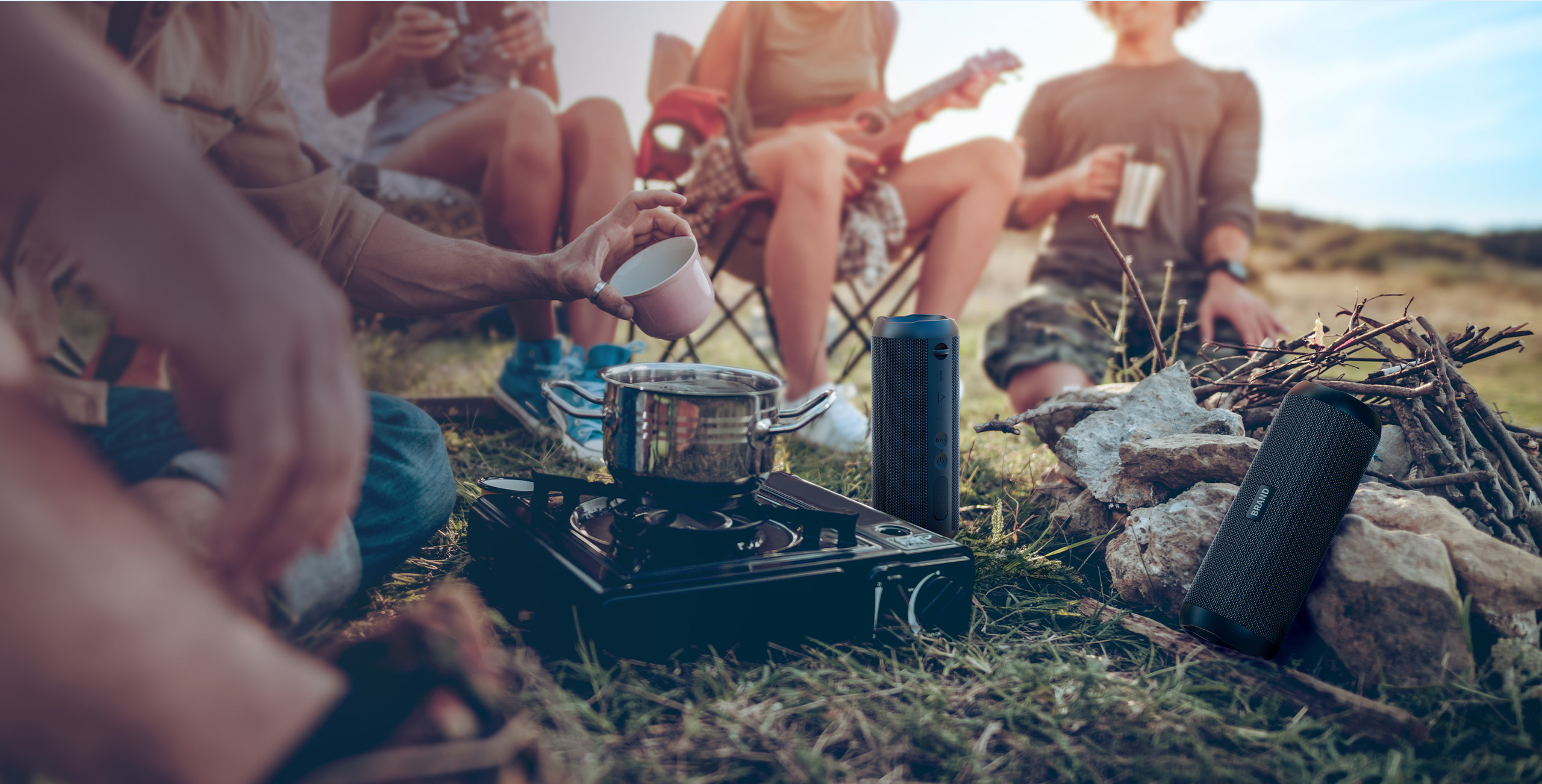 strong power Indulge in
the fun of the mountains
The 4400mAh polymer lithium battery provides a strong battery life guarantee.
You can take it to the depths of the mountains as you like,
enjoy carnival, and the fun does not stop.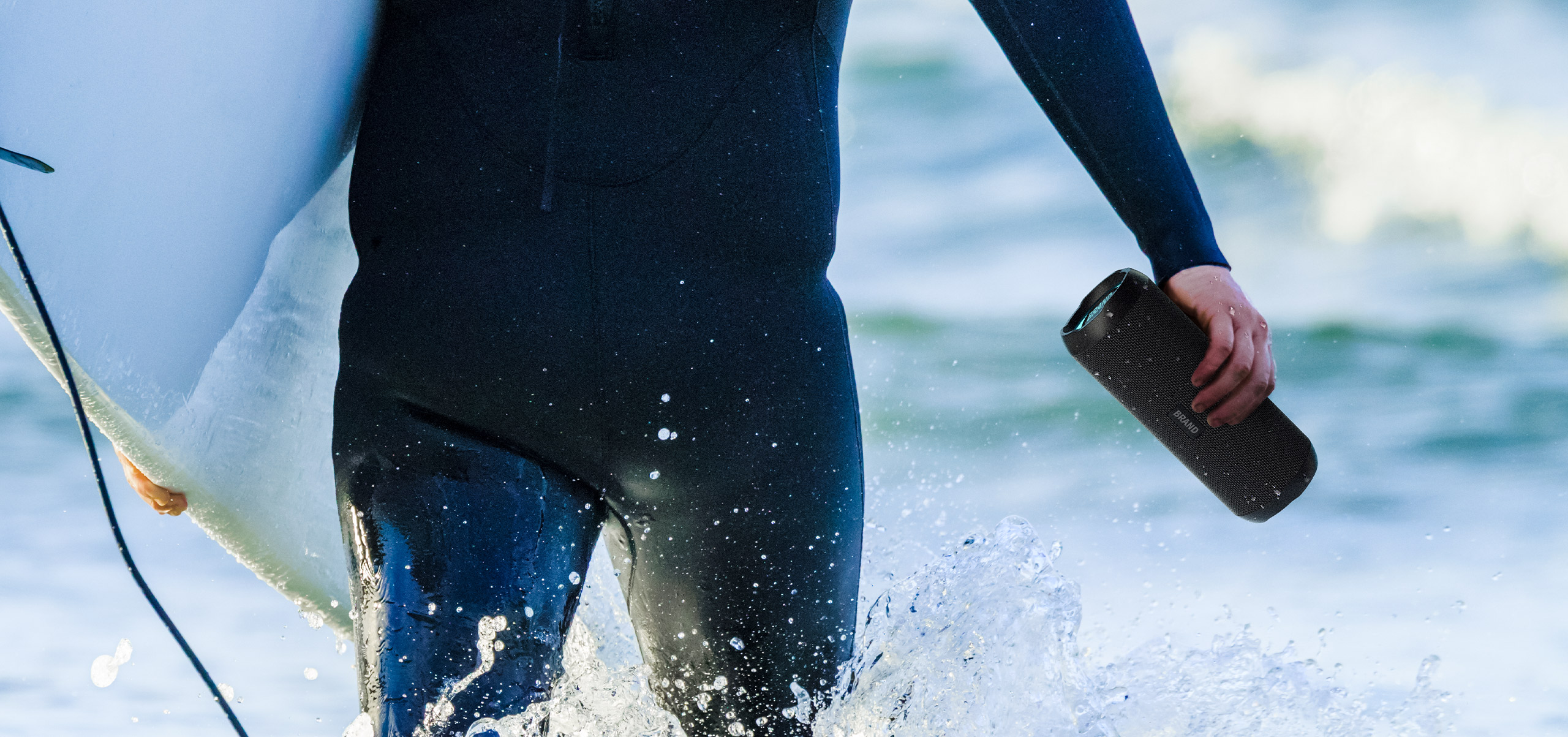 IP65Waterproof and dustproof
Boldly and recklessly go wild
Mountains, rivers, lakes and seas, you can take the speaker anywhere.
From the desktop to the poolside, from sunny mornings to stormy nights
All kinds of outdoor scenery can accompany you to enjoy the song.

IPX5 waterproof splash
The design of waterproof structure cavity and
high-strength waterproof mesh,
Effective side water splash.

IP6X rated sand and dust proof
High-density waterproof mesh cloth, plus the double protection design
of breathable dustproof cloth,Effectively eliminate dust.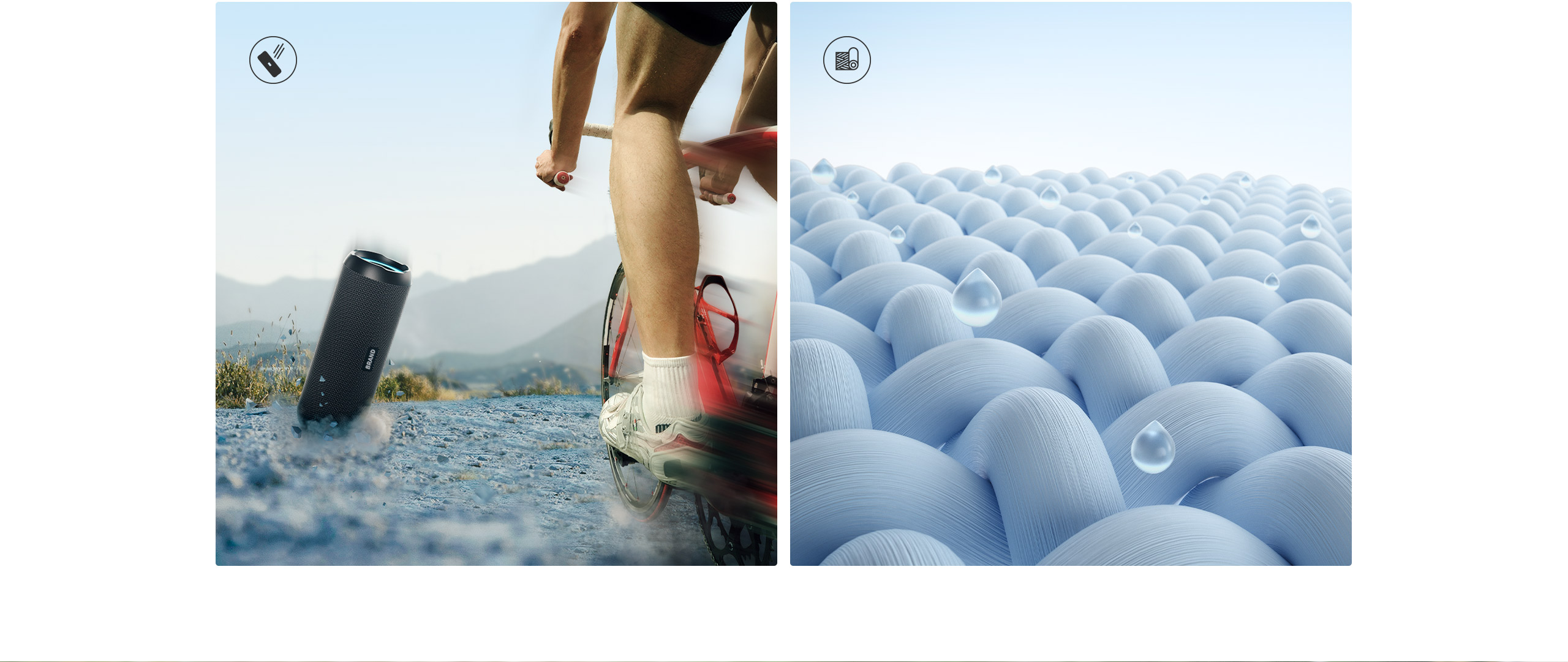 2 meters drop resistance
High-strength protective cavity,
effectively deal with outdoor bumps
Durable fabric material
Make the speakers withstand all kinds of adventures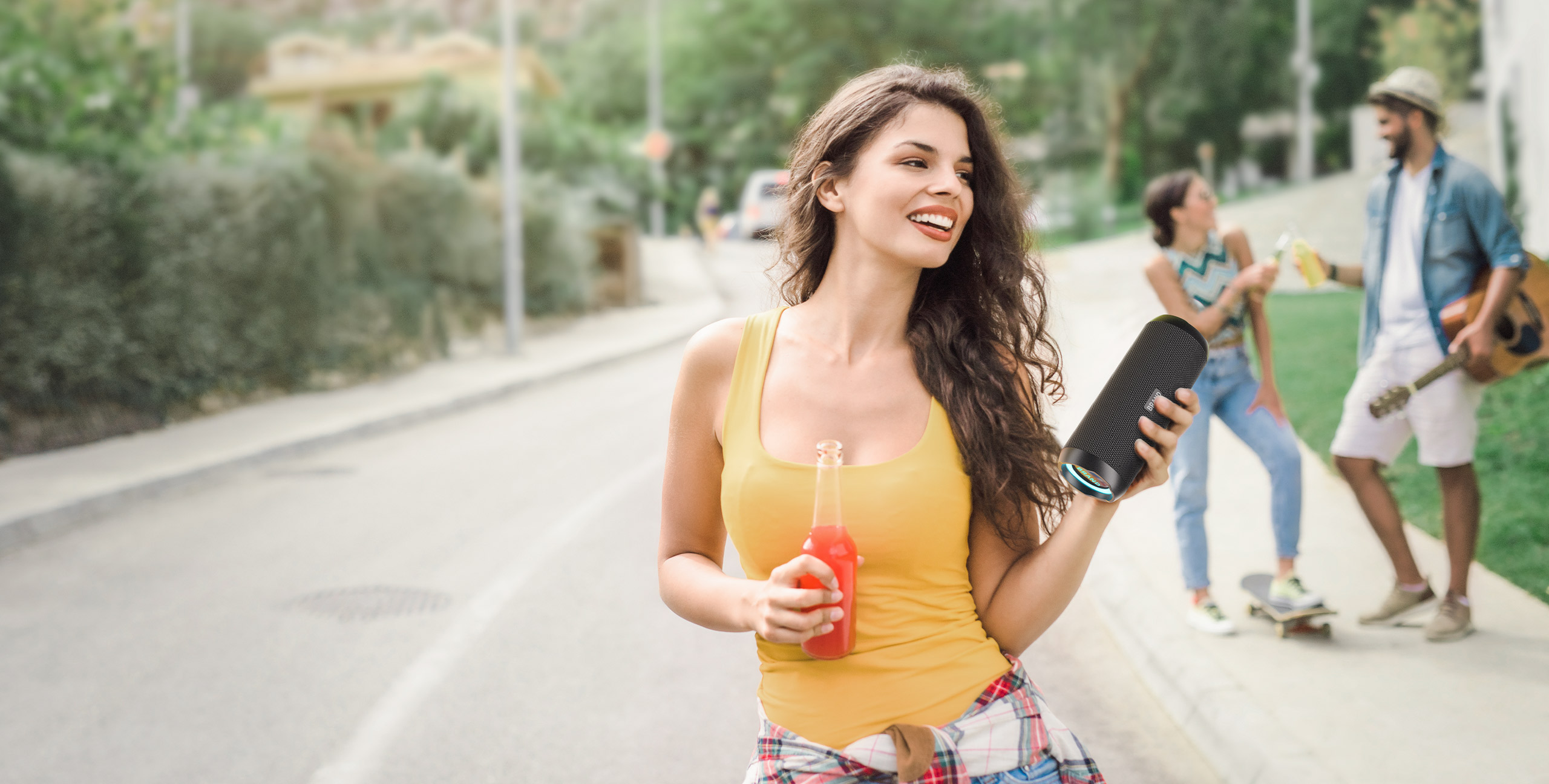 Bluetooth 5.3 smooth
connection Faster,
stronger and more stable
Using the latest generation 5.3 Bluetooth chip, it has stronger anti-interference,
lower delay,More stable transmission performance and better sound
quality. In the wilderness, grassland, and jungle, it can be stable and smooth.
Enjoy listening to your favorite music that echoes the scenery.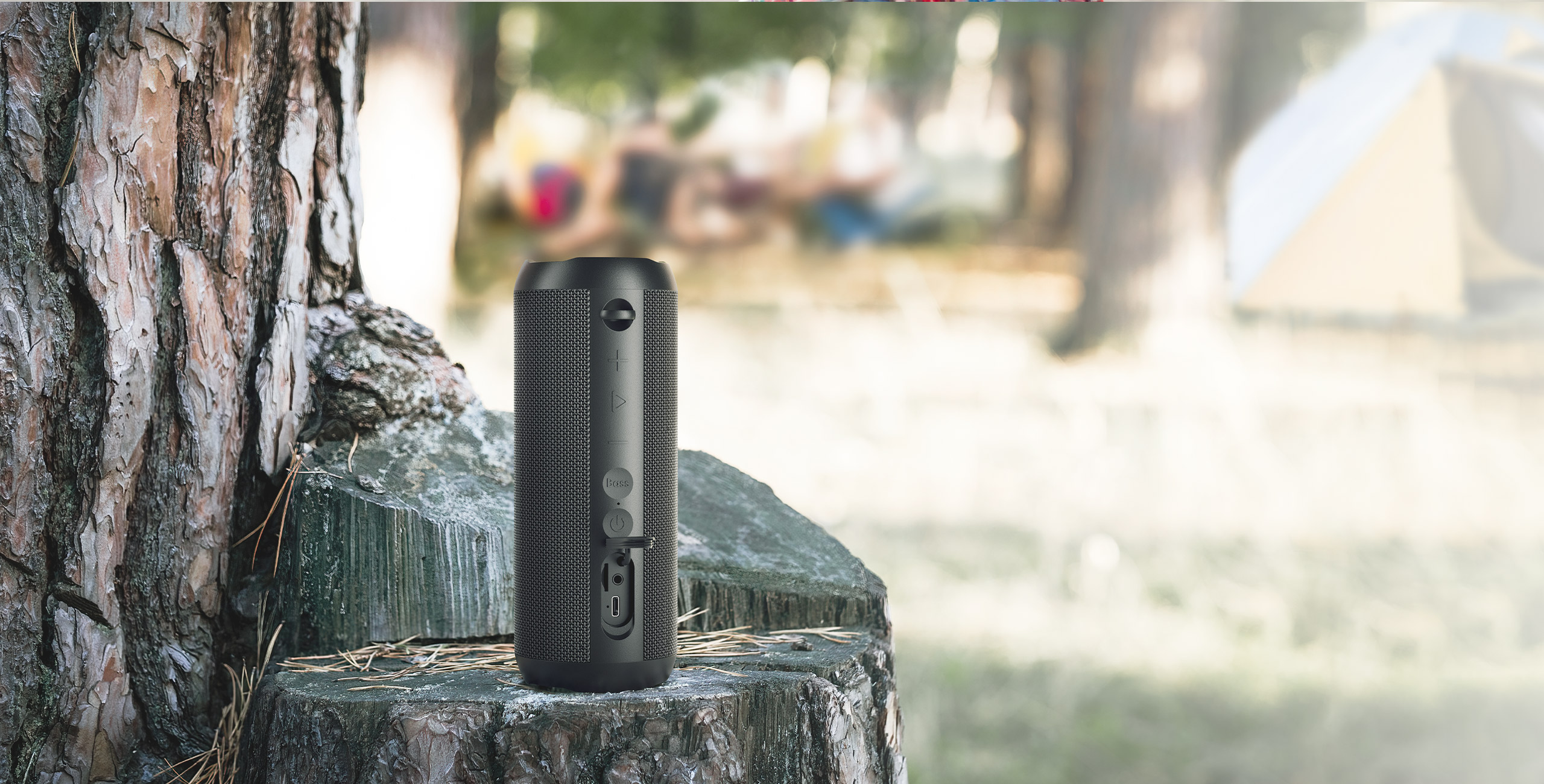 Micro SD card with AUX-in
Plug and Play
Outdoor Party Playlists
It is convenient to pre-edit playlist playlists for parties or events.
Insert a Micro SD card at any time and play immediately.
Officially authorized, supports APE,
FLAC lossless playback, and commonly used MP3, WAV, WMA formats.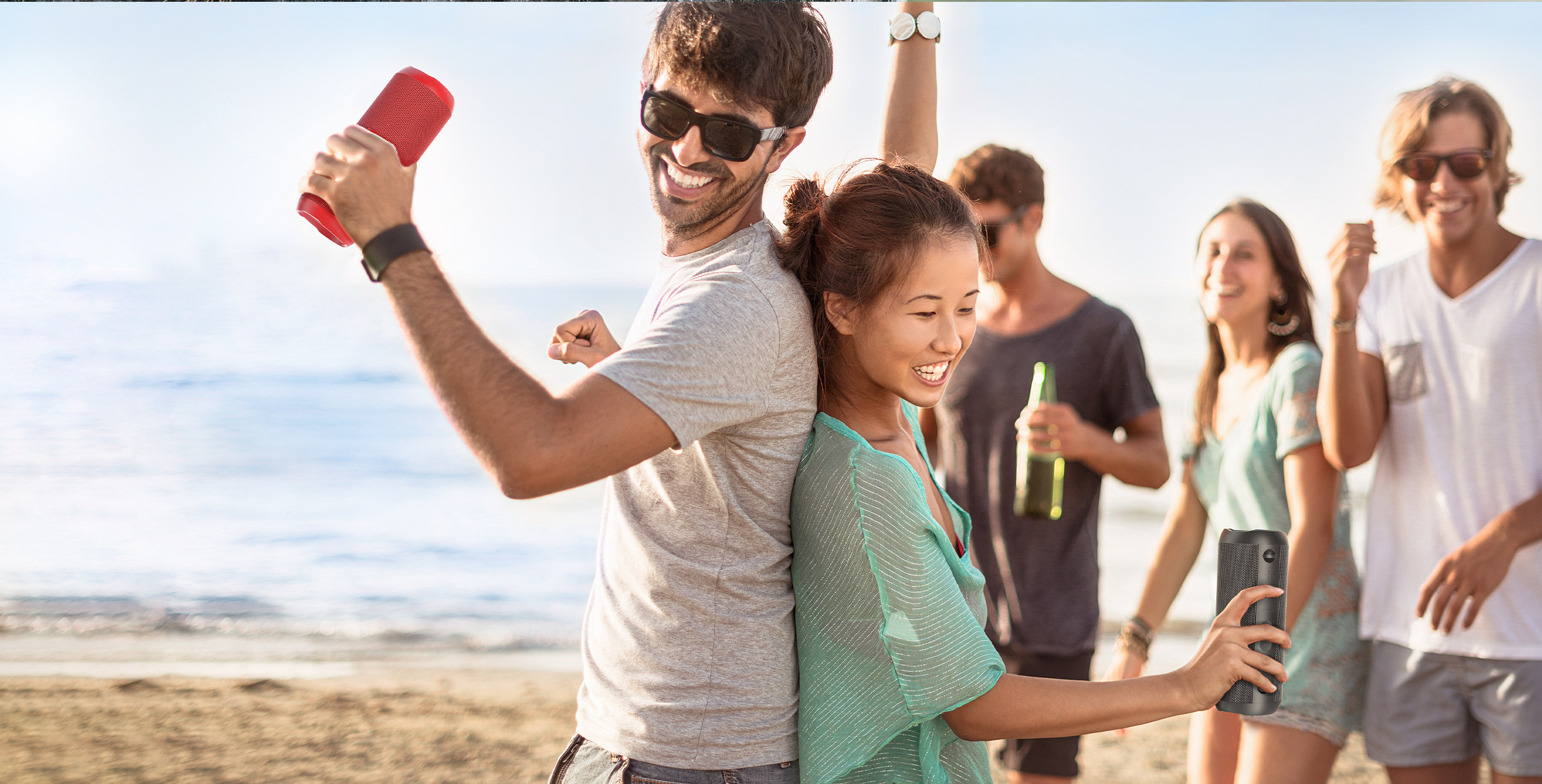 TWS Connection
Play as a team to double your energy
You can happily link with friends of the same style,
two speakers play together in a team, the shocking energy of 1+1>2,
Empty outdoors, or gatherings of many people, you can still enjoy listening.
Double the joyful energy for outdoor exploration.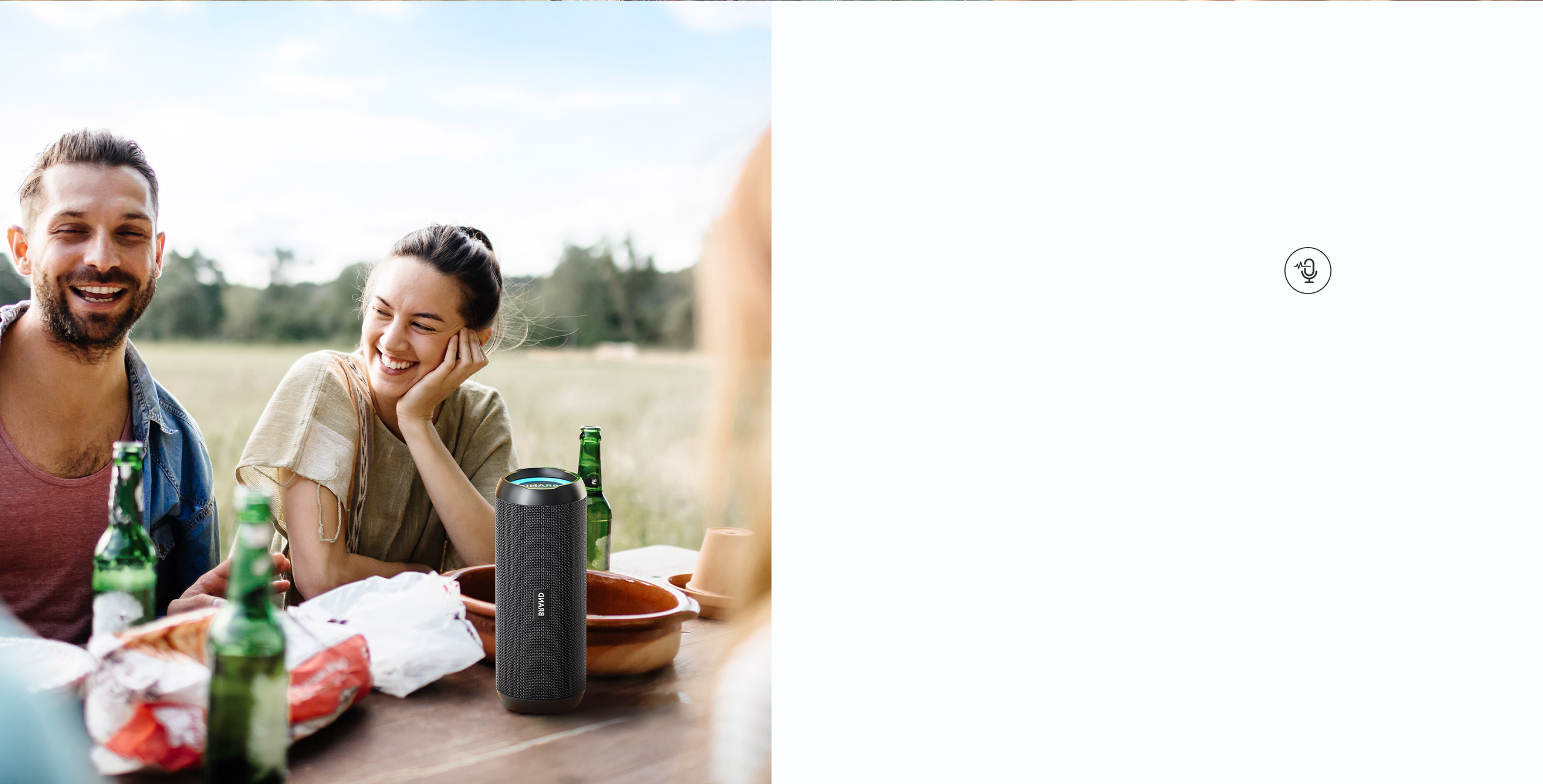 Handsfree Make chatting in
the mountains
more enjoyable
Apply high-sensitivity pickup microphone, clearly identify
human voice, high-definition call performance,
Voice, video, and phone calls can be chatted freely,
Let us relax and share the beautiful scenery and scenery
with our relatives and friends.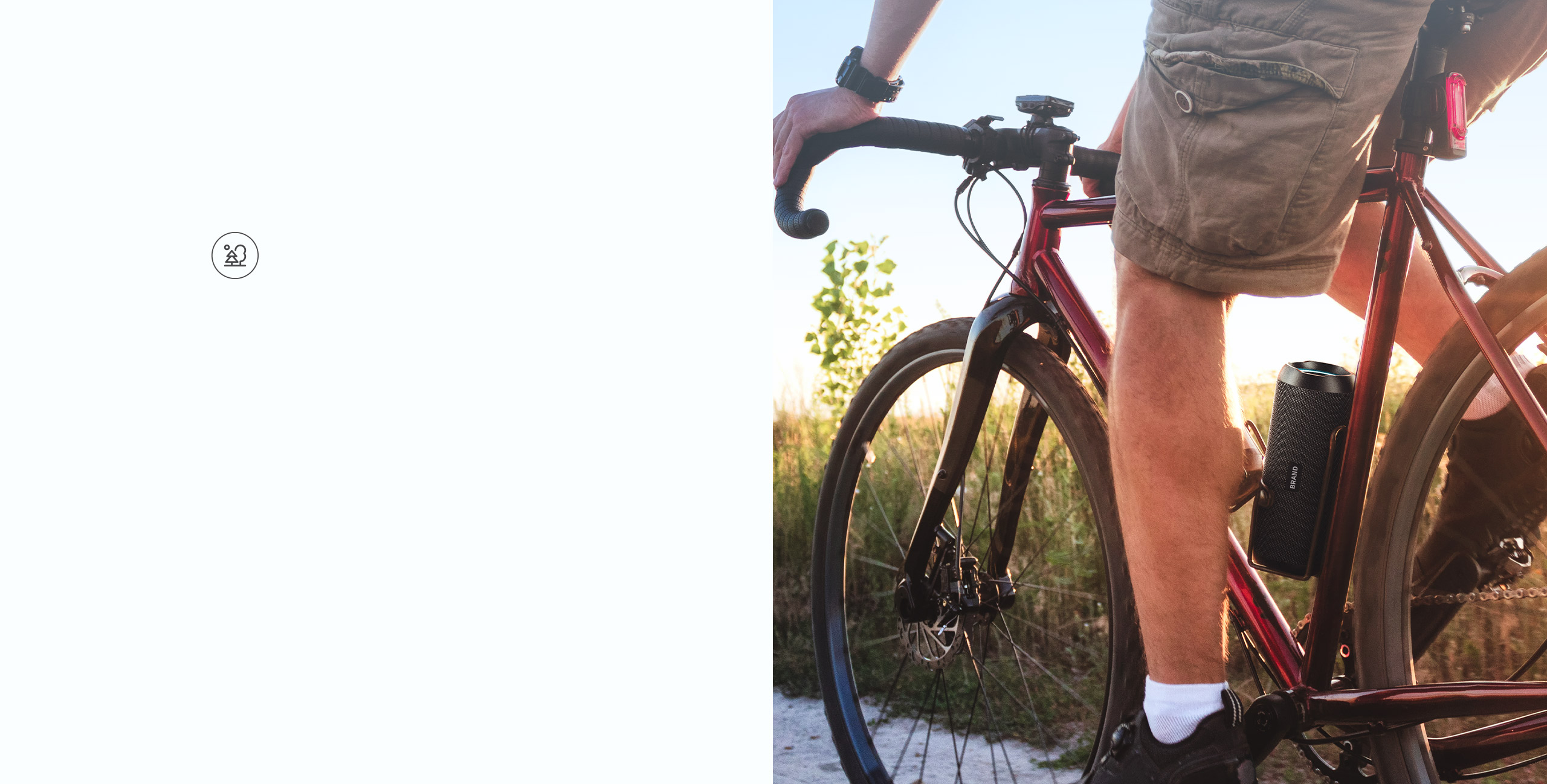 Wonderful outdoors
Allowing you to move on freely
The lightweight design makes it easy to take anywhere outdoors.
pure beautiful sound,Bring joy to the mountains.
Let us appreciate the beauty of mountains and rivers
and experience the beauty and comfort of nature.
Technical
parameter
Sound system: 2 full-range speakers + 2
low-frequency amplifiers
Output power: 17W
Frequency Response: 60Hz~20kHz
Signal-to-noise ratio: >80dB
Bluetooth version: 5.3
Play
function
Support Bluetooth wireless playback Support
Micro SD card plug and play
Playable formats: MP3, WMA, WAV, FLAC,
APE(Micro SD Card)
Special
function
Dynamic lighting: RGB ambient lighting
Protection function: IP56 dustproof and waterproof
Product
battery
Battery type: Lithium battery 3.7V 4400mAh
Charging time: about 4.5 hours (5V/1A)
Charging port: USB Type-C
Playing time: about 5 hours
(depending on volume and audio content,
Bluetooth version: 5.3 dynamic light status)
Product
specification
Product specification: W193mm*H75mm* D75mm
Product net weight: 0.48kg
Packing
list
Speaker 1pcs User manual 1pcs
Safety warning 1pcs Type-C charging cable 1pcs