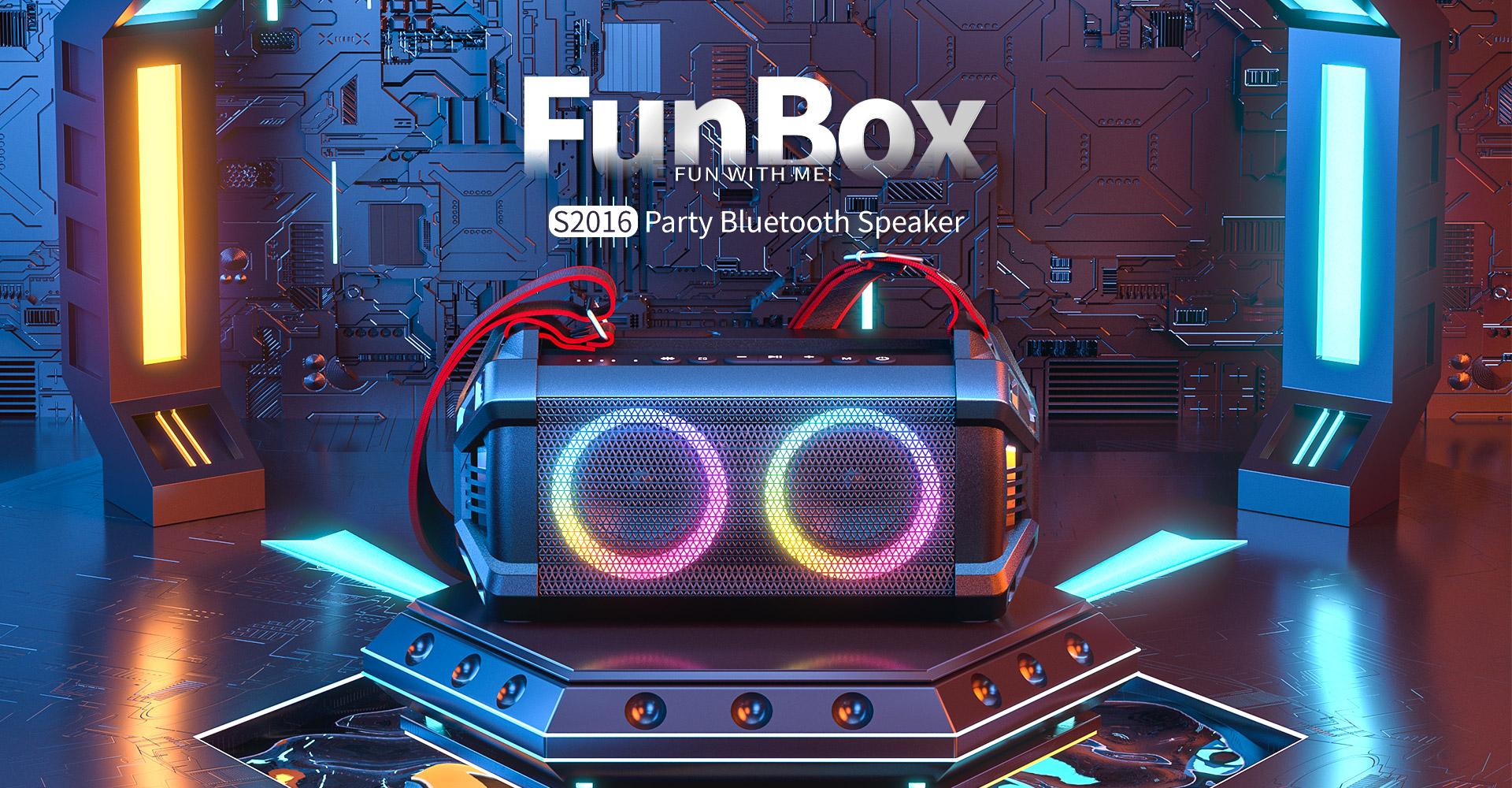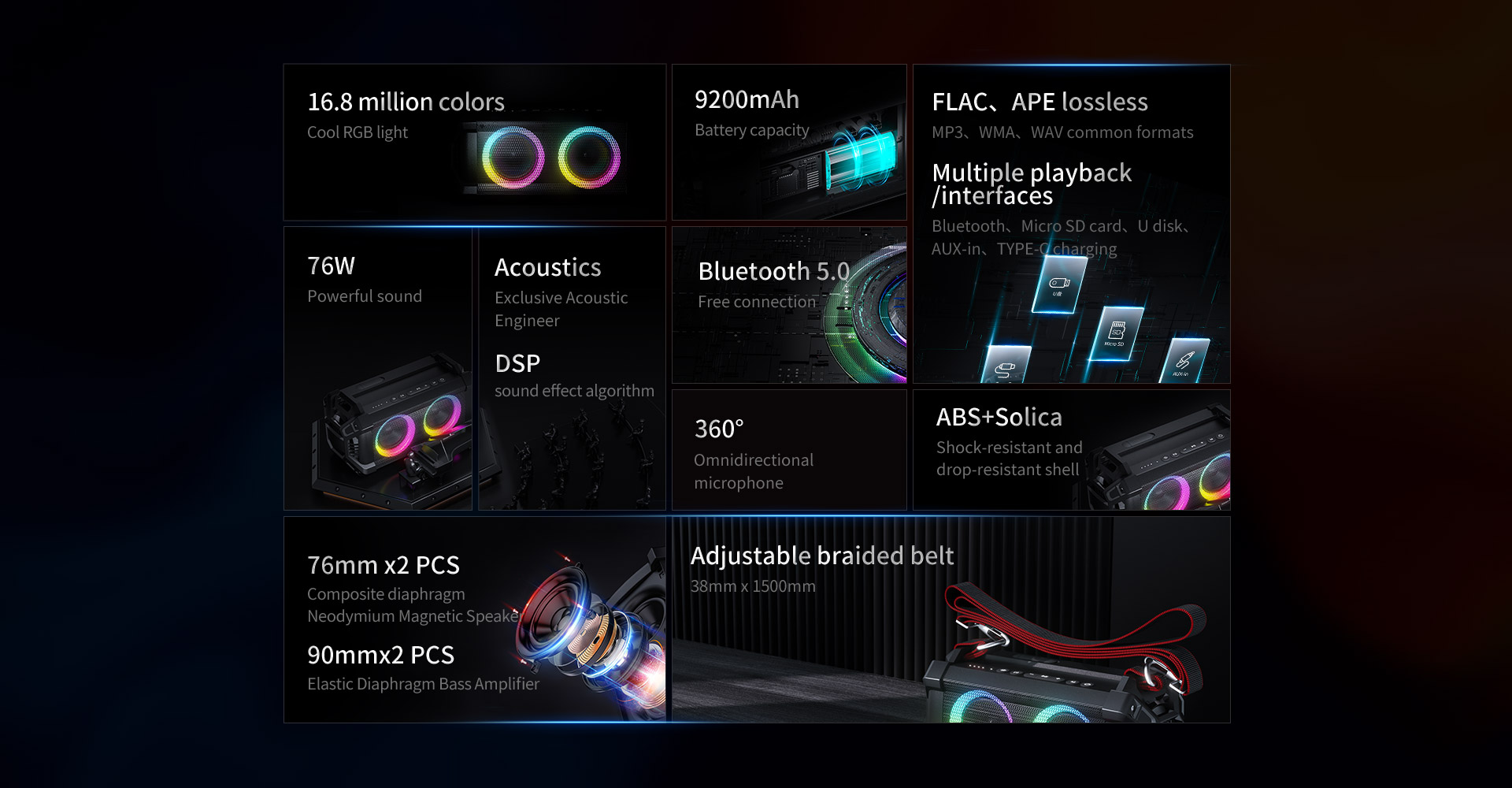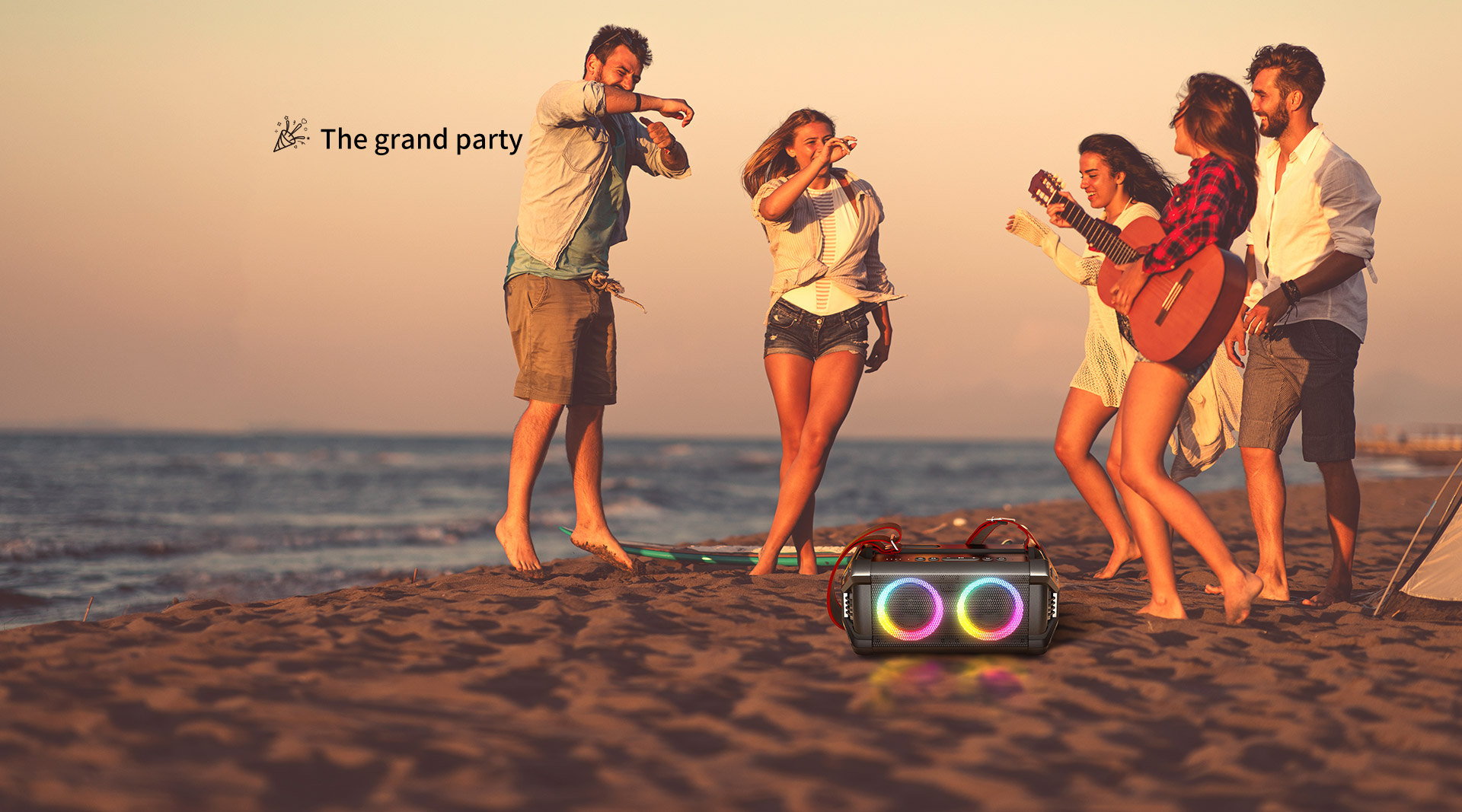 Opens with
enthusiasm
From the lawn party in the sun,
To a bonfire party on the beach
at night. Stunning bass,
Bright lighting design and strong
battery life. Continue to release
energy from start to finish,
Ignite the party enthusiasm.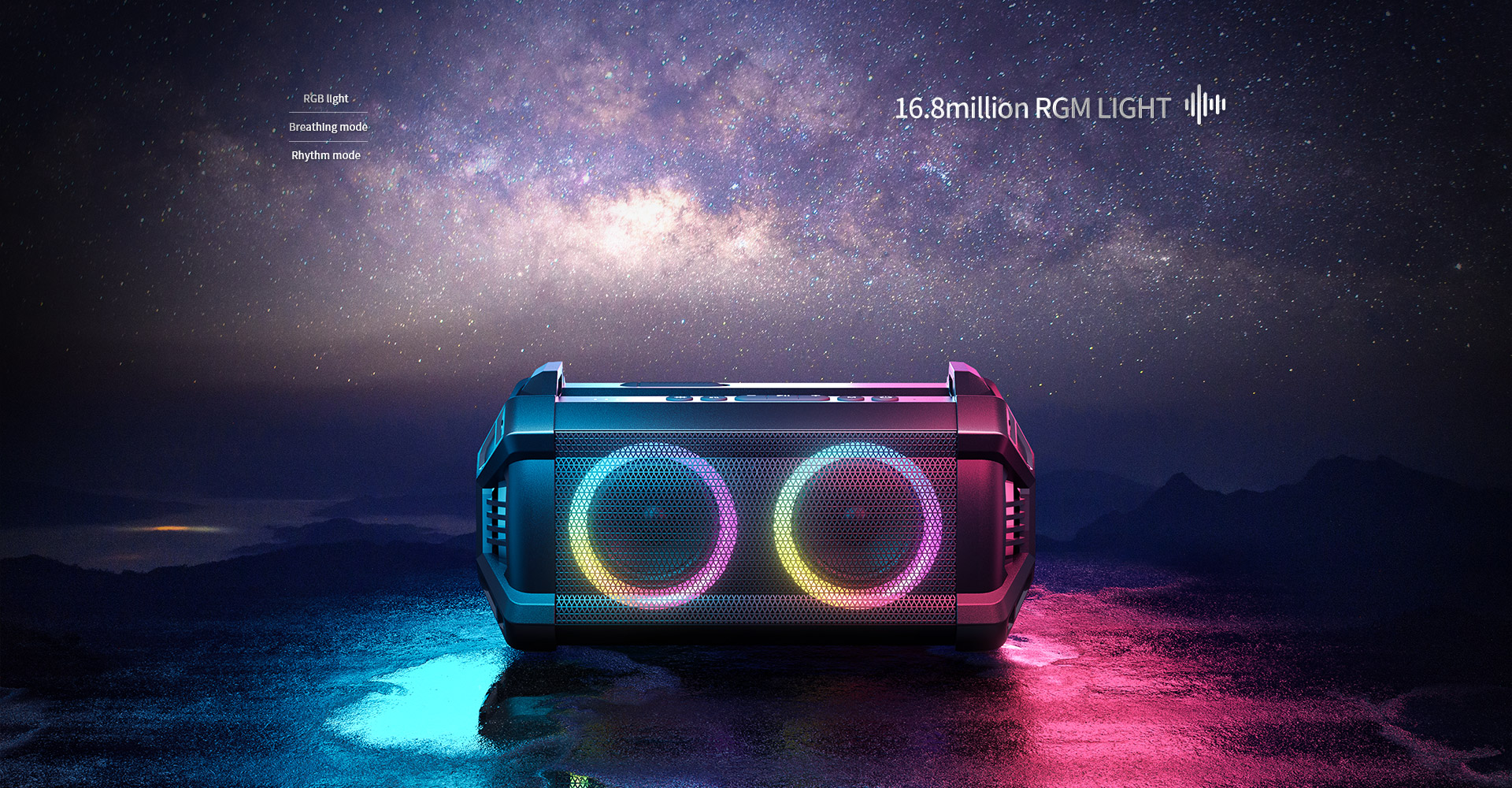 Light up the night,
ignite the party
Inspired by the cute little monster double pupil design,
Adds some lovely vibe. 16.8
million colors of cool lights add a smart vitality.
Add a splash of color to the night and instantly make a
party sparkly and gorgeous.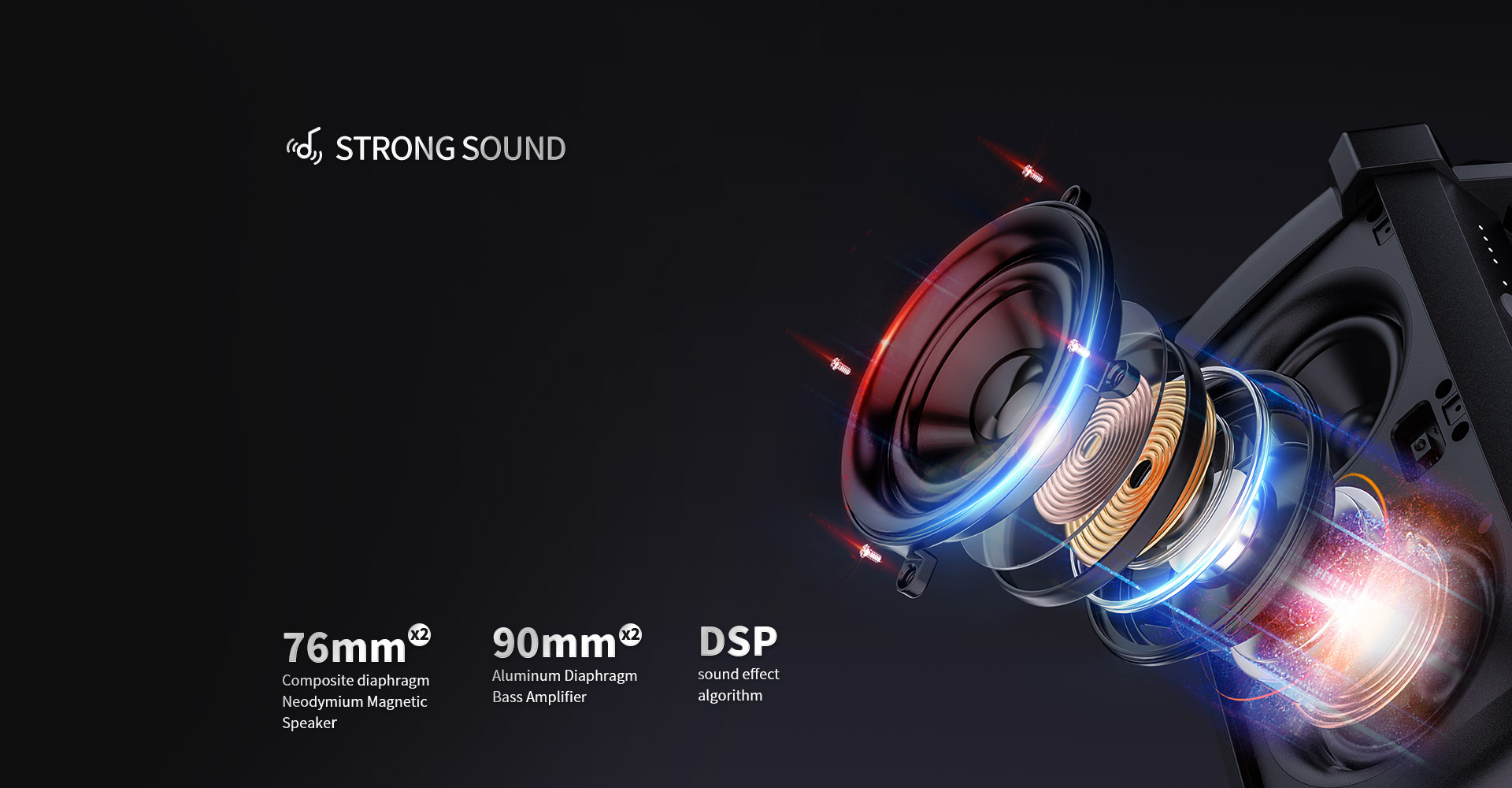 Strength is the foundation
The large-volume acoustic cavity is equipped with two
76mm composite diaphragm NdFeB speakers. With 2 90mm
Aluminum diaphragm bass amplitudes, Delivers stunningly
powerful sound. And apply carefully tuned DSP sound effects
algorithm, Tuned with a professional acoustic team.
The smart sound quality brought by it is full,
shocking and fidelity.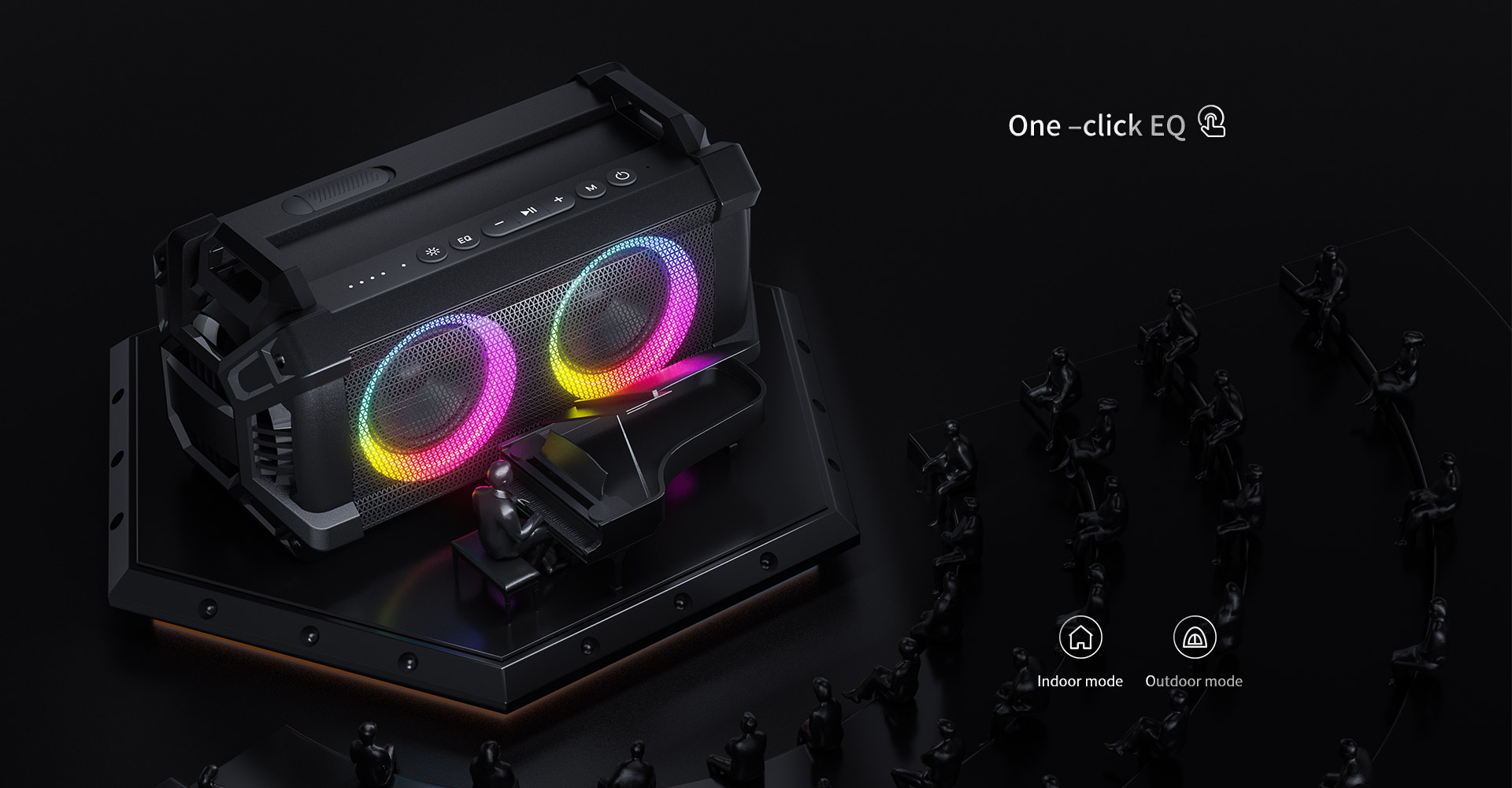 Easy switching between
indoor and outdoor
Independent EQ keys created for different application
scenarios, The indoormode has a richer sound,
and the outdoor mode has a louder sound.
Whether at home or moving
the party outdoors, can have fun.
Helping every happy moment
Faster, more stable, stronger compatible with Bluetooth 5.0,
Make the party easier, free and more fun. Just connect to
mobile phone, tablet, computer via bluetooth to play
music, It's easy to create a warm party.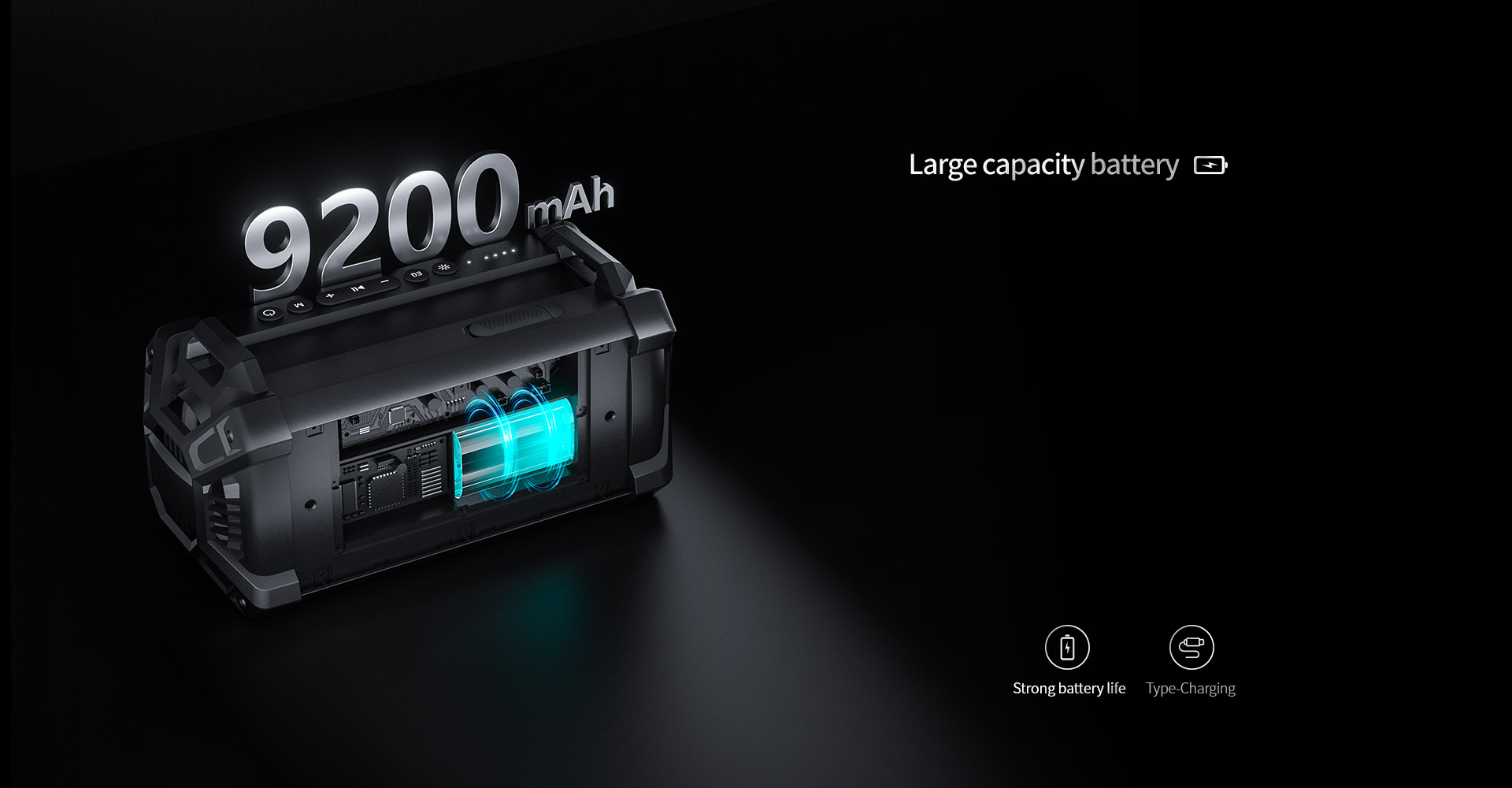 Give the party more freedom
Built-in lithium battery with a total capacity of 9200mAh,
Added more possibilities and freedom to the party. From
the garden to the wild, from the mountainsto the sea. As long
as we think, every beautiful scenery can add color to our party.
A bonfire party under the stars, a chasing journey in the
mountains, The music echoes with the beautiful
scenery, making the party more enjoyable .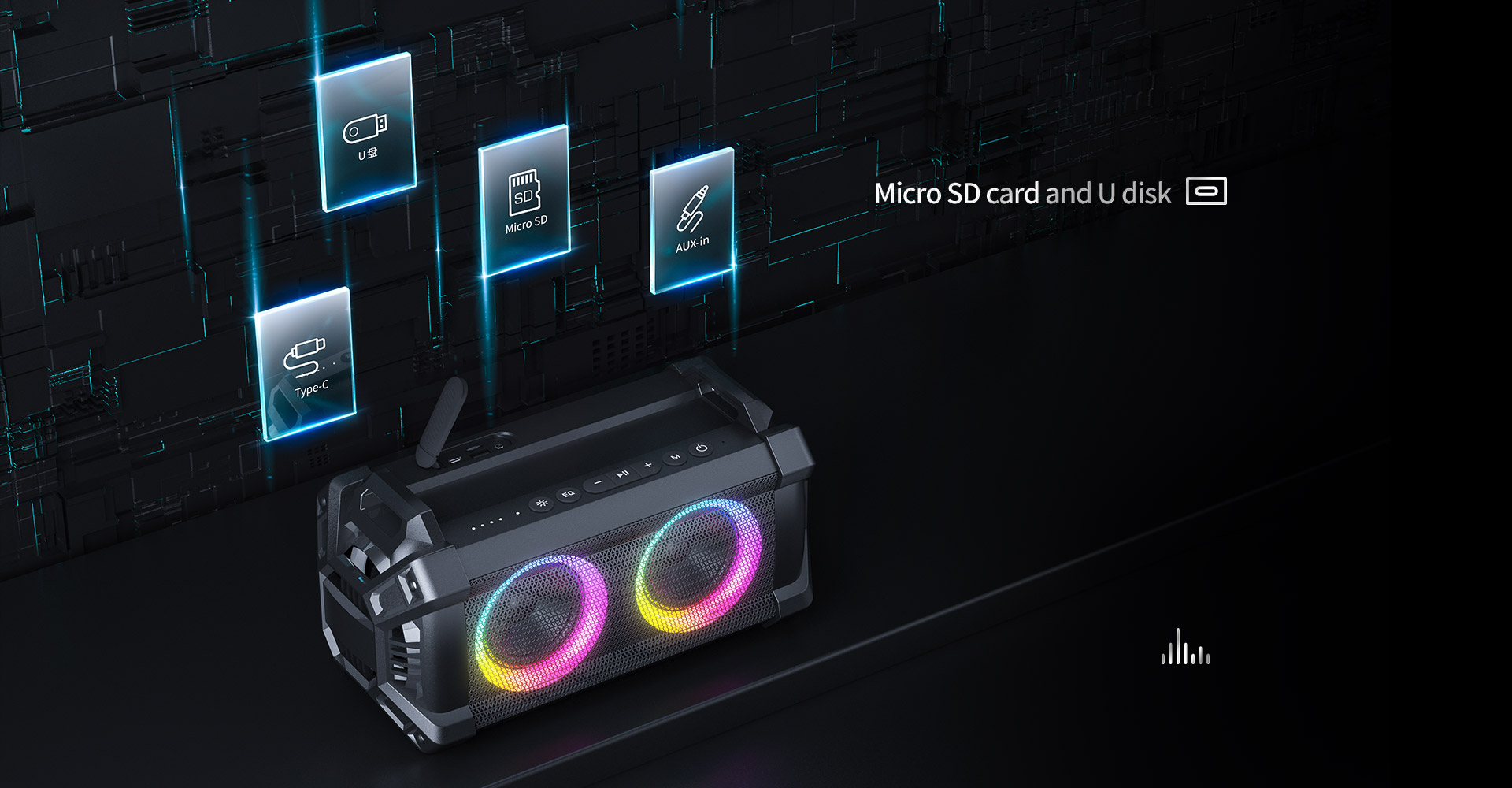 Unlock party-
exclusive playlists
Create your own party playlist.
Every party, just use the boot, Insert the
Micro SD card or U disk with the playlist,
It can liven up the party atmosphere.
it's that simple.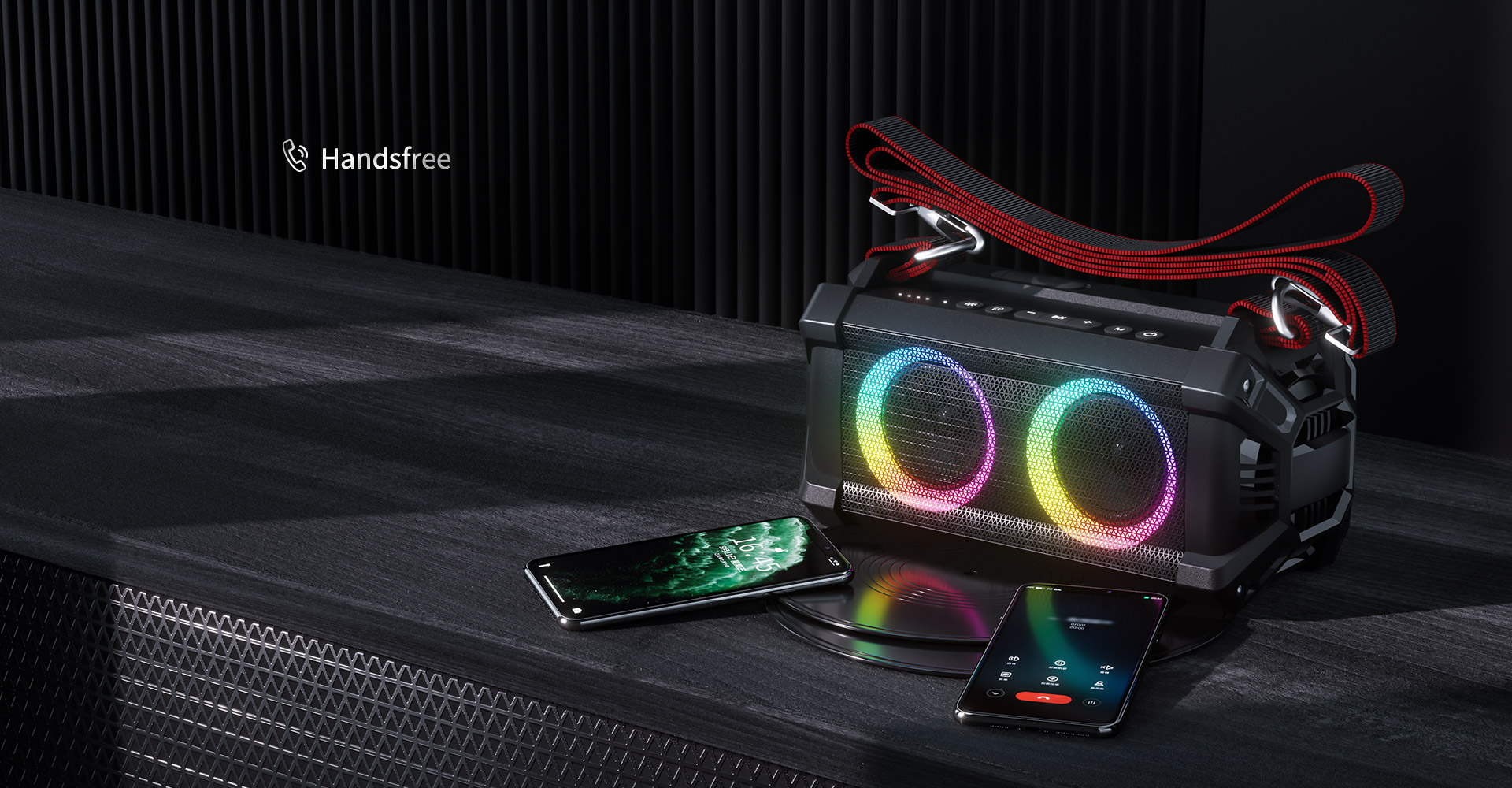 Come together and
have a good chat
Excellent call performance for us at parties, Provides
convenience when chatting with mutual friends and relatives.
The 360° omnidirectional microphone can clearly identify
everyone's speech, and excellent sound quality, It can also
transmit the voice of the other party clearly to everyone.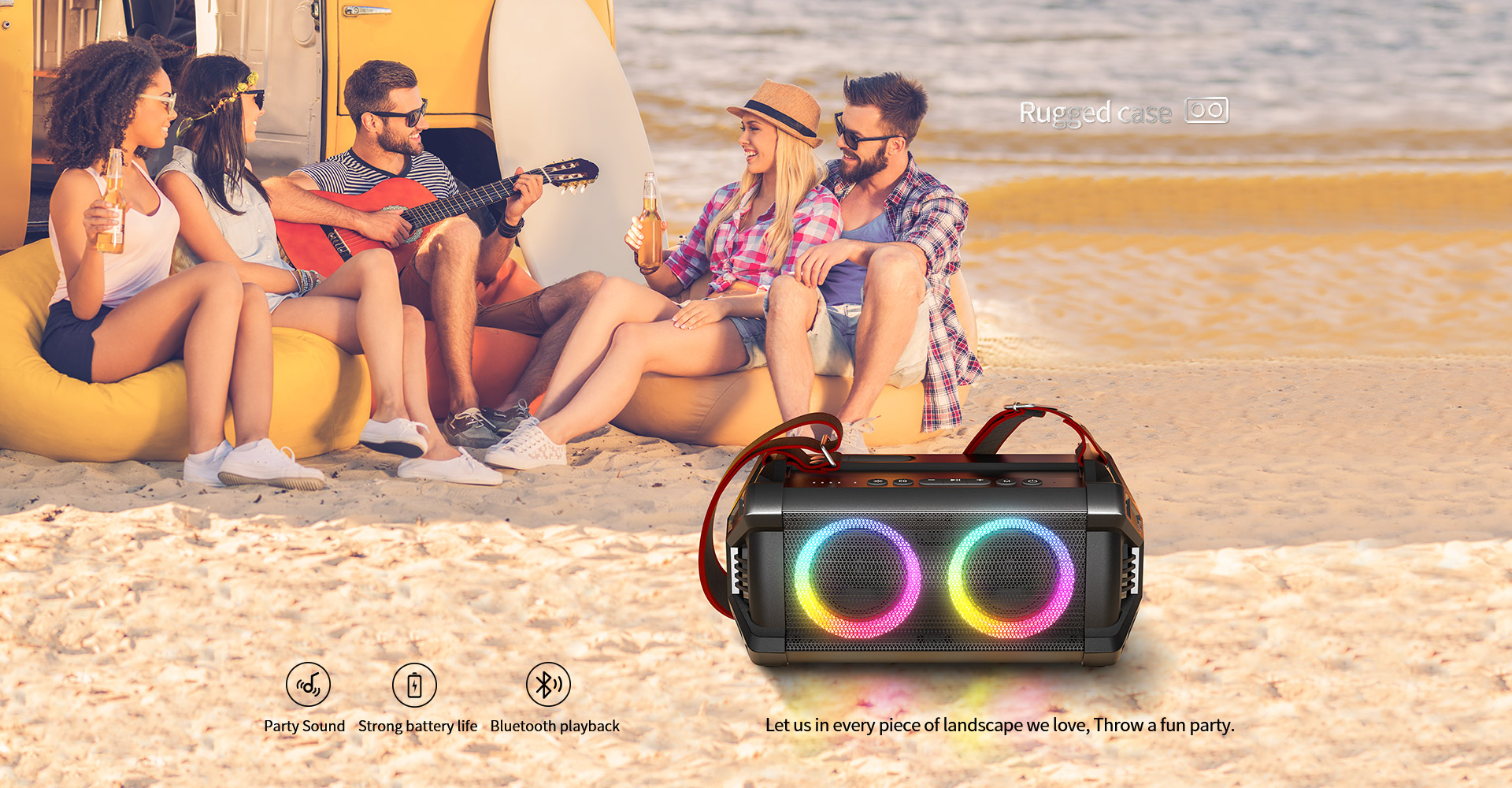 Support
your love
Whether we love the birdsong in the jungle,
the breeze in the fields, The starry sky
in the desert or the sunset by the sea. Sturdy
and durable protective shell design,
shock-resistant drop-resistant.
Explore the
beauty with you
Portable strap design, firm, durable, decompressed, and breathable.
It also gives the speaker more convenience, we can easily carry the
speaker, Gather together and sing in the beautiful scenery.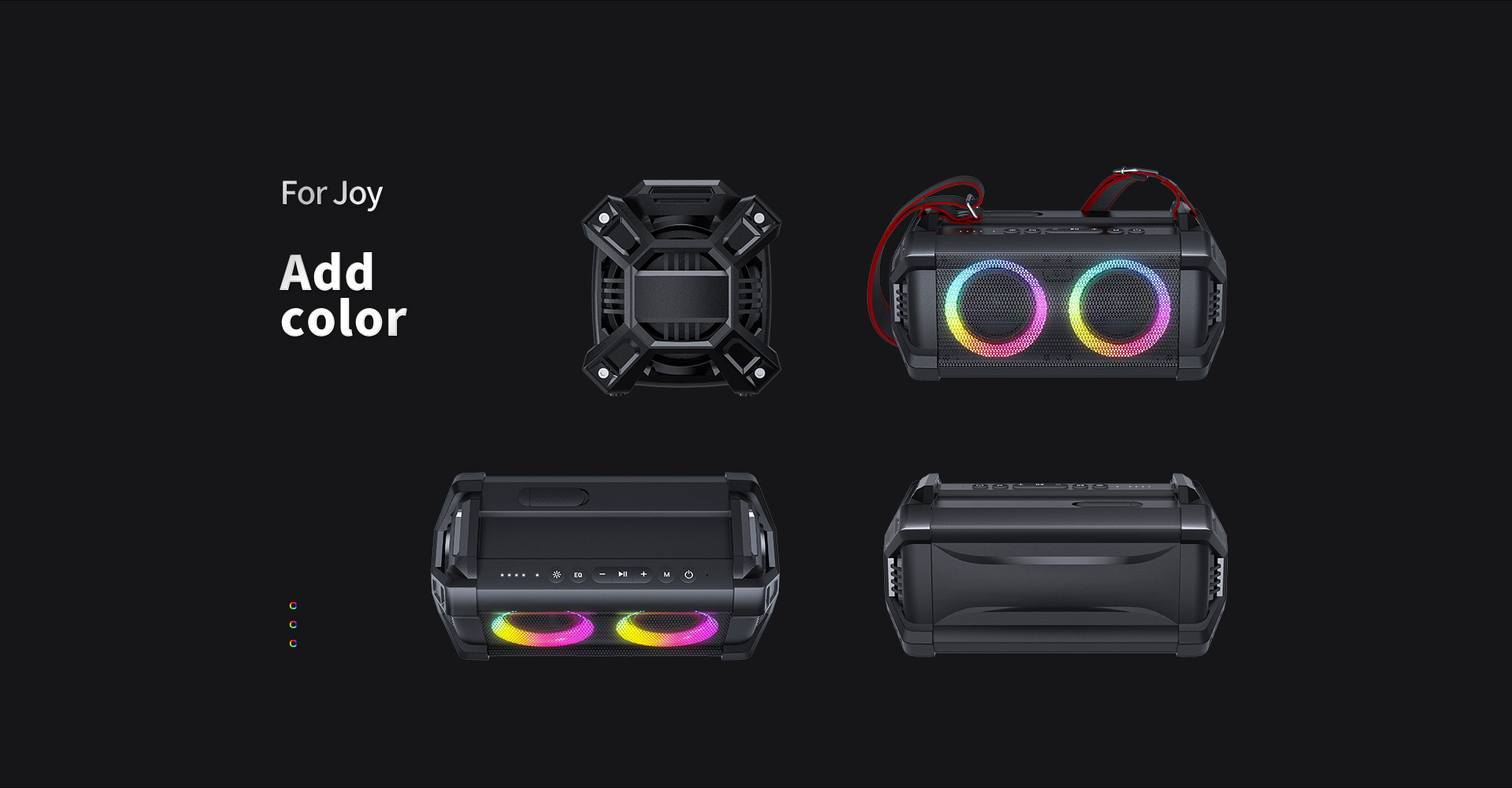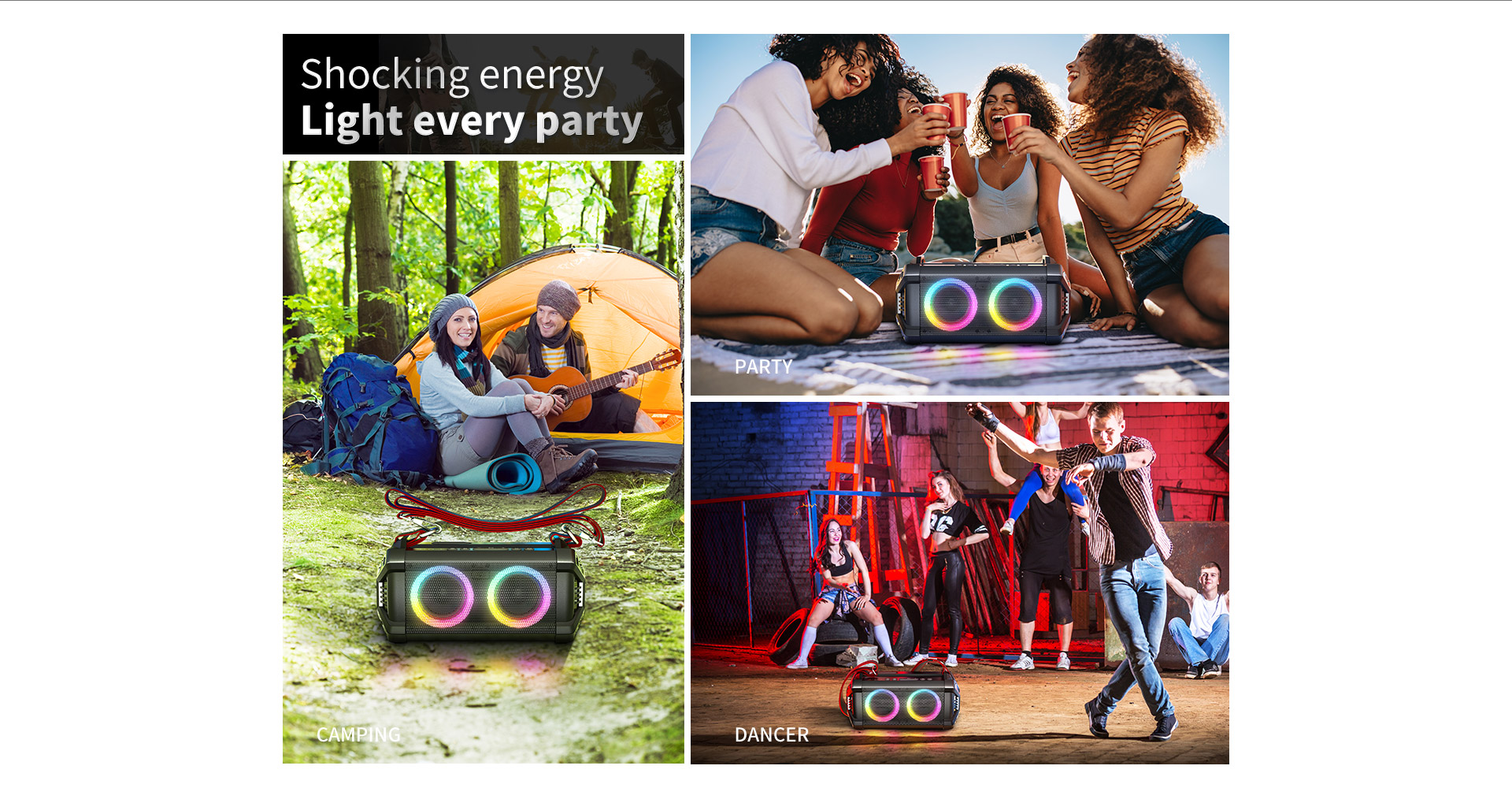 Basic
parameter
Speaker type: Bluetooth Speaker
Bluetooth version: 5.0
Playing modes: Bluetooth, Micro SD card,
U disk, AUX-in
Hands-free calling: Support
EQ adjustment: indoor mode and outdoor mode
Technical
parameter
Speaker unit: 2pcs 76mm Composite diaphragm
NdFeB loudspeaker+2pcs 90mm Bass Amplifier
RGB Light: 16.8 million colors ( Breathing and
Rhythm modes )
Power supply : With 2pcs 21700 Li-ion Battery\
Total capacity 9200mAh DC5V-3A USB Power Supply
USB Specification: USB2.0、Compatible USB1.1
Product
specification
Product specification: 307*150.5*140mm
Playing
Function
Support capacity not large than 32G Micro SD
card, U disk, MP3, WMA, WAV, APE, FLAC
format
Packing list
Speaker 1pcs User manual 1pcs
USB Type-C 1pcs 3.5mm Audio cable 1pcs